How to Play Aces and Eights at an Angola Online Casino and Bank the Big Bucks!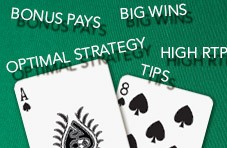 Aces and Eights is one of those lucrative video poker variants that has a great payout percentage.  Along with a low house edge the game offers a huge top win and two extra bonus pays.  Anybody who knows their stuff at our Angola online casino will undoubtedly choose to play Aces and Eights over just about any other online casino game on the menu.
Here's a breakdown of exactly why you should join the informed masses and fire up the game engines of Real Time Gaming's (RTG) Aces and Eights video poker… right here and right now:
Get Your Share of an Awesome Return to Player (RTP)
As we've already mentioned Aces and Eights offers a key advantage typical of all video poker variants.  Learn to play the game according to an optimal strategy and you can bank plenty of ZAR.
Why?  Well, the potential payout rate - or return to player - is a whopping 99.78 percent.  What that means is for every R100 wagered on Aces and Eights at all RTG online casinos, R99.78 is returned to players over time.  That leaves only R0.22 as the operators' share of the profits!
All video poker variants developed by RTG are available in single-play and multi-play modes.  Although it may seem like a great idea to play Aces and Eights in the 3, 10, 52 or 100 play formats, avoid the temptation.  
The reason we're sharing this with you is because the payout rate for the multi-play games drops to 98.64 percent and the house edge obviously rises to 1.36 percent.
Tip: Always play Aces and Eights in the single-play mode to benefit from the best return to player
Exploit the Bonus Payout Bonanza  
As you are probably aware the payouts for Aces and Eights - and all video poker variants for that matter - are based on the conventional poker hand rankings.  If you are dealt or draw cards that can form a hand featuring a pair of jacks or better, you're in the money.
In traditional poker games there are nine winning poker hands - pair, two pair, three of a kind, straight, flush, full house, four of a kind, straight flush and royal flush.  In Aces and Eights there are 11 ways to win; the nine hands mentioned in the previous sentence plus two more - four sevens and four aces or eights!
In almost all other video poker variations the most you can win for a standard four of kind is 125 x your wager.  In Aces and Eights, you can bank up to 250 x the bet for four sevens and a jaw dropping 400 x your stake for four aces or four eights! 
Boost your Bankroll with a Massive Payout on a Royal Flush
Register an account at Springbok Angola online casino, click on the games menu and open Aces and Eights in your browser.  At the top left of the pay table you'll see a number highlighted by a bright red splash background.
That's what you can win when you hit a royal flush on a five coin wager… a massive 4 000 x your stake!  Cast your eyes along the row to your left and you'll notice that the payout becomes incrementally smaller.  That's an indication you'll 'lose' 250 x your bet every time you drop a coin - and that's for exactly the same royal flush card combination!
Tip: Always bet the five coin maximum or you may lose out on that mind blowing 4 000 x top win.  Remember, you don't have to choose the highest available coin value; you simply have to wager the maximum five coins on every hand you play!
Avoid the 'Double Your Winnings' Option
When you do hit a paying poker hand some online casinos offer an option to double your winnings.  If you take up the offer, you are usually taken to a second screen where you are presented with one up card - the dealer's card - and four cards lying face down.
If you select a card with a higher value than the dealer's up card, the payout is automatically doubled but if you choose a card lower in value than that of the dealer's, you lose your winnings.  
Tip: We strongly advise you to ignore the 'Double Your Winnings' option as the odds of hitting a higher value card are not in your favour.
How to Play Aces and Eights Optimally
The only way you can capitalise on the high payout rate in Aces and Eights is to play the game according to an optimal strategy.  This strategy outlines exactly when to draw new cards to form winning poker hands:
Draw one card when you are holding:
4 cards to a royal flush
4 of a kind
4 cards to a straight flush
2 pair
4 card flush
4 card straight with at least 3 high cards
4 card open end straight
Draw two cards on any one of the following hands: 
3 of a kind
3 card royal flush
3 card straight flush
3 card straight with 3 high cards
Draw three cards if you have:
1 pair
2 cards to a royal flush
2 high cards
Draw four cards when you're holding:
Do not draw any cards on a:
Straight
Flush
Full house
Straight flush
Royal Flush
Register an Account at our Angola Online Casino and Cash In Right Away!
Now that you know how to play Aces and Eights like a pro, you can leverage the game's low house edge and start banking some serious moolah. 
You won't win money on every single hand you bet on but you will have the best possible chance of systematically building a bankroll playing Aces and Eights at our top ranked Angola online casino.
Follow our red-hot playing tips and learn the optimal Aces and Eights strategy off by heart and there's no reason at all why the winning poker hands won't come your way.  Best of luck y'all!