Get the Best Bonus Poker Tips at Springbok Angola Online Casino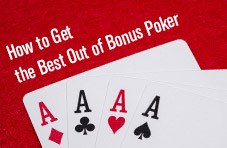 Bonus Poker is one of several video poker variations that can spice up your gambling experience.  Along with a posse of cool payouts for the traditional poker hand rankings, there are three bonus wins that'll blow you clean away.  Apply an optimal Bonus Poker strategy at our Springbok Angola online casino and you'll be in line for real money winnings at odds of up to 800:1!
The deal is that to be eligible for thick wads of bank notes, you have to choose a pay table that has the best possible return to player.  You also have to learn how to play the game like a seasoned pro… and to do that you have to learn when to draw and when to stand.
How do you find the best Bonus Poker games with the lowest house edge and odds that'll drop your socks? That's easy… just keep on reading this article and you'll be a Bonus Poker playing wizard in no time at all!
Wrapping your Head around Poker Playing Gambling Jargon
Before we get down to the business end of Bonus Poker at our fine Angola online casino, it's essential you come to grips with a few important betting terms.  We've talked about house edge and return to player.  These terms are basically interchangeable but from different ends of the gambling spectrum.
When you visit any casino, be it land-based or online, the idea is to win money by betting on the outcome of the games.  Ideally, you want to play the games that pay back a large proportion of all bets to the players.  This is known as the payout rate, payback percentage or return to player (RTP).  The higher the payback rate, the more likely it is you'll hit winning poker hand combinations.
On the flip side, games that have a high RTP automatically have a low house edge.  That's the portion of all bets placed on a particular game that are retained by the casino as profits.  The house edge or house advantage can be calculated by subtracting the RTP from 100, while the RTP or payout rate is the sum of 100 minus the house edge - got it?
As an example, if the RTP of a video poker variation is 97 percent, the house edge or the portion of the wagers that go into the casino's coffers is 3 percent.  What this means is that for every R10 wagered on that specific video poker variation over the long-term, R9.70 is paid out to players and 30 cents is banked by the casino operators.
How does Bonus Poker Shape Up when it comes to RTP?
Bonus Poker at the Springbok branded Angola online casino has what is known as an 80/8/5 pay table.  The values reflect the odds that are paid out for four aces (80:1), a full house (8:1) and a flush (5:1).  This type of Bonus Poker has an RTP of 99.17 percent, the highest of the variant.  As a result, the corresponding house edge is only 0.83 percent.
The operators may occasionally customise the pay table to reflect a 75/8/5 configuration.  In this case the RTP drops slightly to 99.07 percent and the house edge rises to 0.93 percent.  You can quickly assess which game you are playing by viewing the pay table posted on the gaming interface.
If you want to exploit the RTP you have to learn how to play the game optimally.  You can do this by downloading a Bonus Poker strategy from the internet.  An optimal strategy outline exactly how may cards to discard based on the cards you are dealt.
Top tip: Always look for the best Bonus Poker in terms of RTP… and that means an 80/8/5 game!
What's so Special about Bonus Poker?
As we've already mentioned, Bonus Poker offers payouts for three extra poker combinations.  In this case they are all different types of four of a kind:
Four x aces - 80:1
Four x 2, 3 or 4 - 40:1
Four x anything else - 25:1.
These payouts are over and above the usual winnings generated by the conventional poker hand rankings such as royal flush, straight flush, full house, flush and so on.
How about the Bonus Poker Betting Strategy?
As you've probably noticed, you have a few options when it comes to selecting a wager.  Most Bonus Poker games have chip values that range for R1 to R100.  You can also elect to bet one up to five chips or coins per hand.
The chip value you choose to bet is up to you but unless you're a pro or have money to waste, we suggest you start off with the lowest available denomination.  When it comes to the actual volume of chips or coins you wager, we strongly suggest you bet the 'five coin' maximum.  You can do this by hitting the Bet Max button.
Although that may sound counterintuitive, when you look at the odds that are available on a maximum wager, you'll understand what we mean.  Achieve a royal flush on a one coin wager for instance and you'll be paid out at odds of 250:1.  Hit the same combination of cards on a maximum bet and the odds jump to 800:1.  This applies to all the rankings on the pay table.
Remember, to bet max doesn't mean choosing the highest value poker chip.  It means clicking on the R1 chip and hitting the bet max button.  When you feel more confident or your bankroll is overflowing with cash, you can increase the chip value and win lots more money as a result… but you can also lose the lot!
Top tip: Always bet the five coin maximum when playing Bonus Poker at our Angola online casino!
Now that you have a good idea of how best to play Bonus Poker online, why not give it go right here and right now - you're guaranteed a fair game that can pay out plenty!