Sevens Wild Gambling Guide: Play to Win at Springbok Angola Online Casino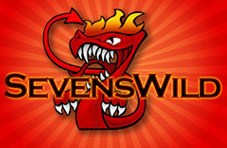 Sevens Wild video poker is a fast-moving casino game that pays out frequently.  It is based on conventional poker but in this game, sevens are the jokers in the pack.  When there are wilds in-play we all know what that means… more ways to win. 
Play Sevens Wild at the best Angola online casino in cyberspace - you know, the one with the green and gold trim - and you'll discover three bonus payouts near the top of the paytable - 4 sevens, wild royal flush with sevens and five of a kind.
When you make the right decisions as to which cards to hold and which to discard, the wins generated by the wild sevens have the potential to boost your bankroll in a big way!
RTG Sevens Wild Paytable at Springbok Angola Online Casino
To compensate for the bonus wins Sevens Wild video poker only pays out for Three of a Kind and better.  Here's how much you can win when you create paying poker hands:
| | | | | | |
| --- | --- | --- | --- | --- | --- |
| RTG Sevens Wild Video Poker | 1 Coin | 2 Coins | 3 Coins | 4 Coins | 5 Coins |
| Royal Flush | 300 | 600 | 900 | 1200 | 4000 |
| 4 Sevens | 200 | 400 | 600 | 800 | 1000 |
| Wild Royal with Sevens | 25 | 50 | 75 | 100 | 125 |
| Five of a Kind | 15 | 30 | 45 | 60 | 75 |
| Straight Flush | 10 | 20 | 30 | 40 | 50 |
| Four of a Kind | 5 | 10 | 15 | 20 | 25 |
| Full House | 3 | 6 | 9 | 12 | 15 |
| Flush | 2 | 4 | 6 | 8 | 10 |
| Straight | 2 | 4 | 6 | 8 | 10 |
| Three of Kind | 1 | 2 | 3 | 4 | 5 |
Play Up to 52 Hands Simultaneously  
What makes our Sevens Wild video poker extra special is you can play the single-hand version of the game or games that allow you to play three, ten or 52 hands at a time.  Although you bet, hold and draw in exactly the same way in all the games, the multi-hand games give you loads more opportunities to create winning poker combinations!
If you're a newcomer to gambling online you may not be aware that video poker is one of the most lucrative gaming categories at our Angola online casino.  All the games, from Jacks or Better to Sevens Wild have a remarkably low house edge.
Best-Ever Low Edge Online Casino Games 
As RTG Sevens Wild video poker has a house edge of just 0,84 percent the average return to player (RTP) is 99,16 percent.  That's not a bad return when you convert the statistics to rands and cents - for every R10 bet on Sevens Wild at Springbok Casino, an average of R9,91 is paid back to all players over time!
In addition to the meagre advantage the house has in the games, video poker is a skill-based gambling category.  As a result, you can learn a Sevens Wild video poker strategy and implement it in real-time at Springbok Angola Online Casino.
That way you'll maximise your chances of completing winning hands according to the conventional poker rankings.  You'll also fractionally lower the house edge.
Sevens Wild Video Poker Optimal Strategy 
If you want to get off to a winning start playing Sevens Wild video poker at our Angola online casino, there are steps you can take to optimise your payout rate.
Your first step is to memorise our basic Sevens Wild strategy that outlines which cards to hold and which cards to discard before the draw.  Once you are more proficient at the game, you can upgrade to a more complex strategy that focuses on how best to utilise the wild sevens in your play.
Here are a few basic rules you can apply as a strategy:
Always hold a five of a kind, four of a kind, straight flush and royal flush.
As sevens are wild, it makes sense to hold the lot.
Hang onto four cards to a royal flush and if you have just one wild seven, hold four cards to a royal flush rather than to a flush, straight or straight flush.
Keep any four cards to a straight flush and any three cards to a royal flush
Hold four cards to a flush or a straight, and three cards to a straight flush
Retain four cards to an inside straight and keep two cards to a queen or jack high straight flush
When dealt two pairs, hold onto the highest one
Always discard two cards to a royal flush
This strategy is by no means exhaustive but it will put you in a position where you'll win more hands than you'll lose.
Double or Nothing Bonus Round
When you play Sevens Wild at the number one Angola online casino, you'll have the opportunity to double the payouts you earn by forming a winning poker hand.  The Double or Nothing bonus round is an optional play with a 50/50 chance of winning.
It's a simple card comparing round contested between you and the dealer.  The dealer reveals one card face up and you have to choose one of four face down cards. 
When you select a card that has a higher value than that of the dealer's your winnings are automatically doubled.  If not, you lose the lot.
Sevens Wild Double Bonus - Yes or No?
You probably want to know whether the Double or Nothing bonus round is a good or bad idea.  In gambling terms, it's not a bad bet as you have an even chance of winning.  
Having said that, it all boils down to your appetite for risk and how much you stand to lose.  If for instance you hit 4 sevens or a royal flush on a five coin wager would you be willing to risk payouts of 1,000:1 and 4,000:1 respectively?  I wouldn't. 
I probably wouldn't be averse to gambling a few of the smaller video poker payouts though, like the ones for a flush, straight or three of kind! 
At the end of the day the Double or Nothing bonus represents one of the few bets in the casino that doesn't have a built-in advantage for the house!
Springbok Casino: Where Winning is Part of the Package
Do you want to play to win?  When you register an account at Springbok Angola Online Casino there really are multiple ways to win.  
Besides the real money casino games there's an endless selection of bonuses and promotions you can unlock right away… not to mention the comp points that automatically accrue on every bet you make!