Top Online Gamble Real Money Tips for All American Video Poker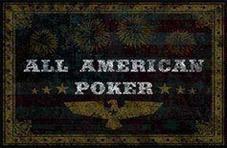 All American video poker is a hyped version of Jacks or Better.  It offers bigger and better payouts on five poker hand combinations in exchange for slicing the winnings for two pair down to even money.
As an online gamble real money casino game with attitude, All American has it all - from wicked wins on multiple hands to the razzle and dazzle of the star spangled banner!
How can you win loads of loot playing All American at Springbok Casino?  By following an optimal gaming strategy that's similar to Jacks or Better of course.  If you're an old hand when it comes to banking ZAR on the original version of video poker online, All American should prove to be as exciting and a lot more rewarding too.
Play All American Video Poker and Benefit from a Sky High RTP 
Before we get into the how, what and when of All American let's take a look at the really important stuff.  By that we mean the house edge - that slice of each wager Springbok Casino skims off the top to maintain our sizzling hot gambling services and to pay our software provider and customer support staff!
As with all awesome video poker games, All American has a house edge that's so low it's comparable to the altitude in California's Death Valley.  What altitude?  It's below sea level for heaven's sake!  
What we're trying to say is when you open the single play version in your browser, you'll get the benefit of a return to player (RTP) of 99.60 percent.  
That means almost 100 percent of every bet that's placed on All American at Springbok Casino is paid back to players in ZAR!  As a result, the house edge is only 0.40 percent - which is meagre to say the least.
Exploit the Juicy All American Payouts on Multiple Poker Hands
What can you win when your fire up the All American game engines on your PC or mobile phone?  Well that depends on how many coins you're prepared to wager per hand.
To ensure that you know exactly what's what in terms of online gamble real money returns, let's take a look at the All American single play pay table:
| | | | | | |
| --- | --- | --- | --- | --- | --- |
| All American | 1 Coin | 2 Coins | 3 Coins | 4 Coins | 5 Coins |
| Royal Flush | 250 | 500 | 750 | 1,000 | 4,000 |
| Straight Flush | 200 | 400 | 600 | 800 | 1,000 |
| Four of a Kind | 35 | 70 | 105 | 140 | 175 |
| Full House | 8 | 16 | 24 | 32 | 40 |
| Flush | 8 | 16 | 24 | 32 | 40 |
| Straight | 8 | 16 | 24 | 32 | 40 |
| Three of a Kind | 3 | 6 | 9 | 12 | 15 |
| Two Pair | 1 | 2 | 3 | 4 | 5 |
| Tens of Better | 1 | 2 | 3 | 4 | 5 |
How to Win ZAR Playing All American Video Poker
Right, now to the business end of how to play All American online gamble real money games… and win.  As with all skill-based casino games, you can maximise the pay out rate by learning how to play All American the best way you can.
What do we mean by that?  Well, we've made it easy for you.  We've listed exactly which cards to hold based on the cards you have in your hand.  Got it?
As you probably already know you'll be dealt five cards.  You'll also know you can discard one, all or none of those cards and draw replacement cards.  That decision is what makes all the difference between bagging meagre wins or banking gigantic payouts of up to 4,000 coins.
Here's a breakdown of the All American optimal strategy so that you can form winning combinations on more hands than you lose.
Best-Ever All American Online Gamble Real Money Strategy 
Our All American video poker strategy is really easy and based on the cards you should hold, rather than those you should discard.  Here goes… these are the cards you should always hang on to in the hope you'll draw the cards you need to form a winning poker hand:
Any pair
Jack or higher
Two high cards – Jacks of better
Two cards to a royal flush
Three unsuited high cards – Jacks or better
Three cards of the same suit
Three cards to an inside straight flush
Four cards to a straight
Three cards to a royal flush
Four cards to a flush
Four cards to a straight flush
Along with an optimal gaming strategy there are also things you should do and things that you shouldn't do when you online gamble real money on All American at Springbok Casino.
These are our tried and tested tips that, when used in conjunction with our All American best play strategy, are a boon to any betting account.
All American Online Gamble Real Money Tip #1
Avoid playing the multi play version of All American.  Why?  Well, first of all you'll get 30:1 for four of a kind instead of 35:1.  That may seem like a silly quibble but when you're playing the game with relatively high stakes those extra coins can convert into serious sums of money.
Second of all, the RTP on the multi play version is 98.49 percent.  That means the house edge increases from 0.40 percent to 1.51 percent - now why would anyone want to give us more of their hard earned cash?  Beats me!
All American Online Gamble Real Money Tip #2
Always bet the five coin maximum wager when playing All American at Springbok Casino.  It's the only way you can bank the major money prizes.  
In case you've forgotten there's a top pay of 4,000 coins for a royal flush and an impressive 1,000 coins for a straight flush.  Now wouldn't you look the fool if you hit a royal flush on a one coin wager.  That would mean banking just 250 coins instead!
You Don't Have to Break the Bank to Bet Max
By the way, betting max doesn't mean you have to select the highest chip value and wager five coins.  It simply means implementing five coin wagers - of the lowest available coin denomination - on every hand.  
Obviously, the more money you bet the higher the return… so how much you wager in rand terms is really up to you!