Best Ever Online Casino Games Strategies for Let It Ride Poker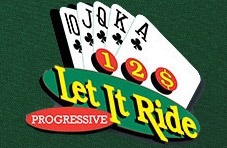 Let it Ride is an exciting variation of five card draw poker.  It's one of those action packed online casino games that allows players to peek at the cards and either withdraw a portion of their wagers… or let one or more of the bets ride.  It also offers an optional progressive side bet where the prizes are eye popping in the extreme.
As with all online casino games developed by Real Time Gaming (RTG), Let It Ride features a realistic table layout and all the design details of Vegas-style table games.
Along with seamless functionality and awesome aesthetics, there's plenty of money to be made when you play Let It Ride at Springbok Online Casino … provided you make the right decisions at the right time.
Let's take a look at the nuts of bolts of Let It Ride and how you can maximise your chances of hitting standard payouts of up to 1,000:1 - yup, you read it right - that's R3,000 big ones on a R3 wager!
The Rules of Let It Ride 
By now you'll know that when you play skill based online casino games at Springbok online and mobile casino, you're pitting your skills - and your luck - against the dealer. 
In this version of conventional poker whatever chip value you choose is automatically replicated to fill the three positions on the table - 'ante', 'raise' and 'raise'.  That means the actual wager is three times the chip value you've selected.
Two Vital Player Decisions
Once the bets are down, you'll have the option to place a side bet by clicking on the 'progressive' tab.  With that bet you'll unlock the winnings linked to a progressive jackpot.
The game begins with three player up cards displayed on the table and two community cards lying face down.  At this stage and based on the cards you're dealt; you'll have the opportunity to withdraw one third of your total wager or let it ride.
Once you've made your decision, the dealer will reveal the first community card and you'll have the opportunity to withdraw the third of the bet in the second 'raise' position or you can let the second bet ride. 
Thereafter, the second community card is automatically flipped over.  If your three cards plus the two community cards form a pair or tens or better, you'll be paid out according to the pay table.  If not, you'll lose the portion or portions of your bet still on the table. Got it?
If you take the optional progressive side bet and hit a royal flush, you'll bank the entire progressive jackpot.  Lower value hands also count and pay out winnings as a specified portion of the major money pot or as a fixed cash amount!
How Much Can You Win Playing Let It Ride? 
As we've already explained Let It Ride is one of those online casino games with a standard pay table or a progressive jackpot pay table in-play. Decline the side bet and you'll be paid out as follows:
Royal flush - 1,000:1
Straight flush - 200:1
Four of a kind - 50:1
Flush - 8:1
Straight - 5:1
Three of a kind - 3:1
Two pair - 2:1
Tens or better - 1:1
Activate the optional side bet and you could be in line for one of the following cash rewards:
Royal flush - 100 percent of the jackpot
Straight flush - 10 percent of the pot
Four of a kind - R500
Full house - R100
Flush - R75
Optimal Let It Ride Strategy
Now that you're know what's in store for you when you win, it's crucial to play the game the best way you can.  That means learning and memorising an optimal online casino games based on the cards you are dealt and the two community cards on the table.
Here are the best ever Let It Ride strategy tips:
Only let the first 'raise' bet ride when you are dealt the following three card hands:
A winning hand - a pair of tens or better or three of a kind
Three consecutive cads to a straight flush with the exception of A, 2, 3 or 2, 3, 4
Two consecutive cards to a straight flush plus one high card such as 7, 8, J or 5, 6, K
Let the second 'raise' bet ride on one of these four card hands:
A winning hand - pair of tens or better, two pairs or three of a kind
Any four cards to a flush
Four cards to a straight without a high card
Four cards to a straight with a high card
Four consecutive high cards
Take the Optional Progressive Side Bet at Your Peril
Last but least it may sound like a brilliant idea to take the progressive side bet.  In reality nothing could be further from the truth.  Why?  Well it's all about the house edge. 
When you play Let It Ride without taking the side bet, the house edge is around 3,51 percent.  That makes the average return to player an acceptable 96,49 percent. 
Factor in the progressive bet and the house edge can soar to as high as 60 percent depending on the current value of the progressive jackpot.  Would you take the chance on any online casino games that had an RTP of just 40 percent?  I think not.
Practice the Game in the Free Play Mode
One of the most obvious but equally valuable Let It Ride betting tips is to practice, practice and practice again.  When you've visualised how the betting works and you've seen how the decisions play out, you'll have a much better understanding of what's expected of you.
Ideally you want to perfect your game play and strategizing in the free play mode.  Once you are familiar with the rules and payouts associated with Let It Ride poker you can upgrade to the real money mode at Springbok online casino.
Even then we strongly advise you to start betting frugally before increasing your stake.  By starting with the lowest available chip value, you can slowly augment the playable balance in your betting account without losing the proverbial shirt.  Now that's the smart way to play online casino games at Springbok Casino - slow and sure!