Online Casino Gambling Guide for Loose Deuces Video Poker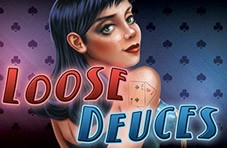 Loose Deuces video poker is a souped-up version of Deuces Wild.  It's an action-packed online casino game that offers thick wads of cash on four deuces and a royal flush.  Along with the dual jackpot wins there's an optional bonus round where you can double the dosh or lose the lot!
Wager the five coin maximum, play your cards properly and you can benefit big time playing Loose Deuces at Springbok Online Casino.  Why?  You may ask.  Well the average return to player (RTP) on the full pay version of Loose Deuces video poker is 99,07 percent! 
If you want some of that, you must play the game perfectly - and that means holding and discarding the cards according to a strict strategy.  You can find the bare bones of a Loose Deuces strategy a little further down the page.  Although our playing tips aren't exhaustive by any means they'll ensure you win a lot more hands than you lose.
If you're wondering what sort of payouts are up for grabs when you play Loose Deuces at Springbok Online Casino here's the RTG paytable in black and white:
RTG Loose Deuces Full Pay Paytable
| | | | | | |
| --- | --- | --- | --- | --- | --- |
|   | 1 Coin | 2 Coins | 3 Coins | 4 Coins | 5 Coins |
| Royal Flush | 300 | 600 | 900 | 1200 | 4000 |
| 4 Deuces | 500 | 1000 | 1500 | 2000 | 2500 |
| Wild Royal Flush with 2s | 25 | 50 | 75 | 100 | 125 |
| Five of a Kind | 15 | 30 | 45 | 60 | 75 |
| Straight Flush | 5 | 10 | 15 | 20 | 25 |
| Four of a Kind | 4 | 8 | 12 | 16 | 20 |
| Full House | 3 | 6 | 9 | 12 | 15 |
| Flush | 2 | 4 | 6 | 8 | 10 |
| Straight | 2 | 4 | 6 | 8 | 10 |
| Three of a Kind | 1 | 2 | 3 | 4 | 5 |
Unlike Jacks or Better and several other variants of video poker Loose Deuces only starts paying for three of a kind.  Although that may not make the world of difference to your total winnings, the comparatively low payouts for a straight flush, four of a kind and full house are sometimes viewed as a handicap.
On the flip side, if you do achieve a royal flush or any of the bonus pays, you'll be whistling all the way to the bank… but only if you've hit the bet max button! 
How Betting Max Impacts the Payout Rate
A quick glance at the paytable reveals the big wins are paid out on a maximum five coin bet.  That's one reason why you should always bet maximum when you play Loose Deuces – or any other video poker games for that matter – at the online casino.
Another equally important reason is to do with the house edge.  Play five coins per hand and the advantage to the house is just 0,93 percent.  Decrease your wager to only one coin per hand and the house edge leaps to as much as 2,02 percent.  That's quite a significant jump and one that can and does affect the bottom line.
Let's put it another way.  As we've already, mentioned Loose Deuces offers an average return to player of 99,07 percent.  That's provided the game is played according to a mathematically correct strategy and with a maximum bet in place.
In real terms that means for every R100 wagered on Loose Deuces at Springbok Online Casino, R99,07 is paid back to players in the forms of winnings.  When only one coin is bet per hand the RTP slumps to R97,98 regardless of whether a strategy is implemented or not.
It may seem rather ridiculous to worry about R1,09 here and there but if you play Loose Deuces often enough at the online casino that small amount of money can add up to a lot!
Loose Deuces Bonus Round
In the single-hand version of Loose Deuces video poker you have the option of doubling the payouts at the culmination of each winning hand.   The Double or Nothing bonus round is structured as a simple comparative card game.
When you choose a higher value playing card than that of the dealer's, your payout is automatically doubled. If the dealer's card is higher, you lose the winnings.  Cards are ranked as they usually are except for the wild deuces - twos are ranked higher than all the other cards.
A question that often crops is whether the bonus round optional bet is a good one.  In statistical terms it is, as it's an even money bet where you have a 50-50 chance of winning.  Having said that, it's probably not such a good idea when you've hit one of the more lucrative pays. At the end of the day it's up to you and whether you have the appetite to risk the money that you've already won.
Basic Loose Deuces Strategy 
Our Loose Deuces strategy is built around the fact that the payouts for straight flushes and lower are meagre. The idea is to win money at an online casino and if that's your goal, you must focus on forming the hands the pay the most.
Here's how we think you have the best chance of doing exactly that:
Discard one, two or three unmatched high cards
Discard three cards to a flush or straight.
Hold only one of two pairs
Keep two deuces and discard three cards to a flush or straight
Hold three deuces and discard the rest – even on a straight flush or wild royal flush
Hold two deuces and discard four cards to straight flush
Hold a pair of there are no deuces
Hold three cards to a royal flush, straight flush, five of a kind and discard a pair
Hold four cards to a wild royal flush or royal flush rather than going for a straight or flush
Do not keep high cards
Sign Up at Springbok Casino: Capitalise on an Above Average RTP!
When you follow our Loose Deuce playing tips and implement a basic strategy there's no reason at all why you can't capitalise on an online casino game that has one of the highest RTPs around.  
Go on; sign up at Springbok Casino right now and see how deuces can help you build a bigger bankroll in ZAR!