Is Video Poker the Best Casino Game For You?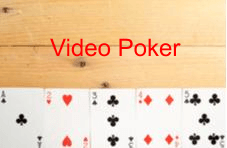 In our day and age, the diversity of available online casino games is astounding. You have classic games such as poker and blackjack appearing alongside modern games such as progressive slots games and video poker.
With such a selection of games, which you can access in mere seconds, choosing the game that suits you most is not an easy feat. Are you more of a poker person? Or maybe online slots suit you better?
Every casino game attracts a different type of players, and video poker is no different. Before you place real money bets, figure out whether this type of poker suits you or not!
Video Poker Player's Profile
So what kind of players enjoy playing video poker the most? In many cases, a successful video poker player is someone who:
Is familiar with different types of games – Since video poker is essentially a combination of the classic poker and the well-known slots machines.
Understands poker on a professional level – Before you can deal with a modernized variation of the game, you have to know everything about it in advance.
Can think outside the box – Since this is no regular poker game, and you will have to adjust your gambling strategy accordingly.
Enjoys a complex game – While automated games often look as if they require little to no effort on the players part, we're still talking about poker! That is a game that deserves your full attention at all times.
Enjoys diversity – Sure, sitting at a poker table can be extremely fun, but some people appreciate a bit of diversity every once in a while!
Has a busy schedule – When you play poker against real-life players, there is no telling how long one game will take. Since every game can last for quite a while, players with a packed schedule can't indulge in the activity as often as they'd like. Video poker, however, is a quicker version of the game and can suit you if you have a limited amount of spare time or a spontaneous few free minutes on the go.  
Can think quickly – Since you should be able to finish the game in mere minutes, you have to make swift decisions regarding which card to keep and which to drop. Great math skills might come in handy in this scenario!
Can deal with multiple consecutive loses – Since video poker is operated by an automated number generator, and since there are no human opponents to consider, the results are more random than a regular poker game. That means that you will have less control over the outcome, and you'll have to wait patiently for a win.
In Conclusion
If you possess any of the mentioned characteristics, video poker might be the game for you. Are you ready to start playing?