Online Casino South Africa Tips: Multi vs Single-Hand Video Poker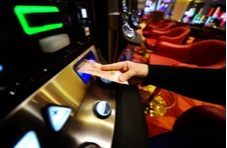 Video poker is one of the most unique and exciting games you will find at our star rated online casino South Africa.  Exciting because it is a variation of draw poker like Texas Hold'em and Omaha.  Unique because it is one of the few online casino games available in the single and multi-hand modes.
At Springbok Online Casino South Africa, you can play up to 52 hands of your favourite video poker at the same time.  Now why would you want to do that?
Do the Odds Improve in Multi-Hand Video Poker?
There is obviously the adrenalin factor.  Who wouldn't get a rush from hitting multiple paying hands simultaneously?  The question is are the odds of winning crisp hard cash any better when you play multiple hands of Jacks or Better, Aces and Eights or All American Poker over only one hand?
The short answer is no.  In fact, the odds are exactly the same notwithstanding how many hands you choose play - whether it is one, three, ten or 52.  The reality is all the hands are replicas of the initial hand - the cards you choose to hold prior to the second deal. 
That means the odds of winning are based on the strength of the keeper cards.  If you are dealt a good initial hand like three of a kind or four to a straight or flush, there is a good chance you will hit a four of a kind or a full house or achieve the straight or flush in at least one or more of the hands.
It all boils down to the potential the starting hand has in generating paying poker hand combinations.  You can obviously make a fair bit of ZAR on a good hand but you can lose cash too.  It is important to remember that as much as 50 percent of all video poker hands dealt at an online casino South Africa are duds.
How Does the Betting Work?
Another point to take into consideration is the bet size.  When you play single-hand video poker you have the option to bet one up to five coins per hand. 
Level up to three, ten or 52 hand video poker and the value of your initial bet is automatically multiplied by three, ten or 52.  A five coin wager instantly becomes a 15 coin, 50 coin or 260 coin bet… per hand.
That basically means you have to have a much larger bankroll when you play multi-hand over single-hand video poker at Springbok Online Casino South Africa. 
Are you willing to lose as much as you can win?  If you are, then multi-hand video poker adds plenty of zing to the remote gambling experience right here at Springbok Casino.
Can I Apply the Same Optimal Video Poker Strategy to Multi-Hand Games? 
If you are a regular at Springbok Online Casino South Africa you will know video poker has one of the lowest advantages to the house.  In other words, the casino only keeps a tiny percentage of the wagers as profit.  The bulk of the bets is paid back to players as winnings.
Video poker games like full pay 9/6 Jacks or Better, Aces and Eights and Double Jackpot Poker have house edges of just 0,46 percent, 0,22 percent and 0,37 percent respectively. 
That of course means the average return to player (RTP) for Jacks or Better, Aces and Eights and Double Jackpot Poker is 99,54 percent, 99,78 percent and 99,63 percent in that order. 
What makes video poker - as a casino games category - even more alluring is you can lower the house edge and increase the RTP when you play the game perfectly… and that means implementing an optimal strategy.
As each variant has different paytables you essentially have to apply a slightly different strategy based on the game you are playing.  That way you will give yourself the best possible chance of winning more hands than you lose. 
The question now is does the optimal strategy that you normally apply to the likes of single-hand Loose Deuces, Sevens Wild or Double Bonus Poker change when you play multiple hands?  The quick answer is no. 
Although you are playing multiple hands at the same time, you are playing the identical starting hand you selected at the draw.  
You are also playing multiple hands of exactly the same video poker variant - be it Jacks or Better, Joker Poker or any of the other 14 variations that are available on the mobile and instant play platforms at Springbok Online Casino South Africa.
Multi-Hand Video Poker - It Is All About the Volatility 
Besides the bet size there is one other element that does change quite dramatically when you play multi-hand video poker… and that is the variance or volatility of the game.  To the uninitiated the variance is a term used for the hot and cold streaks in a game or the swings between the wins and losses.
In a high volatility or variance game you can expect long periods without any payouts followed by equally long periods when you hit high paying hands like four of a kind, full house and straights. 
In single-hand video poker, games like Bonus Poker have a higher variance or volatility than Jacks or Better simply because of the amount of money they pay for the bonus hands. 
Volatility Increases with the Number of Video Poker Hands In-Play
In multi-hand video poker, the volatility or variance increases as the number of hands increase.  Why?  Basically because the strength of each hand is determined by the initial five cards you are dealt.
When you play single-hand Jacks or Better, for example, the variance is around 19 percent, a figure that jumps to more than 23 percent, more than 37 percent and nearly 120 percent when you play three hand, ten hand and 52 hand Jacks or Better respectively.
If you are the kind of player who enjoys wild swings in fortune - both good and bad - then the high variance multi-hand versions of video poker at Springbok Online Casino South Africa are clearly the games for you!