Pros and Cons of Holding a High Card vs Low Pair in Video Poker Online Games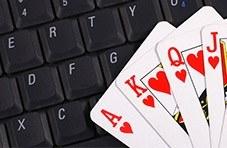 Video poker is one of the best online games at the casino.  Why?  Well it's not only an exciting variation of draw poker that you can play solo, it has some of the best odds around. 
We all know what that means - there is a greater statistical probability of winning heaps of cash every time you spend an hour or so playing video poker at Springbok casino!
For those of you who aren't familiar with the online games that fit neatly into the video poker category, here is a brief recap.
Variation of Draw Poker: Choosing Which Cards to Hold is Key
As a variation of draw poker, the 'draw' factor has to be part of the equation - and it is.  In video poker you have one chance per hand to discard one or more of the five cards you are dealt by the machine. 
The idea is to hold the cards you think have the best chance of forming a paying poker hand - such as a pair of jacks or better, two pair, three of a kind and so on.
To ensure the favourable odds of this king of online games really count, you have to have a strategy in mind that outlines exactly which cards to hold and which cards to discard.
High or Low Pair: An Ongoing Debate
One of the ongoing debates around any video poker strategy - be it for Jacks or Better, Aces and Eights, Joker Poker or one of the several online games with bonus pays - is whether to hold a high card over a low pair or vice versa.
To the uninitiated the high card versus the low pair conundrum may seem like a no-brainer.  As most of us who love playing these online games already know, payouts only start on a pair of jacks or better. 
Surely that means holding a pair of tens or lower is just plain dumb.  In reality, that could not be further off the mark - and here's why.
The Cause for the Low Pair 
With a pair, any pair, you are already holding two cards to a possible two pair, three of a kind, full house and four of a kind.
These may not be the biggest money generators on the paytable but they are lot easier to achieve than the highest paying - and equally rate - poker hand rankings.
You can see the different payouts in the 9/5 Jacks or Better paytable featured below.
| | | | | | |
| --- | --- | --- | --- | --- | --- |
|   | 1 Coin | 2 Coins | 3 Coins | 4 Coins | 5 Coins |
| Royal Flush | 250 | 500 | 750 | 1000 | 4000 |
| Straight Flush | 50 | 100 | 150 | 200 | 250 |
| Four of a kind | 25 | 50- | 75 | 100 | 125 |
| Full House | 9 | 18 | 27 | 36 | 45 |
| Flush | 6 | 12 | 18 | 24 | 30 |
| Straight | 4 | 8 | 12 | 16 | 20 |
| Three of a Kind | 3 | 6 | 9 | 12 | 15 |
| Two Pair | 2 | 4 | 6 | 8 | 10 |
| Jacks or Better | 1 | 2 | 3 | 4 | 5 |
In online games such as video poker the big winners are the players who consistently accumulate a steady stream of wins.
As hitting a two pair, three of kind or full house happens with a lot more frequency than a straight flush or royal flush, you will win your fair share of mediocre hands with a low pair.  That's in terms of the paytable.
Low Pair: Fewer Available Wins 
Having said that, what you do have to take into account when you hold a pair over a high card is you are effectively counting out the payout for jacks or better, a straight, flush, straight flush and a royal flush.
Conversely, all the big pays are achievable - along with all the other poker hand rankings - when you opt to hold the high card instead.
When holding a low pair, you are not in the game - so to speak - for the full paytable.  That statistically means you are likely to win fewer hands… but the hands you do hit pay out more money.
High Card: The Entire Paytable at Your Command
Let's take a look at the high card issue.  As we have already mentioned when you hold a jack, queen, king or ace you have the entire paytable at your command - provided you can find the cards required to complete a paying poker hand.
What that means is you will win more hands but statistically most of them will be pairs, two pairs and other low paying combinations. 
Remember, when you hold the high card you have to draw four cards to a flush, straight, straight flush or royal flush to make the big bucks.  That is a big ask - in any of the poker-based online games you can play right here at Springbok Casino.
More Wins Versus Larger Average Pays: The Choice is Yours  
When all is said and done, you'll probably get more winners on a high card but the average payout will be a lot higher when you hold the low pair instead.  
Which strategy should you apply when you play online games like Sevens Wild at Springbok Casino?  That decision is entirely up to you.  The kind of player you are will probably dictate the kind of card or cards you choose to hold. 
Those of you on the hunt for the mind-blowing jackpot wins paid out for a royal flush or bonus-infused four of kind will always hold the high card.  Others will be more than happy with the nice average pays that can be generated by a low pair instead.
Sign Up at Springbok Casino: Exploit the Online Games with the Best Odds
Now that you know how to win often or win big when you play video poker online, it's time to register an account at the top rated online casino in South Africa - and by that we mean Springbok Casino of course!