Online Gamble Real Money Tips: Best Video Poker for Beginners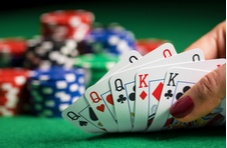 If you are new to Springbok Casino you will find our online gamble real money tips are helpful and informative. We want all our players to get the most out of their gambling sessions and to do that you must have a deeper understanding of our online casino games.
In this article we zoom in on video poker and more specifically Jacks or Better video poker.  As a gaming category it is right up there with the best… and for several reasons.
What is Video Poker?
Don't know much about this popular virtual card game?  Well here's a quick overview of the game and why you should hit the video poker button every time you visit Springbok Casino.
Video poker is fast moving variation of draw poker.  Your aim is to create a paying five card poker hand by holding the best cards you are dealt and drawing new cards to replace the 'duds'. 
In this form of poker, it is you against the machine.  There are no other players involved, the game mechanics are really simple and you always know exactly what you are playing for as the payouts for the qualifying poker hands are posted on the gaming interface.
What Can You Win When You Play Jacks or Better at Springbok Casino? 
What can you win in terms of online gamble real money when you play Jacks or Better online?  In this form of video poker, there are nine paying poker hands.  Pay outs start at a pair of jacks or better and culminate with the rare and seriously lucrative royal flush.
Winnings escalate according to the number of coins bet per hand and the posted odds directly correlate with the statistical probability of achieving that particular five card combination. 
Take a pair of high cards as an example.  That is a common combination that crops up relatively often in video poker and the 1:1 or even money odds reflect that. 
However, a full house, four of a kind and a straight flush only ever appear sporadically - if at all - and the respective 8:1, 35:1 and 200:1 odds tell the story.
The best possible hand in Jacks or Better video poker is a royal flush that pays out at odds of 250:1… but there's a twist in the tail. 
Bet the five coin maximum, hit an elusive royal flush and the odds leap to 800:1 - or 4,000 x your bet!  Now that is the kind of online gamble real money that is worth getting excited about!
Exploit an Online Casino Game with a High Average RTP 
Besides the big jackpot prize generated by achieving a five card hand consisting of 10 to ace of the same suit, Jacks of Better is renowned for having one of the highest average return to players (RTPs).  That in turn means the advantage to the house is negligible at best.
In online gamble real money terms Jacks or Better is one of the best games to play at Springbok Casino.  Why? 
Well we know the RTP is 99.54 percent. 
In practice that means for every R1 wagered on Jacks or Better video poker, more than 99 cents is paid back to players as winnings.  Now that's an awesome return in anyone's estimation!
Learn How to Play Jacks or Better Perfectly
There is one caveat.  For you to benefit properly from the game's low edge and high average return to player, you have to learn how to play the game in the statistically perfect manner. 
In other words, you have to memorise a Jacks or Better video poker strategy that outlines which cards to hold and which cards to discard in order to create a paying poker hand.
That may sound terribly confusing but in reality, many of the moves defined in the Jacks or Better strategy are intuitive. 
For example, the strategy says you should always hold a high card and discard a low pair.  Well that's pretty obvious isn't it?  Why?  Well we know the game only pays for a pair of jacks and above!
Play Draw Poker at its Best 
The reason we recommend Jacks or Better video poker - especially for new players - is because it is the purest form of draw poker available online.  
In other words, there are no bonus pays like you find in Aces and Eights or Deuces Wild to complicate matters.  It is straightforward draw poker at its best.
If you really do want to maximise the online gamble real money returns at Springbok Casino, Jacks or Better video poker is your go-to game.  It is easy to master, fun to play and you have the benefit of a best play strategy that you can learn and implement as you play the game.
When you play Jacks or Better video poker the best way you can, the advantage to the house is just 0,46 percent.  In financial terms that means only a little over 4 cents in every rand spent on the popular video poker variant is retained by the casino as profit!
Sign Up: Put Our Online Gamble Real Money Tips into Practice 
Now that you know a lot more about Jacks or Better - and video poker as a whole - it is time to put what you have learnt into practice.  At Springbok Casino you can play all the games in the fun mode, from Jacks or Better video poker to blackjack, baccarat, roulette and slots.
All you have to do is register an account, open the instant play, download or mobile casino on your PC or phone and click on the games category that excites you the most.  You'll be presented with a page packed with game thumbnails… and then it is over to you.
Once you are more familiar with the game, its features and oh so awesome winnings you can upgrade to the online gamble real money mode and exploit the low house edge loophole that is part of the Jacks or Better video poker package!