Best Online Casino Facts: The Odds of Hitting a Royal Flush in Video Poker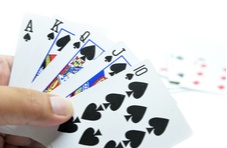 When you play video poker at the best online casino ZA, you should only have one goal in mind - and that is to hit a royal flush.  The reason is pretty obvious.  It is the highest paying hand in virtually every single video poker variant available in cyberspace.
Anybody who knows anything about gambling will be aware that even the best online casino sites - like Springbok Casino - are in the business of making money.  That means they are not going to be doling out humungous sums of cash for card combinations that are easy to achieve.
The Odds Reflect the Hit Frequency
In video poker - and all other casino games for that matter - the odds are a direct reflection of the hit rate.  In other words, you will get paid out a hang of lot less for a pair of jacks than you would a straight, flush or royal flush.
With a pair you only have to hit two viable cards in a five card hand.  With a straight, flush and royal flush all five cards have to be sequential - in value and/or in suit! 
It All Boils Down to Probabilities 
The big question is; what are the chances of achieving a royal flush?  As the best online casino South Africa, we felt obliged to crunch the numbers. 
After tapping away on the calculator, we have come up with the actual facts and figures as they pertain to the Jacks or Better 9/6 single deck video poker.
The High Card and the Royal Flush - 1:178,365
Let's start with the worst possible staring hand to a royal flush and work our way up.  By that we mean a completely mixed bag of tricks in the initial deal with only one high card to soften the blow.
As you are hunting for the royal flush your strategy is to hold the high card and discard the rest… even if there is a pair or even a two pair in the fray. 
In normal circumstances you would hold a high pair and a two pair and go for a three of a kind, full house, or four of a kind… but that's a story for another day.
With only a high card in the equation, what is the probability of hitting the four cards required for a royal flush?  Bear in mind the jackpot hand is 10-J-Q-K-A in a matching suit.
According the statisticians there is a one in 178,365 chance of pulling off the 4,000 coin win with only one card to the royal flush.  Wow, that is really a long shot in anyone's estimation. 
You would be much better off going for the smaller pays and building a balance in your best online casino account!
Two Cards to the Jackpot Prize - 1: 16,215 
Right, what are the odds of turning two cards to a royal flush into a big paying proposition?  The good news is the average frequency of hitting this particular card combination is around once in every 13 hands.
However, the statistical probability is still way out at one to 16,215! 
Tri-Card Combination - 1:1,081
You would have to play an average of 92 hands to be dealt three high cards of a matching suit.  Although you would have to play a lot longer and wager a lot more money to get the tri-card combo, the odds of hitting the mega money prize drop pretty dramatically to one to 1,081.   
Umm - things are starting to look slightly more positive! 
Four Cards to a Royal Flush - 1:47
Similarly, you will have an average wait of 2,777 hands before being dealt four to a royal flush.  This time you would have a one in 47 chance of getting the fifth card you require to unlock the jackpot.  
Now we are talking.  It clearly pays to spend a little more time playing Jacks or Better at the best online casino!
The lesson here is you have to deliver optimal input in order to bank optimal output - not only in terms of bets but in terms of time spent at the virtual video poker machine. 
Never Any Guarantees 
The other important lesson is everything we have said in this article is based on the law of averages.  In other words, there is no guarantee you will ever hit a royal flush - whether you play two thousand hands at the best online casino or two hundred thousand.
On the other hand, it is equally important to remember that although the odds of hitting the top paying five card poker hand in Jacks or Better are long - to say the least - there is always a chance it will happen… sometimes even on the first deal of the first hand you have ever played!
How to Maximise Your Chances of Hitting a Royal Flush
Jacks or Better can be one of the most rewarding online casino games you can play at the best online casino South Africa.  Why? 
Well it has an average return to player of 99.45 percent - and that means a lot more money is destined to flow into the players' coffers than the casino's bank.
To leverage the attractive RTP you have to learn to play the game perfectly and by that we mean memorising a best play Jacks or Better strategy and applying it to your game play. 
By holding and discarding cards based on a defined strategy, you can lower the house edge even further.  With time, patience and fair dollop of good fortune the odds of hitting a royal flush at the best online casino are that much more in your favour!
Go on; there is magic in the cards!  Sign up at Springbok Casino now and let the law of averages do its thing!  We offer all the popular video poker variants in the single and multi-hand modes!