Are Video Pokers with Bonus Pays the Best Online Casino Games?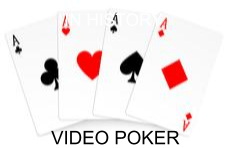 One category of online casino games that is not only fun to play, but potentially generously lucrative, is video poker.  It is a variation of conventional draw poker but in this case, you play against the machine.  One might say it is a fusion between modern slots and the traditional card game.
At Springbok Casino, there is a mystifying selection of video poker games!  They all have cool and catchy titles and are available in a range of single and multi-hand modes.
The challenge for new players is to find the online casino games that have the best payout rate.  Is Jacks or Better – the so-called purists' version of video poker – first choice?  Or is it one of the many games that offer lip-smacking bonus pays over and above the usual winnings for the traditional poker rankings?
Take the Informed Approach to the Best Online Casino Games Selection
If you want to do more than take the thumb-suck approach to online casino games selection, there are a number of variables to consider.  We can bore you with complex terms like variance and probability, or we can give you a few salient facts about why video pokers with bonus pays can be a good bet.  Let's stick with the latter.
In statistical terms, Jacks or Better has one of the lowest house edges and highest average return to players (RTP).  Play the game according to a proper strategy and you can consistently build a bank roll with a whole lot of small value wins for a pair, two pair and three of a kind.
That's all fair and well, but only winning meagre amounts, no matter how often, may get a bit one-dimensional for players who like a bit more of a betting buzz.
Is the High Risk-High Reward Scenario What You Are After?
If you are the type of player who enjoys the heightened excitement of a high risk-high reward kind of scenario, then Jacks or Better probably perhaps isn't for you.
On the other hand, online casino games like Bonus Poker, Double Bonus Poker and Double Double Jackpot Poker are well-worth a shot.  The risk of losing money may be higher but the rewards can be greater too!
Capitalise on Bonus Pays for Four of a Kind 
Take Double Double Jackpot Poker as an example.  Besides the eye-popping payouts for a royal flush that is standard across all the video poker games at Springbok Casino – 4,000 x the bet on a five-coin wager – there is an impressive amount of money available for the four of a kind combinations. 
Here's the kicker; aside from offering a payout of 800 x the wager for four aces, there are extra pays associated with the four matching cards ranking:
4 x Aces with KQJ - 800 x
4 x KQJ with AKQJ - 800 x
4 x KQJ - 400 x
4 x 2 to 10 - 250 x
The Odds are in Your Favour
What makes this paytable such a tantalising prospect is the odds of hitting a four of kind are 1:423.  In other words, they happen a lot more frequently than a straight flush (1:9150) which pays out only 250 x on a maximum bet.
The odds of hitting four aces (1:5761) are even greater than those of the straight flush.  That of course means that provided you have a mid-sized bankroll and are prepared to exercise patience, there is a fair chance you will hit at least one high paying bonus combination. 
Always Play Video Poker with a Strategy in Mind  
It may take a few hours gambling at Springbok Online Casino but there is a very real chance you will bag a big win!  There is one proviso.  You will only ever win regularly when you play according to a recognised strategy. 
In the case of Double Jackpot Poker, focussing on achieving four cards of a matching value – preferably aces and face cards – should be your go-to strategy.
High RTP, Low Edge Bonus Video Pokers for South Africans
Right, let's look at a few of the statistics associated with the online casino games that offer bonus pays.
The average return to player is a good place to start as it basically reveals the historical payout percentage of the game – the portion of all the wagers that is paid back to players as winnings.
In the case of Double Double Jackpot Poker, the RTP is 99,36 percent – the seventh highest of the 14-strong video poker suite at Springbok Casino.  In real terms that means the house edge is just 0,64 percent.
Similarly, there are a host of other online casino games that fit squarely into the video poker category, with RTP's of above 99 percent.  All offer one or more bonus payouts:
Double Jackpot Poker - 99,63
Bonus Deuces Wild - 99,45
Double Bonsu Poker - 99,37
Sevens Wild - 99,16
Loose Deuces - 99,07
If you really look at those figures, it essentially means that the video pokers with bonus pays are statistically right up there with the best in terms of win-rate.  
Sign Up for an Adrenalin Rush at Springbok Online Casino ZA
All things considered, video poker is amongst the online casino games that provide the adrenalin rush that so many players are looking for when they open Springbok Casino on their desktop or phone!
Are video pokers with bonus pays the best online casino games at our star rated online casino?  Well, we can safely say they are right up there with the best!