Double or Nothing: An Online Video Poker Strategy That Works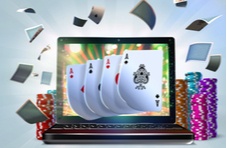 Video poker is the online equivalent of conventional draw poker.  It is fast exciting and available in a wide range of variants that allow you to convert online gamble real money into serious winnings.
Along with the ZAR you can gain when you hit a paying five-card hand, you can boost your bank balance via the optional Double or Nothing bonus round.
Before we get into the tactics you can employ to double your winnings, let's take a brief look at the types of video poker you should play for the best cash returns.
What is the Best Video Poker Variant for Optimal Online Gamble Real Money Winnings?  
Explore the casino games menu at Springbok Online Casino and you will find 14 action-packed variants that range from my all-time favourite, Jacks or Better to the games that offer bonus pays like Aces and Eights, Deuces Wild, Joker Poker and Double Double Jackpot Poker.
Aside from the obvious attraction of playing poker against the machine, video poker as a genre is renowned for its jaw dropping low edge.  What that means is the casino only has a tiny advantage when it comes to the rands and cents.
A Standard Pay Table Equals a Higher Hit Rate Frequency  
When you play video poker at Springbok Casino South Africa, you will find that hitting the poker rankings that generate cash winnings happens relatively frequently, especially when you limit your gaming sessions to the purest form of the game.
In other words, the hit rate frequency is higher in the variants that have pay tables that closely match the traditional poker rankings, such as a pair, two pair, trips, four of a kind, full house and so on.
The moment there are wild cards or bonus pays in the mix the advantage to the house becomes greater and the payouts are curtailed to the extent that they only start at three of a kind and higher.
That means accumulating online gamble real money in your Springbok Casino account becomes that much more difficult.  In statistical terms, the average return to player (RTP) drops and the house edge rises when there are additional ways to win in a game.
Although it may seem like a no brainer to play the video poker variants that have wild cards and unique hand rankings that pay out mind boggling wins, the truth is you will bank a lower amount of online gamble real money over the long term.
Why Jacks or Better? A High Average RTP and Low House Edge
Take for example Jacks of Better video poker.  It is a game that starts paying for a pair of jacks or better and there are no wild cards or bonus pays integrated into play.  The hand rankings on the pay table are the traditional poker rankings that we are all familiar with.
At RTG powered casinos such as Springbok Casino the average RTP for Jacks or Better is 99,54 percent and the house edge is 0,46 percent. 
Variants like Deuces Wild, Joker Poker and Double Double Jackpot Poker, on the other hand, have RTPs of 98,91 percent, 98,51 percent and 98,95 percent and edges of 1,09 percent, 1,49 percent and 1.05 percent, respectively.
Right, now that we have determined that your best bet in terms of accumulating online gamble real money winnings is to play Jacks or Better video poker, let's take a more in-depth look at the Double or Nothing bonus bet.
Double or Nothing Bonus Round Unpacked
Whenever you hit a paying card combination in a single-hand video poker variant, you have the opportunity to double the pay out.  You can either accept or reject the bonus round by clicking on the respective button.
When you select the 'yes' button you will be presented with five cards - one face up and four face down.  Your task is to draw one of the concealed cards and if it has a higher value than the face up card, your winnings are instantly doubled.  When your card has a lower value, you lose the existing pay out.
After playing thousands of hands of single-hand Jacks or Better video poker at Springbok Casino I have managed to increase my share of the online gamble real money winnings by implementing a simple Double or Nothing strategy.
A Double or Nothing Strategy for Risk-Averse Bettors
My tactics are as follows.  I automatically take the Double or Nothing bet when I win one of the low paying hands - jacks or better, two pair and three of a kind.  I also draw exactly the same card each time which, in my case, is the second card from the right.
When the winnings are doubled, I don't play the round again.  That way I have been able to accumulate a cash balance… slowly but surely.  It is the kind of tactic that is more suited to cautious risk-averse bettors and it is a tactic that has paid off more often than not!
That does not mean that you can't gamble the winnings of mid paying hands like a flush and full house.  There is a one-in-five chance you will double the money.  At the end of the day it is all a question of your individual appetite for risk.
However, I would strongly advise against taking the Double or Nothing option when you have banked the online gamble real money winnings associated with four of a kind, a straight flush or flush.  The risk of losing 125 x, 250 x or 4,000 x your wager is simply too great… even for the high rollers who thrive on high risk wagers!
Test the Double or Nothing Tactics in the Free-Play Mode 

The only way to find a Double or Nothing video poker strategy that works for you is to give it a try in real-time.  At Springbok Casino you have a distinct advantage, as you can play all the video poker games in the instant play casino for free.
That means you can test the tactics on exactly the same platform used by the real money gamblers but without having to spend a cent of your own.
Once you have learnt how to play Jacks or Better the best way you can  - and that means according to the optimal game strategy - and you have refined your Double or Nothing tactics, you can level up to the online gamble real money mode at Springbok Online Casino and start building a ZAR bankroll… piecemeal!