Top Casino Games Tips: 5 Good Reasons to Play Aces and Eights Video Poker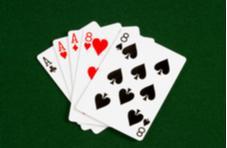 Aces and Eights is one of several casino games that fall into the super-exciting video poker genre.  It is a variation of the popular old classic, Jacks or Better but has an even higher average return to player (RTP).
What does that mean to the layman?  Well the potential to win real money is at its highest when you fire up the Aces and Eights casino games engines right here at Springbok Online Casino!
Bonus Pays  
Why is Aces and Eights such a money-spinner?  Apart from the fact that it starts paying for a pair of jacks or better, it offers two extra pays – 4 a kind aces and eights and quad sevens – over and above the standard winnings for four matching cards.
What is so unusual about this bonus video poker variant is that there is no compromising when it comes to the full paytable.  In other words, the extra payouts are not offset by slashing the winnings on a pair or two pair – as is so often the case in many other bonus casino games.
Low House Edge
Along with providing the full gamut of opportunities to win ZAR, Aces and Eights has the lowest house edge of all the video pokers.  That of course means it has the highest RTP, a fact we have already alluded to earlier on in the post.
What is even more notable about this king of casino games is that you can adopt an optimal strategy that can cut the house edge by another few slices, provided you get the plays right and practice it consistently.
That is the technical side of things.  Now to the other equally enticing elements that make Aces and Eights the leader of the video poker 'brat pack'.
Single and Multihand Modes
Firstly, Aces and Eights is one of the casino games that is available in the single and multihand modes.  Smart South Africans who have joined the Springbok Casino family – or should we say team – can elect to play three hands, ten hands or 52 hands of Aces and Eights… at the same time.
That of course requires a larger wager but on the positive side, playing multiple hands simultaneously has the capacity to pay out loads more loot.
Win Up to 4000 x Your Wager on a Five-Coin Bet
What can you win when you play Aces and Eights at Springbok Casino?  Hit the bet max button and you could be part of the cash-rich dream team that has banked 4000 x the bet for the best paying poker hand… and that of course is a royal flush.
Here's a breakdown of the Aces and Eights paytable at Springbok Casino on a five-coin wager:
| | |
| --- | --- |
| Royal Flush | 4000 |
| Straight Flush | 250 |
| Four Aces or Eights | 400 |
| Four Sevens | 250 |
| Other Four of a Kind | 100 |
| Full House | 100 |
| Flush | 25 |
| Straight | 20 |
| Three of a Kind | 15 |
| Two Pair | 10 |
| Jacks or Better | 5 |
As casino games go, Aces and Eights is pretty impressive in terms of winnings.  Other than the royal flush bonus bonanza there are five pays in triple figures – and that's not too shabby in anyone's books.
Optional Double or Nothing Round  
Secondly, apart from the standard wins posted on the paytable, there is one additional way of banking hard cash every time you delve into the casino games sorted under the video poker category.  To the uninitiated, we are talking about the optional Double or Nothing bet.
It is not a side bet per se as you don't have to sweeten the pot to get a second bite of the cherry.  Instead, it is a chance you take to double the existing winnings.  Be warned though – pick the wrong card and you forfeit the lot.
The Double or Nothing bet is continuous, provided you keep picking a card that is higher than that revealed on the gaming interface. 
What that theoretically means is you can keep on doubling the original payout – but the odds of that happening over an extended period are very long indeed.
Top Tactics for Doubling the Loot
Although the Double or Nothing round is a bit of a lottery, it can help you accumulate a positive balance in your casino games account.  Ideally you should have some sort of tactic in mind if you do decide to take a chance.  Perhaps you are prepared to risk the low pays for jacks or better, such as a two pair or three of a kind? 
If you are the kind of gambler who thrives on high risk, you will probably be quite content to take a punt on doubling the money prizes at the top of the casino games paytable without so much as a blink of the eye!  If you fall into that category – go for it!
Another technique that can prove comparatively fruitful is to only double 'one more time'.  In other words, if you win the Double or Nothing round the first time – and it's for a low paying poker hand – doubling again, once, and only once, can pay dividends.  I guess in this case the adage "don't push your luck' springs to mind!
A Recap of the Best Features of Aces and Eights  
Now to recap.  Why is Aces and Eights one of the best casino games to play at Springbok Online Casino South Africa?
In short, apart from the 4000 x jackpot, two bonus pays, and optional Double or Nothing round and single and multihand game modes, it has an unbeatable average return to player of 99,78 percent – the highest in the genre.  That is as close to 100 percent as you can get at the online casino!
Play Aces and Eights Now on PC or Mobile Phone
With all those built-in perks, why wouldn't you play Aces and Eights every time you engage the Springbok Casino video poker tab on your PC or mobile phone?
Seriously, the only way you can benefit is to give Aces and Eights a swing – it's available right here in the free-play and real money modes!