Video Poker and Variance - Which Online Games Are for You?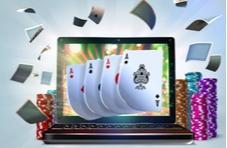 Do you simply love video poker but don't know which online games to play?  Well, we may be able to give you a few tips in that regard and our rationale is based on that commonly flung-about term, and that is 'variance'.
Before we get into the why's and what's of variance, it is a good time to point out that Springbok Casino has a range of more than a dozen video poker games.  Each game has its own unique features, pay outs and, in many cases, bonus wins.
Some are classic versions of conventional draw poker and others are a lot more creative, entertaining and should we say… hair raising.  When you unpack individual gambling components like stake, strategy and payout, they all reflect one thing – yep, you guessed it – variance.
What is Variance?  
Variance is a measurable statistic that basically refers to the size and frequency of payouts.  Low variance games are less volatile when it comes to hot and cold streaks.
They pay out regularly but the value of the winnings isn't going to make you an overnight millionaire.  When you play low variance online games at Springbok Casino, you will find paytables overflowing with low paying poker hands at the expense of the big money jackpot generators.
Conversely, high variance video poker games exhibit big swings in wins and losses.  You won't bank ZAR all that often but when you do, there is a good chance you'll bank the proverbial blinder.
Why?  Well, in short, high variance games always have one or two big bonus pays on the paytable – that is over and above the standard 4,000 coin payout for a royal flush on a maximum five-coin wager.
That does however mean a few of the low paying hands, such as a pair and two pair, are cut from the paytable to compensate for the humdinger of a bonus!
Low Variance Video Poker Games  
For those of who like fact-based information, video poker games with a variance of 30 or less are considered low variance.  That kind of data is largely immaterial as game developers seldom provide the average return to player (RTP) of games, let alone the calculated variance.
What we do know for sure is low variance is directly linked to low risk.  That means your bankroll lasts a lot longer and the strategy you have to adopt to play the game the best way you can is relatively simple and easy to memorise.
On the downside, low variance games can become a bit one-dimensional.  You may win plenty of hands but those hands usually pay out a few rand here and there.  Having said that, low variance online games are just the ticket for players who are risk adverse.
What are the online games with a low variance at Springbok Online Casino?  Well, the vast majority of the titles are low variance and they include:
Aces and Eights
All American
Bonus Poker
Double Bonus Poker
Double Jackpot Poker
Deuces Wild
Jacks or Better
Mid to High Variance Video Poker Online Games
The rest of the video poker variants are medium variance games.  The only exception is Loose Deuces, which is the solitary high variance game in the Springbok Casino pack.
These are the online games that are more suited to players who thrive on adrenalin.  You'll experience wild swings in the win-loss ratio and your bankroll is likely to go up and down like a deranged yo-yo.
Getting to grips with the individual game strategies takes patience and perseverance.  A higher volume of big paying hands means there is more to memorise when it comes to playing with the optimum technique and tactics.
Having said that, playing online games with a medium to high variance is never boring!  There is always the possibility of hitting one or two card combinations that pay out a few thousand coins.  With high variance video poker, it's very much a case of high-risk and high-reward.
The Case of Loose Deuces and High-Risk High Rollers
Let's take a look at Loose Deuces as an example.  In this high variance game, four deuces pays 2,500 x the wager – and that is over and above the 4,000 x generated for a royal flush.  In addition, the payouts for a wild royal flush and a five of a kind are 125 x and 75 x the stake respectively.
Even if you wagered the minimum R0,25 five-coin bet you would win R1,000 for a royal flush, R625 for four deuces, R31,25 for a wild royal flush and R18,75 for five of a kind.
Ratchet the stake up to the maximum R25 bet and that means potential returns of R100,000, R62,500, R3,125 and R1,875 respectively – the kind of cash returns guaranteed to get high-risk high rollers into a betting frenzy.
Test the Risk vs Reward Outcome for Free!
Now that you know exactly what is at stake when you play video poker at Springbok Casino, it is time to put the risk versus reward to the test.  That means choosing the games with the variance that you think matches your personality.
Once you have honed in on a particular video poker variant, you can give it a dry run right here at Springbok Casino.  You will find that all the online games in the download, instant play and mobile casino are available in both the fun and real money modes.
That of course means you can get a feel for the game without blowing your bucks.  When you are satisfied that the game and its variance are the perfect fit for your risk appetite, you can migrate to the money mode with a click of a button – and start winning for real!