Best Online Games to Play - All American Poker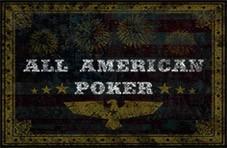 Of all the online games you will find under the video poker tab at Springbok Casino, All American Poker is one of the best.  Not only is it easy to play and emulates Jacks or Better in virtually every way, it has higher payouts, an optional bonus round and one of the best average payout rates in the casino.
Combine all these positive attributes and you have one of the many online games that you should add to your real money play list. 
Let's take a look at each of the standout features that make All American Poker a sure fire hit at the number one online casino for South Africans:
Higher Payouts
All American Poker is really Jacks or Better on steroids.  It offers exactly the same winnings for a royal flush – which for those of you who are new to the wonderful world of online gambling – is a whopping 4,000 x the stake!
Then there are the eye popping payouts for a straight flush – 1,000 x on a maximum five-coin wager – a flush and a straight, both of which deliver 40 x the wager when you hit the bet max button. 
These higher payouts can make all the difference to your average winnings but they do mean that you will get paid out slightly less when you hit a full house or two pair.  In this case, it is all about winning on the swings – and big swings they are – but losing on the roundabout!
High Average Return to Player 
Along with the fact that you can bank more money on three poker hand rankings when you play All American Poker at Springbok Casino, you will also have the added advantage of being paid out more cash over time.
As you are probably aware, the casino always takes a percentage of all bets on all online games as profit.  This is known as the house edge and it is diametrically opposed to the average return to player (RTP).
In other words, once the casino has taken their fixed slice of the bets, the rest is paid out to all player across the Real Time Gaming network over the long term.  That is known as the payout rate, or RTP.  The higher the RTP, the lower the house edge, and vice versa.
In the case of most games in the video poker category, the house edge is comparatively low and the RTP is pleasingly high – making it an attractive game genre for players in any event!
What furthermore makes All American Poker such a great online casino games prospect is that it has the second highest average RTP – after Aces and Eights.  In statistical terms, the payout rate for All American is 99,60% and the house edge is just 0,40%.  That means R9,60 in every R10 is returned to all the players over time in the form of winnings!
We now know that as a player you stand to benefit big time when you choose All American Poker as your online games go-to guy.  There is, however, one more surprise in store for you… and that is the optional bonus round!
Optional Double or Nothing Bonus Round 
The Double or Nothing bonus round is a no-cost gamble that you can take after every winning hand.  It entails choosing a card that is higher in value than the face up card on the gaming interface.
If you are successful, the existing payout is automatically doubled.  When you select a low card, however, you lose the payout in its entirety.  Whether you choose to take the Double or Nothing gamble is really up to you.
A good online games strategy, or rather, one that is safer, is to only opt for the bonus round on the low paying hands like Jacks or Better, two pair or three of a kind and hold off on the higher paying hands.  That way you don't have too much to lose! 
It's also wise to not over-play your hand, so to speak.  If you gain a win with the Double or Nothing bonus round – pocket the cash and move on.  Lady Luck is generally generous but at some point everyone's luck runs out.
Strategy Based on the Higher Paying Poker Hands
Another major attraction of All American Poker is to do with the optimal game strategy.  It is one of the less complex strategies to memorise and is almost exactly the same as the Jacks or Better strategy with a few minor exceptions.
As you can win a jaw dropping amount of money for a straight flush and a flush and straight pay out more than most of the other online games in the video poker genre, you obviously have to take that into account.
At the end of the day any decisions you make around the draw should give you the best possible chance of hitting the poker hand rankings that range from a straight and better.
Available in Single and Multi-Hand Modes
Last but not least, All American Poker is one of the online games that you can play in either the single-hand or multi-hand modes.  At Springbok Online Casino we offer 3-hand, 10-hand and 52-hand formats in all our video variations.
That effectively means you can play up to 52 hands of All American Poker at the same time.  However, you won't be able to double your winning as the Double or Nothing bonus round is only available in the single-hand mode.
Best Online Games Recap for All American Poker 
To recap: All American Poker has an edge of just 0,40 percent, an RTP of 99,60 percent and an optimal strategy that is quick and easy to master.
Throw in the jackpot payout of 4,000 x for a royal flush plus three ranks that pay out more than most – and it is one of the online games that you should seriously consider playing right here and right now at Springbok Casino.
What's more, all our online casino games are instantly available in the fun mode.  That means you can practice your tactics in a safe environment where real money risk is not part of the equation!