4 Great Reasons to Play Deuces Wild at Springbok Online Casino South Africa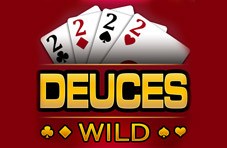 Anyone who knows anything about real money gaming knows that Springbok is the number one online casino South Africa.  What makes us great?
Well, along with our flexible banking methods, attentive customer support services and big cash bonuses, the diversity of Real Time Gaming (RTG) developed casino games available on-demand are core to our elevation to the #1 spot!
Diversity in numbers is always a welcome component on any gambling platform.  It can, however, be a challenge to find the gaming titles that really do offer more than most.
That is where we step in as a gambling guide.  Besides presenting you with tips and game strategies to boost your win-loss ratio, we have undertaken a deep dive of the RTG casino games portfolio with one aim in mind – to direct you to the best opportunities in terms of potential winnings.
Video Poker - The Money Generator at the Online Casino South Africa
As a genre, video poker is one of the most lucrative gambling options at the casino.  The advantage to the house is slim at best – and the average payout rate is one of the highest around, with the hit frequency being enough to extend anyone's betting sessions!
All in all, video poker is quick and easy to play but there are several variants to pick and choose from right here at Springbok Online Casino South Africa.  In this article we focus on Deuces Wild and why you should include it on your forever gambling playlist.
There's a Wild Card in the Pack  
One of the outstanding features of Deuces Wild is the fact that there is a wild card in the mix.   What that essentially means is that it is easier to create winning poker hand rankings every time you engage the game engines at the best online casino South Africa.
Open Deuces Wild on your desktop or mobile phone and you'll notice that all the two value cards have the same powers as the joker in the pack.  Deuces can substitute any other cards to create paying card combinations.
Extra Payouts Mean Extra Real Money Fun
In addition to having the inherent powers of jokers, wild cards create unique and exciting poker hands over and above the conventional hand rankings. In real terms that means more ways to win… and significant amounts of cash too!
In this version of video poker, the paytable features three additional payouts that are eye popping in value. Aside from the 4,000 x jackpot for a royal flush, you can bank 1,000 x the stake for four deuces, 125 x for a wild royal flush and 75 x for five of a kind.
Hit the bet max button with the highest available coin denomination and that translates to potential winnings of R25,000, R3,125 and R1,875 respectively – that's a grand total of R30,000 that's available above and beyond the standard payouts!
An Optional Bonus Round
If that's not enough to convince you to play Deuces Wild at Springbok Online Casino South Africa, perhaps the optional bonus round will.
The Double or Nothing feature is an added deal sweetener that can keep your account balance rolling consistently upwards.  It's available after every win and you can double the money if you choose a card with a higher value than the card revealed at the end of the round.
As a recurring bonus feature you can carry on doubling up the moolah as long as you keep on picking a winning card.  Do we recommend you take a chance with the Double or Nothing gamble?  Well, the odds may not be that great… but it can work in favour when you gamble the winnings generated by the low paying poker hands like three of a kind, straight and flush!
According to experience, it pays to take the risk when the wins are comparatively meagre – but it is also suggested to adopt a tactic where you resist the urge to gamble the same winnings more than once!
Advantage to the House? Hardly!
When you play any casino games at Springbok Online Casino South Africa a portion of your bets is ring fenced as profit and is known as the house edge or advantage to the house. The remaining portion is paid out to players in the form of winnings.
In the case of Deuces Wild the house edge is just 1,09%, or R1,09 in every R10 wagered on the game by all the players at all the casinos in the RTG network.
That essentially means R8,91 is paid out to all players in the form of winnings – and that's an arrangement that I'm sure will delight you!  In other words, there is a high probability you'll win more money than you'll lose when you play Deuces Wild at our star rated online casino South Africa… and that of course if every gamblers' intention.
A Quick Recap of the Virtues of Deuces Wild Video Poker
Let's recap exactly why you should keep Deuces Wild firmly in mind every time you burst through our virtual doors:
The game offers three 

additional payouts

 that are collectively valued at up to R30,000

Deuces are wild

 and can complete paying poker hands
The 

average return to player is 98,91 percent

 and the house edge is just 1,09 percent
There is an option to 

double your winnings at no extra cost

As with all the video poker variants at Springbok online casino South Africa, Deuces Wild is available in the 

single and multi-hand modes

. You can play 3 hands,10 hands or 52 hands simultaneously!
Sign Up at Springbok Online Casino South Africa and Let Deuces Wild Show You the Way!
Now that you have all the facts at your fingertips, it is time to cement your place in the Springbok Casino community by registering a real money account right now.  Once you have completed the virtual registration form, submitted the required documentation and redeemed the welcome bonus code – head on over to the video poker section and you can load Deuces Wild onto your device and start banking ZAR right away!