How to Maximise the Online Games Win Rate: Play Video Poker Like A Pro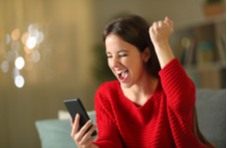 Of all the online games available at Springbok Casino, video poker is right up there with the best.  A cool combo of low edge and high return ensures that this automated version of draw poker is simply irresistible.
If you really want to exploit the natural attributes of the genre, you have to take the time to familiarise yourself with the rules, paytables and strategies.  The trick is to refine your skills by doing what the gambling professionals do and that is what we are going to look into today.
Online games may not be rocket science but you still have to put in the hours if you want to optimise the win rate every time you play video poker… and that means prepping properly for the day when you can load the likes of Jacks or Better, Aces or Eights or All American poker onto your PC or phone and play with real money! 
How can you maximise your chances of winning ZAR every time you hit the draw button in video poker?  Here are a few key tips to get you started on the road to real riches – rather than being stuck cashing in on worthless tokens:
Choose Your Video Poker Games Carefully 
Not all video poker games are created equal.  That means having the inside track when it comes to game variance and house edge is critical when deciding on your preferred choice of online games in this genre. 
How does variance affect the bottom line?  
If you choose a high variance video poker variant like Double Bonus or Double Double Bonus poker you have to prepare for wild swings in fortune.  What do we mean by 'wild swings'?  Well, you'll find hot winning streaks are tempered by protracted losing streets and that, in turn, jeopardises the longevity of your bankroll.  
Ideally, you want to start out playing the low variance online games such as Jacks or Better or Deuces Wild.  Your gambling funds will last a lot longer and you won't be in for such a wild ride in terms of wins and losses.
How about house edge? 
You are probably aware that the casino retains a percentage of all bets as profit prior to paying out winnings.  This is known as the house edge or the advantage to the house.  In gambling speak, the lower the house edge the better it is for players like you and I.
As a category, video poker is renowned for its low edge.  Here again there are notable fluctuations, with some online games having a lower house edge than others.  Identifying and only playing the low edge games is your first step to success.
Which are the low edge video poker variants at Springbok Online Casino?  Aces and Eights, Double Jackpot, All American, Jacks or Better and Bonus Deuces Wild all have a house edge of 0,55% or less! 
Now that's what we call the slimmest of margins when it comes to taking a slice of the profits!  Video poker is the obvious no-brainer when looking for online games with the best returns.
Brush Up on the Online Games Strategy
Now that you have a clear idea as to which video poker variants are the best to play in terms of variance and house edge, it is time to find an online games strategy that outlines the statistically perfect way to play the game.
When you adopt a perfect game strategy you can actually lower the house edge even further and we all know what that means – more payouts to boost your Springbok Online Casino account!
Where can you find strategies for the likes of Jacks or Better and Aces and Eights?  For starters, you can browse through the game-centric video poker guides published on our site – or you can search online for the relevant video poker strategies.
Practice in the Free Play Mode 
Right, you have selected a video poker variant based on its variance and house edge and downloaded the corresponding strategy.  Now it is time to practice the best play techniques… and preferably in a risk-free environment.
One of the many advantages of joining the Springbok Casino community is the fact that all our online games are instantly available in two modes – the free play mode and the real money mode.  That means you can fine tune your strategy without losing a cent of your own!
Once you are confident that you have got the hang of the finer nuances of a particular video poker variant, you can click to upgrade to the money mode directly from the gaming interface.  There are loads of easy ways to instantly fund your account and have to bet, play and beat the house while playing video poker at Springbok Casino in no time!
Always Hit the Bet Max Button 
When you play video poker there is one cardinal rule – and that is to always bet the five-coin maximum.  Fortunately, there is a selection of betting denominations you can pick and choose from, ranging from R0,05 to R5,00.  As a result, hitting the bet max button does not mean you'll deplete all your funds in one go!
Why recommend the maximum wager?  Take a look at the respective paytables and you will soon discover that the really big prizes are only available on a five-coin bet!  When you play video poker at Springbok Casino, betting max has to be a habitual part of your gambling strategy!
Limit the Length of Your Gambling Sessions
It is easy to get carried away when you are winning wads of cash playing online games at the casino.  It is just as easy to get mentally and physically tired.  When that happens, you can make costly mistakes.
Professional gamblers make a point of getting up every few hours and taking a complete break from the table and that is exactly what you should do.  Make a habit of timing your gambling sessions and once an hour has elapsed, get up, move around and have a cup of coffee to perk you up.
Our final tip is to avoid drinking alcohol when you are gambling online.  OK, OK… We know how enjoyable it is to play online games with a beer or glass of wine as company but do try and limit your intake or you may find you lose a lot more than your shirt!  It's proven that people spend more, and more recklessly, when under the influence.
Now that you're armed with the how's, the why's and the what's, you are ready to head over to Springbok Casino to play online games such as video poker like a seasoned pro!