Weighing Up the Wilds in Video Poker at Springbok Casino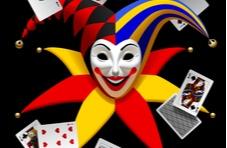 Are you on a quest for low edge online casino games that come with bonus pays and big wins?  Of course you are!  That is exactly what all good gamblers should do... find that elusive edge where it is working in their favour.
We've got great news for you.  At Springbok Casino you will find an entire genre dedicated to 'the edge' – and we are obviously taking about video poker here.  What is even more inspiring is that within the genre, there are online casino games that offer that little bit extra, over and above the favourable edge, and the adrenalin pumping action.
Wild VPs - Online Casino Games with Wild Cards in the Mix
Collectively these are the wild video pokers – the titles that have wild cards parachuted into an already intoxicating mix of conventional and bonus pays based on poker hand rankings.
The trick is to determine which of these online casino games offers the best real money returns.  Is it Sevens Wild, Deuces Wild, Loose Deuces or Bonus Deuces Wild, that big daddy of video poker that offers six – yes six – extra ways to win?
In all the games bar one, deuces – aka 2's – are the wild cards in the pack.  The exception is, of course, the 7's in Sevens Wild – we're referring to cards with these numerical face values. 
The first question is what differentiates one game from the other?  The second question is which game is the most advantageous to you, the player?
Bonus Deuces Wild - More Pays Equals More Money?
When it comes to the actual quantity of potential payouts, Bonus Deuces Wild rules supreme.  Aside from the usual hand rankings – which by the way start at three of a kind for all of our wild VPs – there is money to be made when you hit one of these additional card combinations:
Four deuces with an ace
Four deuces
Wild royal flush with deuces
Five aces
Five x three, four or five
5 x six to king
Impressive, isn't it?  What is even more impressive is that the bounty of bonuses does not have a major impact on the game's edge or average return to player – although the two are obviously inextricably linked.
Higher Pays Equals More Money?
When it comes to the value of payouts, all the wild online casino games in the video poker category share the same jackpot for a royal flush, a jackpot that clocks in at 4,000 x the stake.  Which is the next highest pay?
In all instances, with the exception of Bonus Deuces Wild, it is four of a kind of the respective wilds that slots in second from the top on the paytables.  This is where it gets interesting.  
Sevens Wild, Deuces Wild and Bonus Deuces Wild pay 1,000 x the stake for four wilds.  Loose Deuces on the other hand dishes out more than double that, with four deuces generating a cool 2,500 x the bet!
Then there are a few other pays that are either higher or lower on the respective paytables.  The easiest way to illustrate this is on a comparison chart, just like this one:
| | | | | |
| --- | --- | --- | --- | --- |
|   | Sevens Wild | Deuces Wild | Loose Deuces | Bonus Deuces Wild |
| Royal Flush | 4,000 | 4,000 | 4,000 | 4,000 |
| Four Wilds with an Ace | - | - | - | 1,250 |
| Four Wilds | 1,000 | 1,000 | 2,500  | 1,000 |
| Wild Royal Flush | 100 | 125  | 125  | 125  |
| Five Aces | - | - | - | 400 |
| Five x 3,4 or 5 | - | - | - | 200 |
| Five x 6 - king | - | - | - | 100 |
| Five of a kind | 75 | 75 | 75 | - |
| Straight Flush | 45  | 45  | 25 | 40 |
| Four of a kind | 25  | 20 | 20 | 20 |
| Full House | 15 | 20  | 15 | 20  |
| Flush | 10 | 15  | 10 | 15  |
| Straight | 10  | 10  | 10  | 5 |
| Three of a kind | 10  | 5 | 5 | 5 |
As you can see, we have highlighted the highest payouts in the respective hand rankings.  Which of the online casino games is the winner in this regard? 
High Probability Wins Equals More Money  
When you total all the bold pays per game, Deuces Wild has five max pays.  Three of them are for rankings that have a high probability of actually occurring on a frequent basis – straight, flush and full house.
The moral of the story is that jackpot pays may be where the major money lies but the statistical probability of hitting a royal flush or four wilds is slim at best.
If you want to maximise your chances of winning when you play wild-infused online casino games like these, look for the paytables that offer the best returns on the rankings that are more likely to occur!
House Edge and RTP Compared 
Right, that is the story behind the paytables.  Now how about the house edge?  What is the most achievable poker ranking of all?  In normal circumstances it would be a pair of jacks or better… but in this collection of wild VPs, it is the trip.
Which game pays out the most for three of a kind?  Sevens Wild… and that is the video poker with the lowest house edge and the highest RTP!
| | | | | |
| --- | --- | --- | --- | --- |
|   | Sevens Wild | Deuces Wild | Loose Deuces | Bonus Deuces Wild |
| House Edge | 0,84% | 1,09% | 0,93% | 0,94% |
| RTP | 99,16% | 98,91% | 99,07% | 99,06% |
At the end of the day, the house edge is the key determinant when it comes to winning more money than you lose playing wild video poker – or any of our other skill-based online casino games for that matter – right here at Springbok Online Casino. 
There is, however, one caveat.  You really do have to learn to play the video poker of your choice in the optimal way… and that means adopting a tried and tested strategy.  You can do so by checking out our various tips on how to play each variant – and by testing your skills with a free welcome bonus, on us.
So, join Springbok Casino now and browse through our online casino games where video poker reigns supreme in the house edge arena!