Why Video Poker Tops the Mobile Casino Experience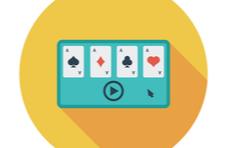 Finding a casino game that is optimally designed for the mobile casino South Africa is the first step for the inveterate gambler. Anybody who really loves to gamble wants to be able to put money on the outcome of the cards, dice, reels and wheel whenever they have a spare moment in the day… and that means they need a portable platform. Now's your chance to find out exactly why video poker offers the best mobile casino UX.
Online Casino Games That Support Smaller Screens
It is no secret that Springbok Mobile Casino South Africa is one of the best gaming platforms, one that is easily slipped into your handbag, laptop case or trouser pocket. As with the online casino, our mobile casino is obviously limited in size and to some degree, scope. The action that does unfold does so on screens that are comparatively diminutive in size. What that in effect means is it is essential to choose to play the casino games that are designed in such a way, they support rather than detract from the smaller screens, buttons and other hardware features that populate digital devices.
Game Data is Also Key
Although the actual display of the game is key, there are other equally important criteria that have to be taken into consideration when selecting a genre or game to play at Springbok Mobile Casino South Africa. Criteria like the odds, payout rate and house edge are important indicators that should be taken into account by all players, whether at the online casino or our star rated mobile casino South Africa.
Our Gift to You
At Springbok Casino we are dedicated to giving our players as many helpful gambling tips as we can. We really do want you to have an awesome experience every time you open our mobile casino South Africa in your browser and tap into the multifaceted delights that are our Real Time Gaming developed mobile slots, table games, video pokers and speciality games. If you are looking for a gaming category that really is optimised for the small screen, we can happily recommend the 14 titles that you will find neatly arranged under the video poker tab.
Five Reasons Why Video Poker is Mobile-Friendly
Why video poker? Well, there are a myriad of reasons, chief of which are:
Super-fast game rounds
An intuitively designed gaming interface
Extra-large gambling buttons
Oversized display windows to track credits won, coins played and the total winnings you have banked so far
A quick reference pay table conveniently posted onscreen.
With these cool features integrated into all our video poker variants, it is just as easy and rewarding to place bets, hold the cards to the draw and play the optional Double or Nothing side bet on your phone as it is on your desktop. The genre is essentially matched to our mobile casino South Africa in all the important ways.
What About the Odds in Video Poker?
How about the statistical data points? How do they shape up in video poker compared to other online casino card games like baccarat, blackjack, Match Play 21 and Caribbean Hold'em? In short, when you look at the odds in video poker, they are pretty spectacular. Admittedly, the really jaw dropping odds – and we are talking odds of 250:1 – are aligned to the royal flush, odds that soar to an unbelievable 4,000:5 on a maximum five-coin wager.
That of course is a poker hand that also has the lowest probability of actually occurring. Having said that, even the more easily achievable hands like a straight, flush and full house pay out at odds of 4:1, 5:1 and 7:1 respectively… and in some video poker variants, a lot more. When you compare that to blackjack, for instance, or the outside bets in roulette, the average odds in video poker are a lot richer overall.
How Does the RTP and Edge in Video Poker Compare to the Rest?
Now to the payout rate and its direct opposite, the much talked about house edge. First off, it is important to note that every video poker variant that you can play at our mobile casino South Africa has a unique theoretical edge and return to player (RTP) based on the structure of the pay table and whether there is a wild card or extra ways to win in play.
Taking all this into consideration, video poker offers some of the highest payout rates and lowest edges at the online casino and that applies equally to our trusty mobile casino South Africa. In fact, the RTP ranges from a high of 99.78% on Aces and Eights to a 'low' of 98.51% on Joker Poker. That of course means the respective high to low edges are just 0.22% to 1.49%. Compare that to the 2.16% edge on Caribbean Holdem, 3.51% on Let Em Ride Poker and 2.42% on Casino War, as examples – and it is clear for all to see that the video poker games featured at Springbok Mobile Casino South Africa really are in a league of their own.
Player-Centric Statistics and Agile Gaming Paraphernalia
With vital statistics that are more than favourable to players, together with the fact that all the games feature virtual gaming paraphernalia tailor made for digital devices, the video poker genre is one of the best gambling prospects for the kind of on demand gambling that drives the enormous popularity of Springbok Mobile Casino South Africa. Video poker was always designed with smaller screens in mind, as the video poker machines at the land-based casinos attest – and that design element is now a major reason why it is such a great match with the mobile gaming platform.
Sign up at Springbok Mobile Casino South Africa Now!
There is another pleasant twist to the video poker tale… and that is the dynamism of the multi-hand mode. That means you can extrapolate your wagers across one, three, ten or even 52 hands… at the same time. One click of the bet button; up to 52 possible paying poker hands – now that is what we call a digital dazzler at the #1 mobile casino South Africa! If you want to capitalise on our recommended low edge, high RTP online casino games category, sign up at Springbok Casino and hit the video poker button… pronto!