Lady Poker Casino Games Pros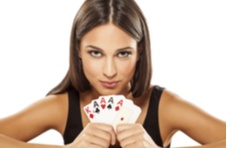 It wasn't too long ago when 99% of online casino poker pros were male. Today, that percentage is probably about 90%. At any tournament table of ten players, you'll usually see one woman. More and more women are choosing to enter the poker circuit but they face challenges and barriers.
Some of the opposition is good, old-fashioned sexism and some is from old-timers who simply don't believe that, as women, they have anything to offer the poker casino games.  
Increasing Numbers
Chris Moneymaker won the World Series of Poker main event in 2003 after he qualified online – a first in the world of professional poker competitions. New gamers were emboldened by Moneymaker's ascent and started  to come out of the woodwork. They wanted to prove that they, too, could compete against the old guard.
Moneymaker was an accountant from Tennessee and a relative unknown among the poker circuit when he took home $2.5 million after upending the so-called pros and proving that anyone could win poker's largest competition. But it wasn't only men who had never played the game before who started to trade cash for poker chips and learn to make continuation bets.  
Women, too, started to join in the tournament frenzy. Although the numbers of women players is still not even close to the numbers of men players, women have started to become more noticeable on the poker circuit. 
To date, Barbara Enright is still the only woman who has cracked the final table. Enright played in 1995 and one would have thought that her success would open the door to more female participation poker tournaments. But as recently as the 2019 World Series of Poker, there were only 350 women players out of 9000 competitors – 4.1 percent of the field.  No woman has ever earned a top prize. Why? Is it because they're not good enough?
Good Enough
Chris Moneymaker is one of the biggest proponents of the move to involve more women poker players in the tours. He said, "I think women are much better poker players than men. You're much more intuitive, you don't let your egos get in the way. Honestly, the women that I've played with at the highest levels are always better than the guys. You just don't have the numbers. As you can see if you go to any cardroom anytime, it used to be about one percent of the field were women and now, there's a woman at every single table just about. Now granted, it's only one or two, but it's a growing sport. It's one of our biggest growing markets and I kind of hate it because they are tough, but it's good to see them at the tables." 
Moneymaker's views are supported by the Women's Poker Association. WPA is a group of women who focus on encouraging female players to get involved with professional poker. The group was founded by Lupe Soto as a lobby that would elevate, educate and empower women who wanted to become involved in the sport. One of the most influential Women's Poker Association members, Ruth Hall, commented that there should be ladies-only tournaments to give women an exclusive forum where they can compete comfortably and in an accepting environment. 
"What I find in poker, is that in the beginning—when women are expanding and coming into the casinos from a home league or from an online league—they have to walk into the casino and sit down at a poker table, there's a level of comfort for women to sit down with other women, verses a woman sitting down with men," said Hall. "Far be it that there's a difference in skill level because poker is one of those non-gender games. But, I think there's a level of comfort for the female to sit down with other women, other sisters, where they feel that they are welcomed. I think that once they get that sense of welcoming, and they find that sisterhood, then they can evolve and move on to the open events with the men. I'm a perfect example of that."
Hall believes that, by creating women-only tournaments, women would be able to start finding their seat at the table. Men are catered to, says Hall, in ways that women are not.
What Do Women Want
One recent event highlighted the way that women are disrespected in the world of tournament poker. In a Battle of Malta poker festival, the women in the ladies event got much more than they asked for when they found themselves sitting across from a group of male, shirtless dealers.
The women weren't amused and many said that it was humiliating. They posted on social media that the  €100+€10 no-limit hold'em tournament at Casino Malta was humiliating and distracting. The dealers had been paid an extra €100 to work the event. They received €50 for working shirtless plus another €50 for dancing on stage before the competition started. There were a number of complaints though and after the first break, the dealers put on shirts. Female dealers were added as well.
Tournament organizers apologized and donated all events fees from the ladies event to charity as a form of mea culpa. They also agreed to put up a €25,000 guarantee on next year's event. But a number of women were incensed, saying that the organizers had had their fun at the expense of women who were taking their sport as seriously as any man poker pro. "What do they think?" wrote one outraged woman. "My genitalia determines my playing strategy? My betting techniques? My decisions? They would never dare to try such a dodge in an event with men. What were they thinking?" 
The Malta Casino responded, "After careful reflection, we would like to apologise wholeheartedly for any offence caused during this year's ladies event. Our intention at the Battle Of Malta is to create a fun and welcoming atmosphere for everyone at all times during the festival. We respect all our players and staff and certainly had no intention of upsetting anyone, or making anyone feel uncomfortable. We sincerely apologise if this was the case at any time. We take great pride in our events and are fully committed to our inclusivity policy. As a gesture of appreciation for everyone who took part in the event, we are donating all registration fees from the ladies event to our nominated charity – Pink October Malta. We are very determined to grow the ladies event at Battle Of Malta, and we are happy to announce that next year's ladies event will have a guaranteed prize pool of €25,000. We really look forward to seeing you all at the Battle Of Malta 2020."
Figuring it Out
The industry hasn't yet figured out how to draw more women in so women poker players are taking it upon themselves to increase their numbers themselves. There are groups like LIPS (Ladies International Poker Series) and WPA that hold ladies-only tournaments with the goal of encouraging new women players to get in the game. Major poker tour hosts sponsor circuit stops with similar tournaments – a regular 12-day circuit stop generally includes at least one ladies-only tournament. 
Social media has also played a part in bringing in more women, creating supportive networks that encourage and support women players. The situation may be taking a long time to change but, most believe, it is, in fact, changing.
In the meantime, ladies, use your time wisely to hone your poker skills so you're ready for your bit tournament debut.  Try all the poker tables we have here at Springbok - even play for free.  Playing online you can use your cheat card or any other helpers you may have which will not be available at the onsite poker tournaments on their way to you!