Should You Play Joker Poker or Deuces Wild at Springbok Online Casino?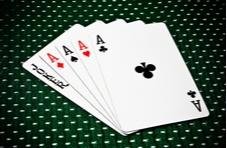 Online casino games with a joker or wild card in the mix always seem like an excellent gambling proposition.  You not only stand to benefit from extra ways to win but achieving a paying poker hand is theoretically a lot easier. 
The problem is finding the top game in terms of winnings, which is largely guesswork… unless of course you are a regular at Springbok Casino and have access to our video poker playing tips!  Keep reading as we take the guesswork out of the equation.
Find the Fizz on the Pay Table: Play Wild Online Casino Games
If you are looking for a video poker variant with extra fizz on the pay table, the games featuring a joker or wild card deliver exactly that.  Along with the possibility of hitting more paying card combinations, the maverick in the pack automatically creates unique poker hands that have the potential to deliver extraordinarily rich pickings. 
At Springbok Casino we don't skimp on our bonuses, banking methods or support services.  Similarly, our online casino games menu is literally heaving with gambling options.  In fact, when you hit the video poker tab at our instant play or mobile casino you will have a choice of 14 popular variants, all of which are available in 1-, 3-, 10- and 52-hand modes! 
Which Variant is Best in Terms of Odds, Probability and Payout Rate?
Besides the conventional forms of poker like Aces and Eights, Jacks or Better and All American and the big paying bonus and jackpot infused online casino games, you will find a few wild and jokerised titles including the two games that are firmly on our radar – Joker Poker and Deuces Wild. 
As both video pokers are essentially wild, the question is – which game offers the most in terms of payouts, odds, probability and payout rate? 
Comparison of Joker Poker and Deuces Wild Pay Tables 
The easiest way to weigh one game up against the other is to compare the pay tables based on a maximum five-coin bet… Let's take a look at what you can expect in terms of payouts on both games below:
| | | |
| --- | --- | --- |
|   | Joker Poker  | Deuces Wild  |
| Sequential Royal   | 10,000 | - |
| Royal Flush   | 4,000 | 4,000 |
| Four Deuces   | - | 1,000 |
| Five of a Kind  | 750 | 75 |
| Royal w/Joker or Deuces  | 400 | 125 |
| Straight Flush   | 250 | 45 |
| Four of a Kind  | 100 | 20 |
| Full House   | 30 | 20 |
| Flush  | 25 | 15 |
| Straight   | 15 | 10 |
| Three of a Kind  | 10 | 5 |
| Two Pair   | 5 | - |
| Kings or Better  | 5 | - |

What is immediately apparent is Joker Poker pays out a lot more money for almost all the same poker hands.  In fact, the weight in the middle of the table – four of a kind through to five of a kind – is pretty darn impressive. 
What is less apparent – but equally well known nonetheless – is the good old adage that the odds reflect the probability… and that applies to all the online casino games at Springbok Casino. 
The Number of Wild Cards In-Play Impacts the Odds
How is it that Joker Poker pays ten times more for five of a kind or five times or more for a straight flush?  Well, the hint is in the wild card which, in the case of Joker Poker, is of course the joker in a pack of playing cards.  How many jokers are there in a pack of standard playing cards?  Two.  How many deuces are there?  Four… and that is where the discrepancy lies. 
What that tells us is that when you play Deuces Wild, you have double the number of wild cards at your disposal to generate winning poker hands.  In turn, that means that the probability of hitting a winner is higher than that in Joker Poker – and the payout odds are consequently a lot lower!
A Truncated Pay Table for Deuces Wild 
Another remarkable feature of Deuces Wild is the fact that the pay table starts at three of a kind.  What are the easiest hands to hit in video poker?  The low paying hands – a pair, two pair and three of a kind, up to a full house.  Why have they been chopped off the pay table? 
Firstly, to compensate for the 1,000 x payout for four deuces.  Secondly, because the probability of hitting a pair or two pair with four wild cards in-play is statistically too high – and that obviously negatively affects the house edge.
Joker Poker vs Deuces Wild: House Edge and Payout Rate
Now that we have mentioned the house edge, it seems like the appropriate time to compare the edge versus the payout rate in both our featured online casino games.  As can be expected, the edge, or the advantage to the house, is nominally higher for Joker Poker than Deuces Wild.  Why? 
Well it essentially boils down to those wild cards again; the two versus four conundrum.  With only two jokers in-play, the probability of hitting paying combos is lower.  That of course means the house edge is greater and the payout rate, or average return to player, is lower… but not by all that much.
| | | |
| --- | --- | --- |
|   | Edge  | Payout Rate  |
| Joker Poker | 1.49% | 98.51% |
| Deuces Wild | 1.09% | 98.91% |

Learn the Perfect Joker Poker and Deuces Wild Strategy
You now know how the pay tables differ between the two online casino games.  You are also aware of the respective game statistics.  In this situation, it is almost impossible to declare a clear winner!
What you have to bear in mind is when you learn to play the respective online casino games in the theoretically perfect way, you can actually lower the house edge.  How do you play a game perfectly?  You adopt the best play strategy that corresponds with either Joker Poker or Deuces Wild.
Where can you find the perfect strategy?  Right here on the video poker tips page at Springbok Casino… or if all else fails, on the World Wide Web!  Why not sign up at Springbok Casino, redeem the first of three welcome bonuses and go wild playing the best online casino games in cyberspace?