Pros and Cons of Aces and Eights vs Jacks or Better Video Poker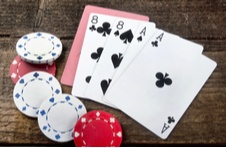 Have you visited an online casino, hit the video poker tab and scratched your head in confusion?  We know how you feel.  At Springbok Casino we feature 14 video poker variants, all of which are available in the single- and multi-hand modes.
How do you know which variant to load onto your device?  Surely there are positives and negatives to weigh up when it comes to choosing a video poker variant to bet hard cash on…  Here is a match-up of two popular games to help you make the smart choice!
Jacks or Better – The VP Original at the Online Casino
Jacks or Better is the purest form of video poker.  It features the standard poker rankings that have been around since the crazy days of the Wild Wild West.  There are no bonus combinations to pump up the adrenalin and the game starts paying for a pair of jacks or better.  It is traditional draw poker that has been modified for the online casino platform.
Besides the fact that you can play Jacks or Better – or Aces and Eights for that matter – in the 1-hand, 3-hand, 10-hand and 52-hand formats right here at Springbok Casino, the key elements that both games share are a:
4,000 x jackpot for a royal flush and
the ability to double all pays in the optional gamble feature.  
What's more, the payouts for a pair through to a flush are precisely matched on both the pay tables.
Jacks or Better Pay Table at Springbok Casino
Here is what you can win when you play Jacks or Better video poker with a maximum five-coin wager in-play:
| | |
| --- | --- |
| Jacks or Better  | Odds  |
| Royal Flush | 4,000:5 |
| Straight Flush | 250:5 |
| Four of a Kind | 125:5 |
| Full House | 30:5 |
| Flush | 25:5 |
| Straight | 20:5 |
| Three of a Kind | 15:5 |
| Two Pair | 10:5 |
| Jacks or Better  | 5:5 |

Why do we quote the odds for a five-coin bet?  The only way you can win that massive 4,000 x jackpot for the royal flush is on a maximum bet.  Any other betting combination increases the payout by the number of coins in-play which, in the case of the royal flush is 240 x, 500 x, 750 x and 1,000 x for a one- through four-coin bet respectively. 
Aces and Eights – Video Poker Where Quads Win the Day 
Aces and Eights on the other hand is a suped up version of draw poker.  Along with the conventional payouts for a high pair to a royal flush, there are three quad combinations that can boost your online casino account.  That effectively means there is an additional 125 x the wager available on the pay table with only one coin in play – some of which could be yours!
Aces and Eights Pay Table
Let's have a look at the Aces and Eights pay table at Springbok Online Casino:
| | |
| --- | --- |
| Aces and Eights   | Odds  |
| Royal Flush | 4,000:5 |
| Straight Flush | 250:5 |
| Four Aces or Eights | 400:5 |
| Four Sevens | 250:5 |
| Four Deuces with an Ace | 100:5 |
| Full House | 35:5 |
| Flush | 25:5 |
| Straight | 20:5 |
| Three of a Kind | 15:5 |
| Two Pair | 10:5 |
| Jacks or Better  | 5:5 |

What is the Probability of Achieving Four of a Kind?
The burning question is how likely is it to get a quad?  Or as they say in the classics, what is the probability of hitting four of a kind in video poker?  Although the exact statistics do vary according to the variant you are playing and the number of decks used in the game, you can expect to hit a four of a kind every 4,165 hands.
To put that into perspective, it will take just 7.69 hands to hit a pair of jacks or better, 21 deals to crack two pairs and 47 game rounds to achieve three of a kind.  What that essentially means is the odds are a true reflection of probability.  The higher the payouts the less likely you are to get dealt that particular combination of cards.
Not All Quads Generate Winnings in Aces and Eights
Another factor to bear in mind is in Aces and Eights the only four of a kind combos that do accrue winnings are aces, eights, sevens and deuces but with an ace as the kicker.  Any other quad generates absolutely nothing.  What is more, four deuces with an ace is paid at odds of 20:1 which is lower than the 25:1 winnings generated by all four of a kind combinations in Jacks or Better video poker.
House Edge and Average Return to Player 
Besides the pay table, the house edge is the clearest indication of why you should play one game over the other.  The edge is essentially the online casino's profit expressed as a percentage of bets.  It is a counterbalance to the average payout rate or return to player (RTP) – the percentage of the wagers paid out to players in the form of winnings.
The greater the advantage to the house, the lower the RTP and the less you are likely to win when you play Jacks or Better versus Aces and Eights at Springbok Casino… or vice versa.  How do the two games compare based on the all-important edge?  Here's the data in tabular form:
| | | |
| --- | --- | --- |
| Video Poker Variant   | House Edge  | Average Return to Player  |
| Aces and Eights | 0.22% | 99.78% |
| Jacks or Better   | 0.46% | 99.54% |

Make an Informed Choice and Play Video Poker on the House!
You now have all the salient information pertaining to Aces and Eights versus Jacks or Better video poker.  That means you can make the best possible choice when it comes to playing video poker at the online casino.  All that is left for you to do is register an account at Springbok Casino, claim our R250 free bonus and use the funds to bankroll you to the big time!