Basic Video Poker Tips for Beginners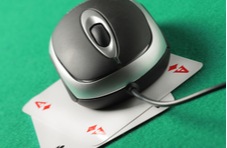 In gambling circles, it is a well-known fact that video poker is one of the most lucrative online casino games.  It has a low edge and an attractive payout percentage.  When you know which variants to play and how the paytable can enhance the win rate, there is money to be made at Springbok Casino.
Why Play Draw Poker Against the Machine
Video poker is essentially a modern and minimalistic version of traditional draw poker.  Rather than calling, raising and bluffing other players, you go head-to-head with the virtual machine.  The only decision you have to make is which cards to hold to the draw.  When you get that right, you can capitalise on an edge that varies from just 0.22% to 1.51% depending on the variant you are playing.
If your intention is to beat the casino, knowledge is key.  So too are skills.  At Springbok Casino our mission is to equip you with the data and statistics you need to get the best out of your online gambling sessions.  It is, however, not all a one-way street.  You'll benefit by doing your bit and reading and absorbing our basic video tips for beginners – and learning how to the play our online casino games the best way you can.
The Bet Max Rule in Video Poker – Yes or No?
You have undoubtedly heard that betting max in video poker is more mandatory than optional.  In one sense that is probably true.  How come?
When you look at any of the paytables associated with these particular online casino games, you will notice that the payout for a royal flush is much higher on a maximum five-coin bet.  For that reason, and that reason only, it is considered best practice to always bet max in video poker.
Having said that, if your bankroll simply does not allow you to bet max, it is not the end of the world.  Why?  Well, the odds of getting a royal flush are slim indeed.  In fact, you have a 1 in 649,740 chance with a standard 52-card deck in-play.
When you consider that all the other paying poker hands make up more than 95% of the payout rate, then it's clearly OK to wager only one or two coins per hand.
Bulk of Payouts are Proportional to the Number of Coins In-Play
It is worth emphasising the fact that the real money prizes for a pair through to a straight flush increase proportionally to the number of coins in-play.  That effectively means you are not missing out on anything – other than the chance of hitting the big paying royal flush jackpot!
Fortunately, the online casino games that you can play at Springbok Casino have a generous selection of coin denominations that extend from a low of R0.01 to a high of around R1.00.  That of course does mean that everyone, even players with a limited budget, really can afford to bet max.
Besides giving yourself the best possible chance of snapping up the 4,000 x jackpot for a royal flush, there are other ways of maximising the video poker win rate, such as playing the online casino games with the best theoretically payout rate.
Play the Video Poker Variants with a Low Edge and High RTP
All online casino games have an in-built edge.  The edge is basically the advantage the casino has over the players in terms of winnings.  It is an indication of the profit Springbok Casino can expect to make on a particular video poker variant over time.
If you want to enhance your chances of winning ZAR at springbok casino, the first thing you have to do is find the video poker variants with the lowest edge and highest payout rate.  Luckily, you don't have to be a mathematical genius to figure out which online casino games theoretically pay out more than the others – it has all been calculated on your behalf.
Top 6 Online Casino Games in the Video Poker Category
Which video poker variants have the best payout rate?  Here are the top six online casino games at Springbok Casino in terms of edge and average return to player percentage:
Aces and Eights – 0.22% house edge and 99.78% RTP
Double Jackpot – 0.37% house edge and 99.63% RTP
All American – 0.40% house edge and 99.60% RTP
Bonus Deuces Wild – 0.55% house edge and 99.45% RTP
Double Bonus – 0.63% house edge and 99.37% RTP
Double Double Jackpot – 0.64% house edge and 99.36% RTP
That is just one smart move you can make to maximise your chances of winning.  Here's another and it has got to do with the actual paytables that are assigned to video poker.
Look for the Full Pay Paytables
In the ideal world you would only play the online casino games that have what is known as a full pay paytable. In the context of Jacks or Better, for instance, a full pay paytable is one that pays out 9 x the bet for a full house and 6 x the bet for a flush – hence the term 9/6 full pay Jacks or Better.
As the flush is a poker hand ranking that occurs relatively frequently in video poker – at odds of around 509 to 1 – a higher payout can and does have a direct impact on the payout rate or RTP.
Here's a snapshot of the Jacks or Better paytables that are doing the rounds, together with the respective house edges and RTPs:
9/5 – 0.46% house edge and 99.54% RTP
9/5 – 1.55% house edge and 98.45% RTP
8/6 – 1.61% house edge and 98.39% RTP
8/5 – 2.70% house edge and 87.30% RTP
This is by no means an exhaustive list – but it clearly illustrates our point that the paytable does matter!
Key Elements to Consider When Playing Video Poker Online
Although full pay 9/6 Jacks or Better is virtually impossible to find online and at B&M casinos, what you have to do is make a point of playing the best online casino games in terms of:
Video poker variant.
The winnings paid out for the full house and flush, respectively.
The house edge and theoretical payback percentage
When you are cognisant of the impact these key elements can have on your win/loss ratio, you are well on your way to beating the house… and that is what gambling online at Springbok Casino is all about!