Why a Pair in Online Video Poker Can Be Pure Gold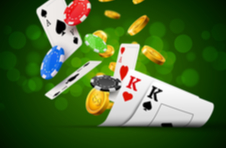 Beating the edge in online casino games does not require hitting the highest paying prize which, in video poker, is a royal flush.  On the contrary, a systematic accumulation of paying combinations is the way to go.  In this scenario, a pair can be a game changer…
If you are new to Springbok Casino, you may have fallen into an age-old trap.  We are, of course, referring to a natural inclination to gun for the real money jackpots at the very top of the paytable – often to the detriment of everything else.
The Odds Reflect Probability in All Online Casino Games
The problem is that the video poker hands paying out the big money prizes very rarely show up.  That is precisely why they are at the top of paytable – the odds are a true reflection of probability.  The longer the odds, the less likely it is to achieve that particular combination of cards.
The probability of hitting a big paying combination gets even more shaky when there is no strategy in play.  If you have not bothered to memorise the Jacks or Better, Deuces Wild or Bonus Poker strategy, the chances of hitting anything over a straight or flush are slim at best.
Strategy is the Key to Successful Gaming at Springbok Casino
Online casino games, like Blackjack, Texas Hold'em, Caribbean Stud and the standard, wild and bonus video poker variants at Springbok Casino, are not a lottery.  Provided you know how to play the game in the theoretically perfect way, it is possible to influence the outcome and skew the odds, ever so slightly, in your favour.
Making strategic decisions rather than chasing down jackpots is the key to turning a profit at Springbok Casino – and any other online or brick and mortar casino for that matter.  When you play the skill-based online casino games, a careful, well thought-through approach pays off in the long run – and strategy lies at the very core.
Strategic Decision-Making Required
One of the most prevalent decisions you have to make when you play any of the online video poker games at Springbok Casino revolves around high cards and pairs.  These are the cards that typically cause the most confusion – especially when dealt to the same opening hand.
Do you hold a jack, queen, king or ace at the expense of a pair, particularly a low pair?  Or do you discard the pair and keep the high card?
High Cards Versus Pairs?  What is the Best Play!
There are obviously different plays for different scenarios.  If, however, there are no other cards in-hand that can be used in conjunction with the high card to potentially form a paying combination, the best play is to discard the high card and hang on to the pair.
That may seem counter-intuitive, especially considering the vast majority of online casino games in the video poker genre only pay for a pair of jacks or better.  What you do have to bear in mind is in both scenarios – the high card and the pair – is that you are replenishing the majority of the hand with new cards at the draw.
One Card Can Make All the Difference
The difference between a high card and a pair is only one card, as you will be drawing three versus four replacement cards.  Why is this important?
The reality is the chances of drawing four cards to a royal flush, straight flush or four of kind are not in your favour.  The best you can hope for are the medium to low paying hands like a straight, flush or three of a kind.
Rather than hitting the 4,000 x jackpot for a royal flush or banking 50 to 1 odds for a straight flush, you will have to be satisfied with 4 to 1 or 5 to 1 odds the majority of the time!
When you hold a pair, you have a far better chance of getting a paying poker hand at the draw.  If the pair happens to be jacks, or better, you get paid out even when all three replacement cards are duds.
A Pair is the Building Block of Four Possible Hands
A pair is the building block for two pair, three of a kind, full house and four of a kind.  It opens up a nice spread of possible payouts, ranging from even money to 25 to 1.  With a pair, the big money prizes may be out of the equation… but the more easily achievable poker hands are firmly in play.
What is the Theoretical Probability of Hitting a Pair Through a Royal Flush?
Do you need further convincing?  Here is a statistical breakdown of the chances of hitting the respective payout combinations in Jacks or Better video poker.  As you can see, it is the pair that has the potential to enhance the payout rate.  For that reason alone it is a combination worth respecting – despite the nominal even money odds paid out for high card pairs.
| | |
| --- | --- |
| Any Pair | 2.37 to 1 |
| Jacks or Better | 7.69 to 1 |
| Two Pair | 21 to 1 |
| Three of a Kind | 47 to 1 |
| Straight | 255 to 1 |
| Flush | 509 to 1 |
| Full House | 694 to 1 |
| Four of a Kind | 4165 to 1 |
| Straight Flush | 72193 to 1 |
| Royal Flush | 649740 to 1 |
Login to Springbok Casino, Claim Your Bonus and Play Our RTG Online Casino Games!
Are you ready to give our online casino games a go?  At Springbok Casino, we offer a lot more than video poker.  Why not register an account, login at the download, instant play or mobile casino and claim our no deposit free bonus?
The alternative is a whopping R11,500 that can be redeemed in three parts over your first three deposits.  Either way you can explore our Real Time Gaming developed (RTG) online casino games suite, which includes a variety of video poker titles!