Love Video Poker? Tips for Choosing the Best Online Casino Games in the Category!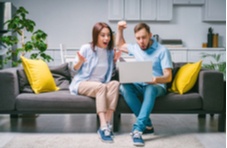 As far as online casino games go, video poker is a cracker.  It is based on five card draw poker and offers a quintessential gambling experience online.  When you hit a paying poker hand at Springbok Casino, the adrenalin skyrockets.
Play the Video Poker Variant Matching Your Personality
The trick is to find the video poker variant you really can identify with.  The game that is best suited to your personality and your unique playing style.
Fortunately, game developers like our very own Real Time Gaming (RTG) have adapted the standard video poker format – which we know as Jacks or Better – to deliver several exhilarating online casino games bearing catchy titles.
Who wouldn't want to try their luck playing the Loose Deuces, Sevens Wild or Double Jackpot Poker video poker variants?  The names alone are enough to get you reaching for your desktop of digital device and loading Springbok Casino in your browser.
We'll Help You Find Your Gaming Mojo
If you haven't been around too many of the online casino games in the video poker genre, you are undoubtedly scratching your head in bemusement.  You are probably pondering over conundrums like which video poker thumbnail to click on.
As the best casino in South Africa, we are here to help you find your gaming mojo.  Let's unpack a few of the online casino games representing the broad variations of video pokers available within the much-loved gaming genre.
Standard Video Poker Variants
As you have probably gathered, Jacks or Better is the purest form of the game.  It is the good old original – and one that most strongly emulates five-card draw poker.  There are no frills to speak of and the payouts start for a pair of jacks or better, as the name suggests.
From then on in, the paytable matches the conventional poker hand rankings – two pair, three of a kind, flush, straight, and so on.  The big hurrah – which applies to all the online casino games in the video poker category – is the 250:1 odds for a royal flush.
Here is something to store in the memory bank.  Those odds soar to a jackpot prize of 4,000 x the stake when a five-coin maximum bet is in-play.  You have probably heard pundits promoting the bet max tactics… and now you know why.
What Betting Maximum in Video Poker Really Means
What is worth bearing in mind is betting maximum is not necessarily betting the highest available stake.  It is simply a five-coin wager.  The value you ascribe to each of the five coins is entirely up to you.
At Springbok casino, the betting range for a five-coin maximum bet extends from R0.25 to R25 per game round. That of course means you do not have to be a high roller or a cash-rich casino head to be eligible for the big-paying jackpot bonanza.
In the context of the genre of online casino games we are referring to, All American and Aces and Eights are also considered standard video pokers.  Albeit with slight variations from the ultra-traditional game of Jacks or Better.
Wild Video Poker Variants
Now to the wild video poker variants… the online casino games with a wild card in the mix.  At Springbok Casino we feature four variants that slot neatly into the wild genre – Deuces Wild, Bonus Deuces Wild, Loose Deuces and Sevens Wild.
What all these online casino games offer is a few extra ways to win.  In Deuces Wild, for instance, there are three additional combinations paying out at eye popping odds.  They are:
Four deuces – 200:1
Wild royal flush – 25:1
Five of a kind – 15:1
In order to compensate for the extra payouts, the odds for the rest of the paying hands are lower than that of Jacks of Better.  What is more, the game only pays out on hands containing three of a kind or higher.
Joker Poker – Unique and Potentially Super Rewarding!
Now, Joker Poker is not a 'wild' variation per se.  Rather than a wild card, it has an additional card in the form of the joker.  The extra card increases the standard 52 card deck to containing 53 cards in the deck.
The upshot of the extended pack is similar to that of the wild video poker variants.  When you play Joker Poker online at Springbok online casino, you can create five of a kind and a royal flush containing a joker.  When you do that, you are rewarded with yummy odds of 150:1 and 80:1, respectively.
That is not the only incentive for playing Joker Poker at Springbok Casino.  If, perchance, you achieve a sequential royal flush – where the cards are displayed in a perfect sequence from 10 through Ace – you are paid at odds of 500:1.  When you hit the bet max button, the prize jumps to a mind blowing 10,000 x the stake!
Bonus Poker Variants
Let's move on to the online casino games in the Bonus Poker Group – games like Bonus Poker, Bonus Poker Deluxe, Double Bonus Poker and Double Double Bonus Poker.  What is so special about them, and what bonuses do they actually offer?
As the name suggests, the paytables are so much more lucrative than their 'standard' and 'wild' counterparts.  In most of the bonus pokers, there aren't extra ways to win on the virtual table.  An attribute they all share, however, is exponentially higher winnings paid out for conventional video poker hand rankings.
Take Bonus Poker as an example.  The odds for a straight flush and four of a kind are 50:1 and 75:1 apiece.  These are the crowd pleasers, along with the fact these online casino games typically pay for a pair of jacks and up!
Jackpot Poker Variants
Last but not least are the Jackpot Poker variants.  These games are essentially hybrids of wild and bonus video pokers.  They offer an enticing combination of rich bonus payouts and extra ways to win.
When you login to Springbok Casino and load Double Double Jackpot Poker onto your gaming device, for example, there are four additional poker hand rankings – all of which pay out a pretty penny.  In this thrilling format of video poker, quads are the money spinners.
Hit any four of a kind and you will hit paydirt, as is evident from the odds featured below.  Here is what you can win for accumulating four matching cards in Double Double Jackpot Poker:
Four aces with king, queen or jack – 160:1
Four aces – 160:1
Four kings, queens or jacks – 80:1
Four 2 through 10s – 50:1
Login to Springbok Casino and Play Video Poker with a Free Cash Bonus
Are you ready to play video poker online and win real money?  Sign up, login to Springbok Casino and use our free cash bonus to bankroll a test run.  If you like what you see, you can make a deposit, grab our three-part welcome bonus and get down to the business of betting… and enjoying real money returns!