The Intriguing Origins of Video Poker & Playing at Our Online Casino South Africa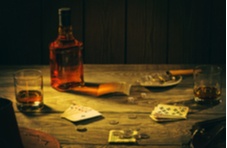 Did you know video poker wasn't always confined to remote gaming platforms like our online casino South Africa?  In reality, it is derived from an age-old card game with a long and often chequered history.  A fascinating history, at that, which goes back centuries… with many twists and tales.
What is the Precursor of Video Poker?
The romanticised version of the video poker you can play online at Springbok Casino is based on five card draw.  By all accounts, the precursor of Jacks or Better, Aces and Eights, Deuces Wild and the many variations is the original poker – the progenitor of Texas Hold'em, Omaha and Seven Card Stud.
The next time you hit the video poker tab at the number one online casino South Africa, spare a thought to the colourful characters who have played a similar version of the game over the centuries.
The Evolution of Video Poker
If there is one game that has undergone many transformations to get to where we are today, video poker is most definitely one of them.  Here is how video poker evolved from its humble beginnings into one of the most popular casino games, at gaming halls in Las Vegas, New Orleans… and online casinos, such as very own Springbok Casino.
An Import from the Far East According to Historians
According to historians, poker's earliest origins can be traced back to the Far East.  Colonial settlers in China and Portuguese Macau introduced a form of poker to the lavish gaming halls of Europe in the mid to late 17th century.  At that time, poker – and all the other casino games for that matter – were strictly for the rich and famous.
Royals and luminaries like Louis XVI, Wolfgang Amadeus Mozart and Giacomo Casanova were, more than likely, ardent supporters of what eventually became video poker.  The game we today know and love at our top ranked online casino South Africa!
Originally an Abbreviated Form of Poker
During this time, gamblers played an abbreviated version of poker.  Decks consisting of just 20 cards were in-play, and those cards were all ten-value cards, from 10 to ace, in each of the four suits still in play today.
Due to the limited number of cards, there was no draw.  Paying combinations were also pared down to just four hand rankings – a pair, two pair, thee of a kind and four of a kind.  There was no flush, straight, full house or royal flush.
The best you could do at that particular point in time was hit four kings and an ace.  That was the highest paying hand – and the closest equivalent to the prized royal flush we aim for today.  Despite these limitations – or perhaps because of them – creating paying poker hands was not all that difficult.
More Recognisable Draw Poker Emerges 100 Years Later
It was only around a century later that five card draw resembled the game we still play today – as conventional draw poker and as video poker at our online casino South Africa.  For the first time, a 52-card deck was introduced into play – a game changer in the most literal sense of the word.
The draw was integrated into gameplay and the now sought after and fabled flushes and straights, together with the full house, made it onto the paytable.
Forget the Gold Rush: How About the Five Card Draw Rush?
It was this new, exciting and dramatically revised version of poker that crossed the Atlantic to the United States of America, where it became an enormous hit.  From the Californian gold rush towns and the remote outposts in the Wild West, to the Mississippi riverboats – five card draw was the game of choice!
A Gambling Game Favoured by Outlaws and Soldiers
During an era where gambling mostly frowned upon, or illegal, five card draw was synonymous with toughness.  At the time, it was ideally suited to tobacco chewing outlaws in Tomb Stone, Dodge City, Santa Fe, Union City, and Confederate soldiers fighting the US Civil War.
Draw poker was played in the trenches in Ypres and Dellville Wood, and around blazing fires during the South African Boer Wars.  Poker – or the five card draw version of the game – came of age during these brave, fearless and pioneering times of the new world.
Fast forward to modern times, and online video poker at Springbok Casino is still a game of choice for many seeking a more adventurous and strategic challenge… with a bit of luck thrown in!
Draw Poker Surpassed in Popularity by Texas Hold'em
It was only at the beginning of the 20th century that professional poker players turned to more aggressive forms of poker... and thus the era of Texas Hold'em had begun.
Unfortunately, where pro players go, the rest are sure to follow – in trend, at least.  That is largely why five card draw is no longer the mainstay of the casino, nor a scheduled event on poker tours like the World Series of Poker (WSOP).
Video Poker Machines Emerge as Winners at Vegas Casinos
How did five card draw make the leap to the online gaming platforms?  In the late 1970s, it re-emerged on gaming consoles as video poker.  Surprisingly it took off, largely because it presented a less intimidating version of poker.  It was the first time players gambled against a machine, rather than other players seated around a table.
The Dawn of the Internet and Video Poker at Our Online Casino South Africa!
The development of the World Wide Web, together with the infinity of cyberspace, and limitless arena of the online casino South Africa, was a pivotal moment in the evolution of video poker.  By extension, it catapulted five card draw to a whole new level.
Now, players had on-demand access to dozens of different versions of video poker in one convenient location.  That location was, of course, online casinos – such as our very own Springbok Casino, rated the best online casino South Africa!
Join Our Online Casino South Africa - Choose from the Best Video Poker Variants
Do you want to play a wonderfully entertaining casino card game favoured by kings, poets, paupers and renegades?  Simply sign up and login to Springbok Casino, hit the video poker tab and select a game.  All in all, there are 14 variations of video poker to choose from, some of which have wilds cards and bonus payouts added into the mix!