Online Casino Video Poker Playing Tips: What Not to Do!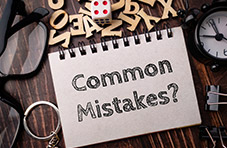 Did you know video poker is one of the best bets at any online casino?  Yup, it has a bumper average payback percentage.  If you want to exploit the odds, you need to avoid making silly mistakes.  Here are a few video poker gambling gaffes that can hit you hard in the pocket.
Online Casino Tips on How Not to Play Video Poker
The beauty about video poker is it isn't a wild gamble and here are plenty of ways of maximising the payout rate.  Similarly, there are flawed tactics that should be avoided at all costs.
If you insist on playing with your heart rather than your head, the balance in your Springbok Casino account is likely to tumble.  Your choice of games, betting tactics, available funds and gameplay can be just as lethal.  It is not so much what you do that counts – it is what you don't do, like…
Not Choosing the Correct Video Poker Variant
One of the standout features of video poker is this – you can calculate the expected return of each of the variants.  Better still, it is not you and I who have to crunch the numbers.  You can easily find the average return to player of the respective variants online.
As we know which variants offer the best returns, it should be a no-brainer to select accordingly.  The problem is that not many recreational players at the online casino know about this kind of stuff.  They either choose a game based on the catchy title or because there are bonus prizes up for grabs.
The first rule is to only play online video poker with a full pay paytable.  The second rule is to select the variants with the lowest edge and highest average return to player.
In the interests of expediency, we have listed the most common video poker variants online, together with their expected long-term payback percentages:
Aces & Eights – 99.78
Double Jackpot – 99.63
All American – 99.60
Jacks or Better – 99.54
Bonus Deuces Wild – 99.45
Double Bonus Poker – 99.37
Double Double Jackpot – 99.36
Sevens Wild – 99.16
Loose Deuces – 99.07
Double Jackpot Poker – 98.99
Double Double Bonus Poker – 98.98
Deuces Wild – 98.91
Joker Poker – 98.51
Bonus Poker Deluxe – 98.49
What is the lesson here?  That's easy…  It's to avoid the online casino games at the bottom end of the list.  Anything from Jacks or Better and up is where you can get the best possible return on your heard earned South Africa Rands!
Not Betting the 5-Coin Maximum
Do you play online casino slots with the full quotient of active paylines?  Sure you do.  It really is the only way to properly exploit the potential hit rate.   What is more, betting max is usually a prerequisite to landing that tantalisingly rich progressive jackpot.
Now the same sentiment applies to video poker.  Rather than activating bet lines, the key is to always have a 5-coin bet in-play.  We know we have regurgitated this in previous video poker articles at our online casino, but there is a good reason for it.
You may have noticed that the payouts on the paytable generally increase incrementally in value, along with the number of coins wagered.  There is one glaring exception and that is the prize for a royal flush.  Rather than increasing by 250, as it does for 1 through to 4 coins bet, the prize increases four-fold on a maximum 5-coin wager.
In other words, where you would normally win 1,250 credits, you get a massive 4,000 credits instead.  Betting max need not mean busting your bankroll in double quick time.  All it entails is a 5-coin wager.  The actual value of the coins can be adjusted according to your budget.
At Springbok Casino, the available coin values vary from R0.05 to R5.  That of course means the 5-coin betting range is R0.25 to R25 per round.  If you don't hit the bet max button in video poker, you miss out on a chance of bagging the big paying jackpot for a royal flush!
Not Implementing the Appropriate Strategy
As you are no doubt aware by now, video poker is a game of skill... and strategy.  As with blackjack, draw poker and even chess, you can learn the statistically correct gameplay for video poker.  In this online casino game, the most important decision you have to make is which cards to hold to the draw.
When you play video poker in the ultimate way to achieve the ultimate results, you need to follow the strategic blueprint to the letter.  The only problem is that each variant has a unique strategy of its own.  If you do not adopt a game-specific strategy, you will find you lose money at Springbok Casino – and that is a big no-no!
The good news is that comprehensive strategy tables, aligned to all the popular video poker variants, are readily available online.  They are usually free to download and can be used as a reference point while playing the game.
Just so you know what is at stake, here is an alarming statistic.  If you rely on guesswork rather than a tried and tested video poker strategy, the material loss can be significant.  In fact, it can slice as much as 5% off the average payback percentage.  Now that is a hefty price to pay… for indolence!
The potential loss may be a lot better than the projected global inflation rate for 2022 but it is a loss nonetheless!  Unlike the factors that are contributing to global inflation, you can make a difference in your video poker outcome – and all it takes is learning the respective strategy!
Video Poker at Springbok Online Casino
If you want to give yourself the best possible chance of winning, here is a heads-up.  At Springbok Casino we offer all the online casino games – including our 14 video variants – in the free play mode.  All you have to do is register an account and visit our instant play online casino.
Then it is simply a matter of navigating to the video poker page.  You will find that when you run your mouse over the respective thumbnails, there are two options – 'Play' and 'Try It'!  We highly recommend you hit the Try It tab.  That way you can practice the gameplay for free.  Consider it our gift to you… along with a posse of free bonuses, naturally!