Online Casino Video Poker – The Ultimate Hacks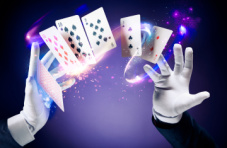 Welcome to Springbok Casino, your go-to local joint for conquering online casino video poker with some seriously crafty hacks! Whether you're baas van die plaas or still nat agter die ore, we're here to show you the ropes with a personal touch.
Before we get started, it's worth mentioning that here at Springbok Casino, we give you lots of options when it comes to video poker variety. In fact, we offer 15 video poker games… and one of them is nogal new! We'll get into that in a bit.
For now, let's dive headfirst into the thrilling world of video poker and uncover the not-so-secret secrets to boosting your chances of landing those winning hands.
Choosing the Best Video Poker Game
We already told you that you'll be spoiled for choice when it comes to video poker games at Springbok – but how do you pick the one that's going to be your lucky charm? It's like choosing a pair of tekkies – it needs to fit just right.
Here's the thing, the best game for you depends on your style… and how much you have in your spaarbussie. Each game at our online casino has an average return to player (RTP), which includes our video poker games. The higher the RTP, the lower the house edge is, and the better your odds of winning – and vice versa.
Here are the games offered at Springbok Casino, along with their approximate average RTPs:
| | |
| --- | --- |
| Video Poker Game Variant | Approx. Average RTP |
| Aces and Eights | 99.78% |
| All American Poker | 99.59% |
| Bonus Deuces Wild | 99.45% |
| Bonus Poker | 99.16% |
| Bonus Poker Deluxe | 98.49% |
| Deuces Wild | 98.91% |
| Double Bonus Poker | 99.37% |
| Double Double Bonus Poker | 98.98% |
| Double Jackpot Poker | 99.63% |
| Double Double Jackpot Poker | 99.33% |
| Jacks or Better | 99.54% |
| Joker Poker | 98.47% |
| Loose Deuces | 99.07% |
| Pick 'Em Poker | 99.95% |
| Sevens Wild | 99.10% |
Before we continue, have a look at those figures… What does this list tell you? Firstly, the video poker tab at Springbok Casino is where you'll find some of the highest paying games at any online casino! Not a single variant drops below the 98% mark – and some are decimal points away from a hundred!
In other words, it doesn't really matter which video poker variant you choose as this gaming genre is renowned for its low house edge. If you want to split hairs though, Pick 'Em Poker, which is a unique game – and happens to be a relatively new addition – comes out tops when RTPs are compared.
Unlike Jacks or Better, which is the easiest and most well-known video poker game, Pick 'Em Poker is a unique 4-card game that starts paying for 9s or better. On the other hand, if you really want to count those cents, avoid jackpot or bonus poker variants, as these have a slightly lower RTP.
At the end of the day, you can win big bucks at our online casino with any video poker game, as long as you play strategically.
Understanding Video Poker Pay Tables
Getting your head around paytables might seem as tricky as deciphering the menu at a fine dining restaurant like the larnie La Colombe… but fear not! We've got your back. Our paytables are actually as straightforward as a Wimpy menu. They show you exactly what each hand can earn you.
Along with taking the RTP, we highly recommend that you browse through the video poker paytables and opt for games with the most generous payouts. We're talking about more bang for your buck. You should ideally be looking to play full pay games – and the good news is that you'll find multiple 9-6 games at our online casino!
The Importance of Video Poker Hand Rankings
Hand rankings are the very foundation, as in the building blocks of creating winning video poker hands. While you can't control which cards you're going to be dealt, you can try and create the best possible hand with what you have. This is where knowing what hand rankings are in video becomes essential.
Remember that hand rankings in video poker might vary slightly depending on the game you're playing at our online casino. That said, you can easily get the information from the paytable. Some of the most common hand rankings that you should come across, irrespective of the variant, include:
Royal flush: A, K, Q, J, 10 of the same suit. This is the highest and rarest hand in video poker.
Straight flush: Five consecutive cards of the same suit, such as 9, 8, 7, 6, 5 of hearts.
Four of a kind: Four cards of the same rank, such as 4, 4, 4, 4.
Full house: Three cards of one rank and two cards of another rank, such as Q, Q, Q, 7, 7.
Flush: Five cards of the same suit, such as A, J, 9, 6, 3 of spades.
Straight: Five consecutive cards of any suit, such as 10, 9, 8, 7, 6.
Three of a kind: Three cards of the same rank, such as 8, 8, 8.
Two pair: Two cards of one rank and two cards of another rank, such as J, J, 9, 9.
How to Choose which Cards to Hold or Discard
You know what the hand rankings are, but now what? This is where the real fun begins – deciding which cards to hold and which to toss when playing at our online casino. Strategy plays a big role here, and at Springbok Casino, we'll make sure you're ready to strategize like a pro.
Our advice? Hold cards that contribute to potential winning combinations, and don't be afraid to discard the rest. If you're dealt a pair or better, it's often wise to hold onto those cards, increasing your chances of improving your hand.
On the flipside, if you're sitting on a high card or two, consider how they fit into potential winning combinations. Sometimes it's worth sacrificing that single high card for a chance at a more rewarding hand. It's all about finding the balance between risk and reward when playing online casino video poker!
Set a Budget & Manage Your Money
Alright, let's chat about the not-so-secret weapon to keep your gaming adventure smooth – setting a budget. Imagine it's a Saturday night and you're ready for a jol. You know exactly how much you're willing to spend on Klippies and coke. The same logic applies here. Before you embark on your video poker journey our online casino, set a budget… and stick to it.
The aim of managing your bankroll is like managing your stash of biltong – you want it to last. Decide on your betting limits and ensure you don't go overboard. Whether you're a high roller or prefer to play it safe, having a budget ensures you enjoy the thrill without any financial worries. Take our advice, set that budget, and keep the good times rolling!
Play Video Poker at Springbok Online Casino
There you have it, folks – our not-so-secret ultimate video poker hacks to conquer online casino video poker. With a wide array of games, crystal-clear paytables, and expert tips, we're here to make your journey at Springbok Casino one to remember!