Tips on Playing Aces and Eights Video Poker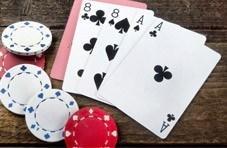 We have to stress in every video poker tips article that the key to winning strategy in any video poker variation is to make the play that wins the most money even if it wins fewer hands.  One of the great advantages of playing video poker at an online casino such as Springbok Casino is that many online casinos have a very large collection of video poker variations.
You can play all of them in one seating. At a land based casino they wouldn't offer so many video poker variations because they don't have the room to do so.  Secondly, if you want to try out a different variation, you have to give up your seat.  You never have to give up your seat at Springbok Online Casino so playing video poker with us is far more interesting than playing at a land based casino.
Aces and Eights
In this video poker variation, you get an extra bonus for getting four aces, four eights, and four sevens.  Because of these extra payments, the standard payout for a full house is 8 instead of 9 in other variations and the payout for a flush is 5 instead of the usual 6.  At this point we should point out that not every casino offers the standard 9-6 payout scale for most video poker variations.
Aces and Eights is similar to Jacks or Better in its strategy except for the extra payouts for the three four of a kind hands.
Always Bet the Maximum
The payout for a Royal Flush is much higher with a maximum bet than with any lower bets and the payouts for all other wins are correspondingly higher as well. In other words, if you play correctly, the higher bets you make will likely not result in heightened losses and could very well result in increased winnings.
This is almost the opposite of advice we give for progressive slots.  In a progressive slots game, you have to make the maximum bet on the winning pay line in order to win the jackpot.  In those games, we encourage all gamers to carefully evaluate their bankroll and the type of player they are.  Many players in slots are better off playing regular slots in order to lengthen the duration of their playing sessions.
In video slots, correct strategy will result in the same outcomes whether you have bet the minimum or the maximum or any sum in between.  So, we encourage all players to bet the maximum.  A Royal Flush doesn't come along all that often but when it does you want to be in position to reap the greatest benefit.
It is also interesting to note that Springbok Casino offers video poker for 100 hands.  That quickly increases the chances for a Royal Flush.  Similarly, video poker is a fast moving game so you'll play many hands in the same time that it takes to play one hand at Texas Hold 'em.
Counter-intuitive Plays
Most of the hands you'll be dealt in Aces and Eights will be losers.  All of them can be improved to become a winning hand.  Some of the strategy plays we encourage you to make go against most players' nature.  We call these plays counter-intuitive.  But if you learn to make the seemingly odd plays, you'll greatly increase you chances of winning in the long run.
The Minimal Winning Hand
The lowest hand you can be dealt as a winner is a pair of Jacks.  If you get this hand, you keep it.  You keep it even if you also have four cards to a flush or to an outside straight.  You would be paid more for the flush or straight than for the pair of Jacks but the payout for a flush is lower than in most other video poker variations because of the higher payouts for four Aces, eights, and sevens.
So go with the winning hand.
If you don't have even a single pair, even a low pair, and you don't have chances for a higher paying hand you give up all five cards and draw again.  You will have only a 21% chance of winning on the large draw but the chances of winning by keeping any other hand are even smaller.
You keep two high cards suited or not suited.  You keep a 10 if it is suited to another high card. 
Always Go for the Big Payout
It's almost always correct strategy to keep a winning hand even if you have four cards to a much higher paying hand.  The exception to this rule is if you have a winning pair and also four to a Royal Flush. The best hand is the Royal Flush of course and it pays a very massive extra bonus if you have made the maximum bet. 
There are also many high paying hands.  In a fast moving game like Aces and Eights, you should go for high paying hands if you weren't dealt a winning hand but you should keep the winning pair if you were dealt it.  You might also give up chances for a flush if you have a better possibility.  However, if you are close to a full house, you should keep the cards and try for the full house.
Practice at Springbok for Free
We would like all our players to be able to make the best decisions in every video poker game they play.  The best way we can help players develop video poker expertise is by offering unlimited free play.
Keep in mind though that there are always a few Royal Flushes lurking in the Random Number Generator.  So you might want to keep that free play time to the barest minimum.