Multi-Hand Video Poker is a Great Teacher and an Exciting Way to Play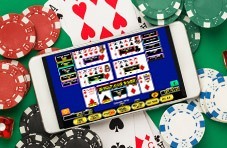 Most gamers know that the highest return to player rate is in video poker.  That does not mean that the return to player rates in other games are much below the rate in video poker; it simply means that video poker has the highest return to player rates.
The rates are even better at an online casino because an online casino has less overhead than a land based casino has so it can return more money back to players.  This doesn't mean that land based casino gaming is rigged against players; it simply means that online payout rates are better.
The best rates are at a no deposit casino such as Springbok.  That's because you can play with the casino's money and can withdraw your winnings if you have met all other conditions.
Multi-hand Video Poker
Many players like playing multi-hand video poker.  It enhances the pleasure they get from the game and makes it easier and quicker to get the really good hands.  In this tips article, we'll discuss a few aspects of multi-hand video poker that are different than what happens in a single-hand game.
Play One Hand Many Times
Multi-hand video poker means that you are dealt one hand, you choose the card or cards you want to hold, and then the Random Number Generator (RNG) deals out cards to all of the hands you're playing.  That means that if you get a good hand, you win very big and if you get a poor hand, you will likely lose on that hand.
That means that making the correct play is always important but is exponentially more important in multi-hand video poker.  One example is holding a low pair or holding four to a flush.  Let's also assume that you are playing 100 hands.  If you hold the pair, you'll get three of a kind a few times, two pair a few times, possibly one or two full houses, and even four of a kind.  If you keep four to the flush, you'll get a few flushes but only a few pairs and those pairs may not win.
Because there are more possibilities to get a winning hand, many multi-hand players think that keeping the low pair is the better play.  However, strategists say that you should apply the same strategy when playing multi-hand as when playing single-hand so you should keep the four to a flush.
There are many such examples where the best play in multi-hand video poker seems counter-intuitive.
Play Single-Hand to Start
One strategy move that all top video poker players recommend is that the risks in multi-hand video poker for new players is so great that new players should always start out in single-hand video poker.
Money Management
One very big reason that multi-hand video poker is more risky than single-hand is that you still have to bet the maximum to win the big jackpot for a Royal Flush.  As uncommon as a Royal Flush is, it still comes up, and all advisers say to play for the Royal Flush in certain situations.
It may simply be out of the reach of your bankroll to play multi-hand video poker.
Most advisers also say to play online video poker to start.  There are two important reasons for this.  The first is that at a land based casino, the maximum bet may be too high and you'll have to play with a lower bet thus giving up the chance to win big with a Royal Flush.
Free Play
The second reason is that at an online casino such as Springbok you can play for as long as you like in free play mode.  Free play gives you a tremendous amount of practice and first-hand experience at no cost.  There is another very important benefit to playing for free at an online casino: when you're playing for free, you can safely play 100 hands because you are risking no investment.
By playing multi-hand video poker for free, you get to see the strategy play out far more quickly than if you were playing single-hand.  We recommend playing 100 hands of video poker in our free play mode and record in a notebook the hands you were dealt, the cards you held, with a short notation as to why you held those cards.  Then record the outcome of your 100 draws.  If your play is anywhere close to the statistical average, you'll see exactly why one play is better with a given hand than another play that you might think is better.
Alcohol: The Cons and the Pros
There is one final benefit to playing video poker in free play mode.  When you play for free, you can drink alcohol.  This is not a trivial matter.  Many gamers like to drink as they play but if you are playing for real money we recommend strongly that you not drink alcohol at all.  Depending on your tolerance for alcohol, you might be affected after one drink or more but eventually, you will be affected.
When you play online, there are no waitresses in cute uniforms offering you free drinks constantly.  Secondly, after you have played for free for a while and remained absolutely sober you can have a drink and monitor yourself.  In this way, you'll learn a lot about yourself as a player and you'll also learn a lot about the level of concentration you need to keep your return to player rate as close to 100% as possible.
Learning New Variations
We always recommend playing in free play mode when learning a new game.  By playing for free in a multi-hand video poker variation, you'll learn the variation much faster than if you played a single-hand game.
Casino Bonuses
Online casinos offer many bonuses.  Some offer a bonus every day.  It doesn't take much for a casino to offer a bonus.  Keep in mind that it's perfectly fine to accept a bonus but if your best strategy at the moment is to play for free, you should bank the bonus and continue playing for free.
Conclusion
All in all, multi-hand video poker is a great exciting way to play this high-paying game.  Still, we recommend proceeding with caution until your skill level is high and your bankroll is equally high.