Discover the Hidden Benefits of Video Poker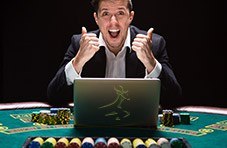 We have discussed many advantages you get when you play video poker.  This casino game is so good that it even has a few hidden advantages over other casino games.
The advantages that come to online players may not apply to land based players and vice versa.  So, here are some of the less well appreciated advantages of playing video poker.
High Return to Player Rate
By now it is no secret that the highest return to player rates are in video poker. So, this is not a "hidden" advantage of video poker.  But the high return to player rates have some very positive side effects that ARE hidden.
Casino Bonuses
Bonuses offer online casino gamers a big advantage over land based casino gamers.  That's because of the large number of bonuses online casinos offer and even more so because of the reasonable wagering requirement players have when they accept a bonus.  Without the wagering requirement, some players might take the bonus and "run" without playing at all. 
At a land based casino, you would naturally be pressured to complete the wagering requirement before you have to leave to get back home.  When you have a wagering requirement online, you can take your time completing it.
Here is where the high return to player rates often come into effect.  A video poker player, working off his or her wagering requirement, can play video poker for a very long time and still have the bulk, if not all, if not more of their starting bankroll intact.
The Springbok Casino no deposit bonus is perhaps the best type of bonus because it costs you nothing.  You don't even need to make a deposit to get it.  If you're new to Springbok, now is the time to get your no deposit bonus!
Comp Points
As you know, every bet you make at Springbok is converted into comp points that you can redeem later on.  Whilst it is true that the highest number of comp points are awarded in slots, it is also true that the high return to player rates for video poker mean that you can earn more comp points per gaming session in video poker than in any other casino game.  Hhmmm - the math game.  Higher return = more playing time = more comp points!
Anonymity
Many online gamers play on their mobile device in short bursts of gaming action when they are waiting somewhere or travelling by commuter bus or train.  Because of the comfort and convenience of mobile casino gaming, the mobile platform has become the most popular gaming platform for online casinos generally, even when the player is playing from home.
There is a certain element of privacy one gets when one is playing at an online casino.  At a land based casino, privacy is in very short supply.  It's true that the hustle and bustle of land based casinos is sometimes a welcome alternative to the calm and quiet of online gaming.
On the other hand, when you play amongst other people, you'll also be subject to comments from the gallery on every decision you make.  Many players prefer online blackjack, by far, over land based blackjack for many reasons amongst them the anonymity of making their betting decisions in the privacy of their own minds and thoughts.
This kind of privacy is not available at any busy, land-based casino.
The same is true of poker.  There are quite a few poker players who feel intimidated by having to decide on their next move in public.  These people much prefer online poker even against live opponents.
The land based game that offers the most privacy and anonymity is video poker.  No one is looking over your shoulder ready to criticize your decisions.  But then, again, as the number and types of machines is limited in the land-based casino, you may have those people waiting for your machine, standing over your shoulder watching your every play anyway.
Multi-hand Video Poker
It is just as easy to play multi-hand video poker as it is to play single hand.  That's because you only have to decide on one set of five cards: which to keep and which to discard.  With the high return to player rates in video poker, you will win very often and when your luck is running well, you can win quite a bit in every winning session.
Multi-hand video poker also makes getting really big hands easier.  We are always taught to go for the Royal Flush when the opportunity arises.  If you're playing a single hand and you get four to the Royal Flush, you keep the four to the Royal Flush even if it means breaking up a winning pair.
When you do the same in multi-hand video poker, you'll also hit flushes, straights, and possibly a non-royal straight flush.  You will also hit a winning pair in a few of the hands.
Always Play the Maximum
This is not a hidden benefit because it is written in plain letters on the video screen.  Still, a lot of players ignore this simple advice and play for lower pay scales.  This simple mistake costs them money.
The hidden element in this particular area is that at a land based casino, the game you want might not be available.  It might be occupied by very determined players who intend on playing for hours.  That casino may be full of astute video poker players all of whom have left the game with the inferior pay scale available.  Many gamers fall for this error of judgment: they play the lower paying video poker game because it is the "only game in town".
In this area, the truly hidden benefit of playing video poker online is that you never have to wait!
Exercise Your Brain
Because it is so close to being an even game between the house and the player, video poker in most sessions costs little or nothing at all and is more stimulating to the brain—and therefore healthier as a brain exercise—than other games that require dexterity but no real strategic thought.  The added element of having money on the line is good for the brain in ways that more rough and tumble games cannot be.
In short, the risk acts as a type of brain exercise and because of the high return to player rate, you often end up either slightly down or ahead.
You won't feel your brain getting stronger - it won't bulge like worked-on biceps - but it will get stronger from your playing video poker!