The Action Keeps Coming in Multi-Hand Video Poker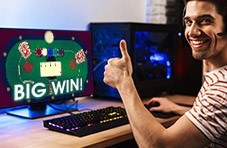 One of the most exciting games at Springbok online casino is multi-hand video poker.  This brand of video poker is so exciting because it multiplies your chances of hitting a big win since you play more than one hand at a time.  You can play multi-hand video poker with your Springbok Casino no deposit bonus and get the feel of the game at no cost whatsoever to you.
Here are some of the finer points about multi-hand video poker:
Follow the General Strategy
In multi-hand video poker, you get one hand.  You choose which cards to hold and which to discard.  The Random Number Generator then generates draws for every one of the hands you're playing.  So, the strategy for multi-hand and for single hand video poker is the same.
Decide How Many Hands You Want to Play
We have repeated many times that in video poker you get the big extra jackpot for a Royal Flush only if you have made the maximum bet.  In multi-hand video poker, it's important that you understand how betting the maximum for every hand you play will impact your bankroll.
If you play a 9-6 game, your return to player rate will be about 96% with correct play.  With just a little luck, you'll go over 100%!  This is the situation in standard Jacks or Better.  However, there are other games such a Double Jackpot or Double Double Jackpot in which you also get big extra wins for some four of a kind hands.
You need to decide if you want to go for just the extra payouts for a Royal Flush or also for big returns for four of a kind.  In the latter case, the return to player will be less for the weaker winning hands such as one pair or two pair.
You Can Play with a Modest Bankroll
Some games lend themselves more to high rollers than to average players.  Games with the greatest volatility will award high rollers but may be outside the comfort zone for average players.  Many gamers forego spins in the highest paying progressive jackpots because the outlay per payline is too steep for their entertainment budget.
This is not the case in video poker.  Video poker generally has very low volatility.  This means that you will win very often even if the win is for the lowest winning hand—a high pair.  Unlike in progressive jackpot games, where the big payout is usually the big jackpot, video poker always gives players many winning hands as they continue playing.
So, video poker is a perfect game for average sized bankrolls.  The big difference between standard single hand video poker and multi-hand is simply that multi-hand does require a higher initial bet to cover all the hands you want to play.  Thus, if you choose to play multi-hand video poker, be sure that your bankroll will be able to cover as many as five consecutive hands in which the losing hands exceed the winning hands.
Importance of Correct Play
When you venture forth into the exciting world of multi-hand video poker, you need to be fully versed in the correct way to handle every hand in the variation you have chosen to play.  The simple reason is that just as your chances of hitting the elusive big wins are heightened when you play more than one hand, your chances of falling are heightened if you play by hunch or emotion instead of by cold, proven correct strategy.
Playing with a strategy card is a must at least until you have fully learnt the nuances of correct strategy.  It is also important to understand the reasoning behind certain sound strategy moves since, if you aren't completely behind the strategy, you'll likely switch to a more intuitive strategy that unfortunately is destined, based on the law of averages, to return less money to you overall.
Watching the Game Recorder Rise
It is true that about 50% of all video poker hands lose.  However, if you get dealt a great starting hand and you play as many as 100 hands with that holding, you'll see the hand counter grow and grow.  This is simply one of the most energizing moments in any gamer's online casino gaming.
Let's look at this.  If you play one hand and get three of a kind, you keep the three cards and hope to draw a fourth card for four of a kind.  In single hand video poker, this moment comes and goes in an instant.  However, in multi-hand video poker, you get to see how each of the many hands you're playing fares
The same excitement occurs if you are dealt two pair; a full house or several full houses are surely in your future if you are playing 100 hands.
Variance
This term is the reason many video poker advisors tell players to avoid multi-hand video poker.  In layman's terms, variance and volatility are basically the same.  As we said above, if you get one of the 50% of hands that will end up in the loss column, you'll lose more in multi-hand than in single hand.
If you get a great deal with your first five cards, you'll win a lot more with multiple hands than with a single hand.  So, the amount that you'll win on any hand and the amount you might lose on any hand vary considerably between single hand and multi-hand video poker.
A lot of video poker players choose multi-hand because it provides a lot more action.  With correct play, you'll receive back over 99% of the money you wagered.  With just a little luck, you'll end up in the black for the session.  So, in most video poker sessions, the big difference is the action and a lot of players love action.
Compromising
So, if you like the big action inherent in multi-hand video poker but don't feel that your bankroll is up to the challenge, you could compromise by playing a small number of hands in the multi-hand format and then going back to single hand play.
In any case, multi-hand video poker takes this great game to new heights!