Virtual Reality Reaches the Casino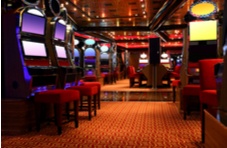 Virtual Reality casino games have become the hottest new game genre for console and online players. Now it seems as though online casinos are ready to bring these augmented realty gambling options into their games lobbies.
Virtual Reality Games
Virtual Reality has been a prominent part of the recreational gaming community for several years. Virtual reality involves the application of a three-dimensional (3-D) artificial environment. VR games mean that that environment is applied to computer games. Game designers create virtual reality environments using VR software which is presented to the player in such a way that the virtual environment supersedes the real world environment.
Virtual reality games are popular because they create suspension of disbelief as they help the gamer experience the VR environment as real. Simple VR games might involve one 3-D image that the user can explore interactively on a computing device through the manipulation of mouse, keys or touchscreen. Today there are more sophisticated and immersive games that are enhanced by VR headsets, wrap-around display screens VR rooms with sensory components (haptics devices for tactile feedback, scents, etc) and wearable computers and headsets.
Players and developers alike have dreamed about VR gaming for almost as long as video games have been around. VR gaming once used multiple screens or projector rooms but once compact technology was invented it became a pursuit that people could enjoy from the comfort of their own home.
Today, VR gaming control may involve a standard mouse and keyboard,  motion capture methods or game controllers. There are also complex VR rooms that often include treadmill floors or a similar component that's designed to further the user's feelings of immersion within the virtual environment along with a sense of freedom of movement. There are also VR setups in which the user is confined to a limited area that surrounds the computer but still has free range of motions within that prescribed area.
Virtual reality gaming hardware is maturing as technology progresses. There are now VR headsets that offer a great experience with reduced nausea or lag – issues which had plagued the industry for years. Some VR headsets include motion sensing controllers along with trackers that work in concert with the headset. Options include room scale VR capabilities and those that are designed to be used in a seated or stationary position.  
VR gaming is distinct from augmented reality gaming – AR involves integration of digital content into the user's real-world environment. 
Casino VR and AR
For years online casino gamers wondered why Virtual Reality and Augmented Reality gambling options weren't available in web casinos. There really didn't seem any reason that casinos couldn't include these options – VR has been in the recreational gaming community for years and the online casino environment would seem like the perfect place to feature such an option.
Now, however, casino software developers are putting forth the effort to bring VR into the world of online casino gambling – both to online website gaming for PC console and laptop play and to mobile gaming for users who are playing on their smartphones or tablets.
There are definitely limitations tied to playing standard casino games. The gaming experience at an online casino is still a two-dimensional event. The enjoyment value comes from the gambling itself, as opposed to an environment in which the game is taking place. The online casino industry has long tried to figure out how to bring a more realistic gaming adventure to its players.
The industry first attempted to address the issue by introducing the live casino platform to the online casino venue. Playing traditional casino games across from real live dealers who could chat with the player while he was playing the game was a nice option for table game players but it didn't offer much in the way of benefits to gamers at the slot machines. 
Game Development
Game developers started to debut VR in new online casino game only a few years ago. The new venture is catching on quickly as players see that online casinos have the ability to bring VR to their preferred PC gaming venue.
New options of VR online casino capabilities are popping up frequently, tantalizing players and bringing excitement to a new level. The VR experience itself is still unpolished but it is inspiring more and more developers to push to the next level.
Players reviews are positive about the new games. Many observers believe that this type of slots could be the wave of the future. If developers can find the right accessories, they can create a slots adventure with the same quality of gaming that the traditional slot machines offer. As soon as the casinos update current gambling platforms that include access to the VR gambling experience, everyone will be ready to go.
VR table games are also available in increasing numbers. These games, such as roulette, poker, blackjack and baccarat, include the sights and sounds that gamers expect to find in a land-based casino but which are available to them for online play. 
The VR tools are growing so there will soon be a larger selection of games for virtual reality enthusiasts at almost every online casino.