Can Board Games Ever Rival Online Slot Games?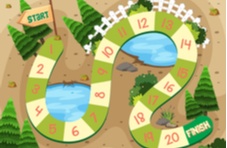 The digital platform has presented us with endless opportunities, one of which is the ability to play online slots on our PC or phone.  It's not only slots that have made the leap from real to virtual – anybody with data and a device can play video games, live dealer games and board games… on-demand.  Tech has powered up the board game experience but is it enough to knock slots off the popularity perch?
Blurring of the Lines Between Slots and Video Games
These days online slots are a lot more than gambling games.  Developers like Real Time Gaming (RTG) have integrated elements of video games into the mix – animated characters, upgradeable levels, sliding scale jackpots and interactive quests. 
Level Up in Our Epic New Slot
Just this month, Springbok Casino has announced the pending release of Epic Holiday Party, a brand-new slot game where you can progress through different game levels.  Player benefits range from standard payouts and multipliers that soar in value to unique jackpot prizes that get bigger and better as you level up. 
What is effectively happening is the blurring of the boundaries between online slots and video games.  Now there is a third gaming category that is emerging – and it is a mash-up of conventional board games with real money casino games.  The key feature here is that you can win genuine bank notes playing the likes of Monopoly, Deal or No Deal and re-imagined versions of Let's Go Fishing and Snakes and Ladders!
The Influence of Augmented Reality on Board Games
We have already mentioned how high-resolution graphics and animations have boosted the online slots UX right here at Springbok Casino.  In order to keep up with rapidly evolving tech trends, live board game developers have tapped into the awesomeness of 3D augmented reality (AR) to create a melange of real and virtual. 
In Live Monopoly for instance you can watch in awe as Mr Monopoly marches around an AR game board passing traditional properties, dazzling high rise hotels and the mega-multipliers assigned to each space on the board.  That is the board game action at the live casino.  How about the online platform? 
Banana Jones: Snakes and Ladders with Elements of Online Slots
At Springbok Casino we feature two beautifully designed real money games based on Snakes and Ladders and Let's Go Fishing.  The first is Banana Jones, an intrepid little adventurer who has to negotiate his way through a jungle of entangled vines, mean looking snakes and ghoulish stone heads in order to reach the giant temple.
As the player, your objective is to roll the virtual dice so that Banana Jones can hop from one position on the board to the next in an effort to reach the end of the trail.   Along the way you collect payouts when the title character lands on snakes, vines and gems, each of which is imbued with a special quality that either helps Jones to advance or retreat on the board.
Money Wheels and a Pick Me Bonus Feature
Besides the standard game play that proceeds over five throws of the dice, there is a treasure wheel featuring win multipliers of up to 50 x.  When Jones does manage to overcome all the obstacles to reach the giant temple, you are rewarded with a treasure chest pick me feature that generates instant cash prizes.
Banana Jones may not be a reel-based casino game but it has all the elements that have made online slots the hottest properties at Springbok Casino! 
Fish Catch: An Interactive Casino Game with Shades of Let's Go Fishing
Fish Catch is not a board game per se but it is loosely based on Let's Go Fishing.  Your objective is to shoot fish with one of an arsenal of cannons, each of which has a unique bet multiplier.  Every bullet that hits a fish is a bet that is automatically deducted from your balance.  The more bullets you shoot at the same fish, the higher the probability of capturing the payout associated with that particular type of fish.
Multiple In-Game Features
You have a choice of six ocean environments that are aligned to your bet amount, so you can level up or down after each gaming session.  What is more, there are all sorts of in-game features that are designed to ramp up your win rate – fish radars, maps, a randomly activated wheel of fortune and auto aim and auto fish modes!
Fish Catch is a fabulously entertaining single-shooter type of game where you pit your sniping skills against other players.  There is even a prize for the player who ends the session as the total points winner.  Fish Catch isn't a board game or a video game; it's more like a never-ending bonus feature that you are likely to find in the best online slots!
Online Slots or Board Games?
Now that we have explored the Springbok Casino games menu in a little more detail, one thing is abundantly clear.  The traditional categories of games are being skilfully merged to give players like you and I a more interactive and entertaining gambling experience online. 
Technology is the driving force behind the incredible transformation of conventional board games, classic slots and even single and multiplayer video games.  The lines are indeed blurred and out of the cross-category chrysalis new and more spectacular real money casino games are emerging – some with the attributes of online slots and others with smatterings of video games and board games! 
If you want to enjoy a decidedly different gaming experience, register an account at Springbok Casino and hit the Speciality tab.  That is where you can find Banana Jones and Fish Catch.  They may not be online slots in the truest sense of the word but they've got lots and lots of similar features!