Shopping Spree II Slot – Reel-Based Retail Therapy at its Best!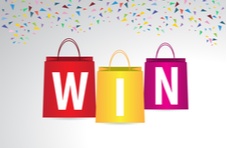 What happens when retail therapy and online slots collide?  A seriously spectacular new edition of Shopping Spree II slot – and it is available right now at Springbok Casino!  Rather than costing you a small fortune,  Shopping Spree II slot has the potential to transform you into a cash-rich consumer.
Enjoy Shopping Spree II Slot and Become a Cash-Rich Consumer
How does a never-ending line of credit at your disposal sound?  For any shopaholic – like a dream come true!  If you want to beef up your credit card and add a chunk of change to your online gambling account, here is everything you need to know about the latest addition to the RTG online slots selection.
Why Play Shopping Spree Slot II Online… NOW
What are the standout features in Shopping Spree II slot?  Here is a list of why you should sign up at Springbok Casino, hit the online slots tab and zoom into the latest release casino game, fresh from the Real Time Gaming development studios:
Fixed bet and fixed paylines
Wild multipliers up to 20 x
Top paying symbol pays from one up to five
Win up to R100,000!
Guaranteed bonus prizes
Progressive jackpot
Wild reel in bonus free games
A Fixed Bet and Fixed Payline Slot
Shopping Spree II slot is strictly for high rollers who understand the value of excessive volatility.  It is a fixed, bet, fixed payline kind of game which requires a better than average bankroll.
As can be expected from online slots with extra high volatility, the financial output may be sporadic – but when the wild is in-play, the payouts are beyond all expectations.
Watch Out for the Sale Sign… It Is Wild!
How does the white on red 'Sale' sign boost the balance in your Springbok Casino account?  When it appears on the third reel, as it does comparatively frequently, it has a habit of appearing in groups of two or three.
The upshot is multiple payline wins on almost every wild spin, all of which contribute to the overall win tally in Springbok Casino online slots.
Anticipate Wow Multipliers on Every Wild Payline Win
Besides a high probability of forming more than one paying combination, the wild automatically multiplies the payline win by 2 x up to a whopping 20 x.  In Shopping Spree II slot, the wild multipliers are not random.  They are linked to specific symbols and pay out at the same enhanced rate throughout the entire online slots session!
'Five For' Equals Tantalising Payouts
In order to hit the mega-money wild-induced prizes, you have to achieve five of a kind.  Do that – and you really are in line for potentially life changing amounts of crisp hard cash!
How Much Can You Win in Shopping Spree II Slot?
Which online slots symbols are associated with crates of moolah, thanks to the integration of the wild Sale sign into the line win?  How about the lady shopper with the elegant bob?  She pays up to 2,500 x for five of a kind.  When the wild is involved, the payout soars to 50,000 x the payline win!
As for the dollar sign, it delivers a top prize which escalates from 1,000 x to 20,000 x a pop.  When the wild is part of the winning combo, the handbag pays up to 10,000 x, the shoes and sunglasses 5,000 x and the watch and necklace up to 4, 000 x – and so it goes on and on right through the paytable.
All Wild Wins are Subject to Multipliers
Even when you only hit three of four symbol combos and the wild is part of play, the payline wins are subject to the same heady multiplier values.  That is the story with all the online slots icons in Shopping Spree II slot, with one exception...
Find the Ring: Bank the Progressive Jackpot
The ring is effectively the big-ticket item in Shopping Spree II slot, not in terms of spend, but rather real money rewards.  It not only pays upward from one unmatched symbol – it offers a top 5,000 x payline win for five of a kind… a prize that instantly morphs into a constantly accumulating progressive jackpot when the wild is part of the action.
Bear in mind, all we have covered so far pertains to the base game.  Now for the bonus feature, which really is two features rolled into one.
Scatter Wins and Nine Free Games
As is typical of online slots, the Shopping Spree II scatter pays up to 200 x the total stake when it appears anywhere on the gaming interface.  It also triggers nine free games.  During the complimentary game time, special points symbols are in-play, automatically adding 100 up to 500 points to the bonus tally.
Get Extra Free Spins…
At the end of the free games, you are awarded three extra free games for every 1,000 bonus points you have accrued.  Bonus free games are capped at 12.  As is becoming of an in-game slots bonus, the third reel is wild for the duration of the free games… and that, of course, means lots and lots of eye popping payline wins are a distinct possibility.
…or Guaranteed Prizes
What happens when the bonus tally is below 1,000 points?  No sweat, Sherlock!  There is a guaranteed price for everyone at Springbok Casino.  In fact, you can bank multipliers up to 100 x the bet… and that, my friends, is a certainty!
What 'Fixed' Means to New Slots Players at Springbok Casino
We talked about Shopping Spree II slot being one of those fixed payline and fixed bet online slots.  What does that really mean, especially to new players at Springbok Casino?
Unlike many other online slots where you can adjust the bet size and number of paylines in play, in Shopping Spree II slot there is a mandatory bet of R18 per spin – and all nine paylines are automatically active, all the time.
What that of course means is the line bet is R2 and the maximum payout in the base game is R10,000… and that is without the wild multiplier weaving its magic on the reels.  Ratchet up the probability of hitting the best-ever wild induced prize – other than the progressive jackpot – and you can bank R100k for four lady shoppers plus the wild!
Now can you see why we rate this retail therapy slot so highly?  Yes, you need a steady bankroll to fund a proper gaming session at R18 a pop – but you stand to win grand payouts that could provide infinite spins on the new Shopping Spree II slot at Springbok Casino!