A Comparison of Cleopatra's Online Slots – Gold, Jackpot and Deluxe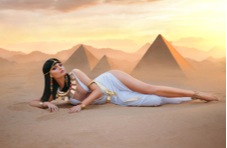 Queen of the Nile, femme fatale, and title character in three RTG online slots – that's Cleopatra, the charismatic ruler of Ancient Egypt.  With Springbok Casino featuring a gold, jackpot and deluxe version, the question is which Cleopatra slot is the best… and why?
A Common Character in Springbok Casino Online Slots
Cleopatra may be a fabled historical figure but she is a common character in slots online.  Since the late nineties, the 'Queen of Queens' has played a key role for Real Time Gaming (RTG) software.  Along with Caesar's Empire, Cleopatra's Gold is one of the first online slots released by the RTG development studios.
Now, almost a quarter of a century later, the game has been reworked for the next generation of players.  The mechanics and features have remained true to the original but the artwork and functionality have been given a 21st century boost.
Besides providing classic Cleo with a modern makeover, the archetypal Cleopatra online slots are still very much in the picture, one of which has the capabilities to appease high rollers and jackpot hunters – Cleopatra's Gold and Jackpot Cleopatra's Gold.
In both instances, the gaming gurus at RTG have replicated the theme but integrated a few unique features into the mix.  Here is a snapshot of the three Cleopatra themed online slots you can play at Springbok Casino:
Cleopatra's Gold – Original Springbok Casino Slot
The first iteration of Cleopatra's Gold slot is a standard 5 reel game with 20 variable paylines.  It features tablet-like reels filled with gaming symbols which resemble Egyptian hieroglyphics.  A typical desert scene backs the gaming interface.
The Wild Multiplier Pays Up to R50k!
The lovely Cleopatra is wild and doubles all prizes.  She also pays up to 10,000 x the line bet.  Hit the top paying combination on the maximum R5,00 per payline bet and you are instantly R50,000 better off.
The next best prize is 1,000 x the line bet for the scarab beetle and eye icon, a prize that soars to 2,000 x when the wild completes the payout permutation.
Big Scatter Wins and 15 Free Spins
The pyramid scatter delivers payouts of up to 500 x the total stake.  It also awards 15 free games where all prizes are trebled.  Besides the frequent payline wins and wilds which appear on a regular basis to push up the payout rate, Cleopatra's Gold slot is billed by a randomly activated jackpot!
Jackpot Cleopatra's Gold slot – Fixed Bets and a Network Jackpot
What differentiates Jackpot Cleopatra's Gold from Cleopatra's Gold is encapsulated in five words – 'fixed bet' and 'network progressive jackpot'.  Other than that, there is not much separating the two online slots.  If you are wondering what 'fixed bet' means, it is what is says – the bet is fixed at R5,00 a spin.
Bank Up to 2,500 x the Line Bet
As a result of the fixed bet, the paylines, which are 25 not 20, cannot be adjusted up or down.  The top payout in terms of rands and cents is 2,500 x the line bet, generated by four wild Cleopatras.
Oh Wow – a Network Juiced Progressive Jackpot!
When you hit five wilds on the gaming interface, the progressive jackpot, funded by all the online casinos in the RTG network, is yours!  That includes Springbok Casino, of course!
Jackpot Cleopatra's Gold Deluxe Slot – Brand-New Design Elements
The deluxe version of the Cleopatra themed online slots at Springbok Casino focuses on showcasing new design elements.  The symbols appear to be made of coloured glass, the reels are dark blue and trimmed with marble and a desert scene featuring the great pyramids backs the gaming area.
The latest casino game is a sleek and more polished version of Jackpot Cleopatra's Gold slot and befitting of the demands of a more sophisticated audience.  That said, the betting structure, paytable and bonus features are precisely the same as Jackpot Cleopatra's Gold slot.
How the Core Gaming Elements of Cleopatra's Online Slots Compare
| | | | | | | |
| --- | --- | --- | --- | --- | --- | --- |
|   | Paylines | Top Pay | Wild | Scatter | Free Games | Jackpot |
| Cleopatra's Gold | 20 Variable | 10,000 x line bet | With 2 x Multiplier | 500 x the stake | 15 plus 3 x Multiplier | Local Random |
| Jackpot Cleopatra's Gold | 25 Fixed | 2,500 x line bet | With 2 x Multiplier | 500 x the stake | 15 plus 3 x Multiplier | Network Progressive |
| Jackpot Cleopatra's Gold Deluxe | 25 Fixed | 2,500 x line bet | With 2 x Multiplier | 500 x the stake | 15 plus 3 x Multiplier | Network Progressive |
Who was Cleopatra?
Cleopatra VII Philopator ruled over Egypt from 51 BC to 30 BC.  She was a feisty, yet benevolent, queen descended from the Greek Macedonian dynasty of Ptolemy.  Cleopatra was reputed to be a woman of great beaty who seduced, first, Julius Caesar and, later, Mark Anthony in order to shore up her power and retain the throne.
Smart, Sassy and Good Looking
In reality, the young queen was an accomplished linguist and academic, with interests in astronomy, mathematics and philosophy.  She was also a great orator and ruthless politician who pursued her goals with single-minded intent.
Brotherly Love?
Besides the well-documented love affairs with her Roman beaus, Cleopatra was married to her two younger brothers, Ptolemy XIII and Ptolemy XIV.  Both reigned alongside her and played the role of ceremonial spouse at different points during her reign.
The marriages didn't last.  The first brother betrayed Cleopatra and chased her out of Egypt.  He took up arms against her – but with the assistance of Julius Caesar, Ptolemy XIII was defeated and later drowned in the Nile.
Ptolemy XIV was neatly despatched at Cleopatra's command.  She wanted her son to become co-ruler in his stead!
Assassination and Suicide
Cleopatra spent time in Rome as Julius Caesar's lover but had to flee back to Egypt when Caesar was assassinated on the steps of the senate.
The Egyptian monarch later fell in love with and married Mark Anthony – but, as we all know, that particular union ended in tragedy.  Mark Anthony fell on his sword and Cleopatra reportedly died from an asp bite to the breast.
Sign Up at Springbok Casino and Start Hunting for Progressive Jackpots Right Away!
Can Cleopatra's irresistible charm translate into real money wins on the reels?  The only way to find out is to sign up at Springbok Casino and plough through our Cleopatra themed online slots… one by one.
There may not be too much separating one game from the other but when you happen to be playing the right online slot, at the right time, there may well be a progressive jackpot heading your way. It could be randomly activated… or symbol driven and funded by the entire RTG network.  The choice is yours!