Is Lucky Catch the Best of the Ocean-Going Online Slots?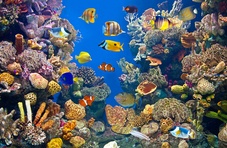 You have heard of ocean-going yachts but how about ocean-going online slots?  At Springbok Casino, we don't only focus on terrestrial beasts.  There is a plethora of fishy favourites in our casino games menu with the potential to deliver neat net profits.
When in-game bonus features and a high win frequency collide, you have the makings of a scandalous slot.  These are the games that fit neatly into the 'loose' category – and we all know what that means.
A Loose Online Slot for Players Chasing Big Wins
How scandalous is Lucky Catch, the latest title in the Real Time Gaming (RTG) online slots stable?  Well, let's put it this way.  The Great White wild is simply everywhere and free games are easily activated… and as easily retriggered.
When the fishing trawler, with its lucky catch, sails across the game board, the cash balance in your Springbok Casino betting account gets an instant boost.  Now to anyone who knows their stuff, that is a good enough indication of the online casino game's pedigree.
Is Lucky Catch the best of breed in the online slots' category at Springbok Casino?  Here's the deal.  We will break down the key elements one by one… and leave it up to you to decide.
Lucky Catch Slot – The Aesthetics
If you are the kind of player enchanted by animated movies like Shark Tale, Finding Dory and Shark Bait, you will dig Lucky Catch slot.  The game board features a tropical underwater scene filled with colourful coral polyps, sea weed and a lone tentacle of a brightly coloured octopus.
The reels themselves are clad in coral reef but it is the cartoon style characters swimming gamely across the interface that pop from the screen.  Tiny soft shell turtles, large-eyed puffer fish, lion fish, angel fish and what look like a goldfish snap up positions on the reels, along with jellyfish in a variety of bright hues.
It is a beautiful game board that would make the likes of Pixar, Walt Disney, Studio Ghibli or Dreamworks proud.  In terms of aesthetics, Lucky Catch slot gets 10 out of 10.
Lucky Catch Slot – The Paytable
Aesthetics is one thing but filthy lucre is another… and an element arguably a lot more important than graphics and theme.  When it comes to Lucky Catch slot, the payouts fall into the mid-value range.  That said, you can win up to R4,000 in the base game, with a maximum bet in-play.
The top paying symbol is the glutenous looking purple octopus that could easy double for a jelly baby.  Hit five matching symbols on a defined payline and you will bank 800 x the line bet.
From there on in, the maximum payouts plummet somewhat generating 250 x for the cutey-pie turtle, 150 x for the bright pink lion fish and a respectable 125 x for the yellow buffer fish with the luminous green eyes.
The angel fish and gold fish pay up to 100x and 50 x respectively, while the cacophony of coloured jellyfish deliver between 50 x and 25 x the payline bet as a top-end reward.
Take the 25 fixed bet lines and betting range into account – which in this case is R0.25 up to R125 per spin – and you can calculate precisely what you can win playing Lucky Catch… and the rest of the online slots at springbok Casino.
How does Lucky Catch stack up in terms of the paytable?  Mmm… let's give it a 6 out of 10!
Lucky Catch Slot – In-Game Features
As is standard with all 5-reel online slots, Lucky Catch has a wild to pump up the payout rate.  Apart from carrying out its conventional role as a joker on the reels, the wild Great white shark has the capacity to prey on adjacent symbols and replicate to create a wild burst.
The game logo scatter pays up to 5x the stake and unlocks 10, 15 or 20 free games depending on the number of scatters on the reels.  During free games, the frequency of the wild burst feature is turned up to match the number of free spins.
As a result, you can expect to net a greater number of wild-induced payline wins depending on the number of free games awarded.  It is this feature that has the potential to trigger multiple big wins and even mega wins on the reels… for free.
What is even more gratifying is free games can be retriggered.  As a result, it is possible to get up to 40 free games, or more, in a single feature!  What is our rating for the in-game features in Lucky Catch online slot?  An impressive 8 out of 10!
How We Fared in Lucky Catch Slot
When we tested Lucky Catch slot, we played a R2.50 stake.  We hit a big win of R28.50 and a mega win of R85.  We were awarded 10 free games, which escalated to 25 altogether due to appearance of four scatters on the game board.
A grand total of R223 was accumulated during the gratis game time, largely due to three different five-of-a-kind combinations.  To top it all, the fishing trawler swanned across the gaming interface on two occasions, delivering an instant cash prize of R3.50 and R10, apiece.
At the end of 50 spins, we had netted a total profit of R267.50 – not bad for half an hour's 'work' at Springbok Casino!
Why Lucky Catch is One of the Best Fish-Themed Online Slots
25 fixed paylines
A top base game payout of R4k
Randomly awarded instant cash prizes
Frequently appearing replicating wilds
Up to 20 easily activated re-triggerable free games
Wide betting range
Plenty of five-of-a-kind paying combinations
A high variance online casino game
Sign Up at Springbok Casino and Start Trawling for Wins Right Away
How can you get a share of the real money catch?  That is easy.  Register a Springbok Casino account, claim the R250 free bonus and play the best online slots… compliments of the house.
You will have to make a deposit and playthrough the bonus before you are eligible to cash out the winnings which, by the way, are capped at R500!