Understanding Online Casino Table Games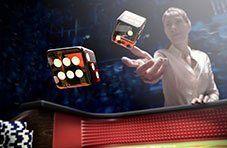 While it's quite common that the biggest part of an online casino's gaming library is dedicated to slots, they are not necessarily the first thing which comes to mind when thinking about land-based, glitzy casinos of Las Vegas and other popular gambling destinations. Apart from being considered "classic", table games also offer players a higher degree of control over the outcome of the game. Strategies have been developed and shared on how to use this opportunity to win, and many of the tips and tricks are also available on Springbok Casino web pages.
At Springbok Casino we give you the chance to play whenever, wherever, with the use of our rad mobile casino. Simply open our casino in your mobile browser, select whether you are using an Android, IOS, Blackberry or Windows device, and get ready to start playing and winning.
Whether you're an experienced player or about to enter the exciting world of classic casino games for the first time, chances are there are some table games you're not that familiar with. So let us give you a hand by offering an overview of card and dice games which can be enjoyed at an online gaming venue. Excluding Blackjack, that is. Which is probably the most popular one, but due to numerous variants and options it deserves an article of its own. 
Baccarat
What might confuse you when it comes to Baccarat, are the terms "Player" and "Banker". In this game, this doesn't mean you and the dealer, they are just two hands on which you can bet. The goal of the game is to predict which of these hands will score closer to 9 points. You can bet on Player, Banker or a Tie. The fun starts with each of the two hands receiving 2 cards. If either of them has a natural (8 or 9 points), that hand automatically wins. Otherwise, the Player draws a third card or stands according to pre-set rules, and the Banker does the same. 
Poker
You're probably well familiar with the general Poker rules, so let's just take a quick look at some of the more or less frequent variants.
In Caribbean Draw Poker, you are dealt five cards face up and the dealer gets the same number of cards, but only 1 face up. Before raising your bet you can draw up to two cards, and the same goes for the dealer. 
Caribbean Hold'Em Poker starts with three community cards which are dealt face up, the dealer's two cards face down, and your two cards face up. Based on what you see, you need to predict whether or not your five-card poker hand (your two cards + 3 community cards) will beat the dealer's hand. If you believe they will, you can Call to make an additional bet, and if not, you can Fold to forfeit the ante and end the game.
In Pai Gow Poker both  you and the dealer are dealt seven cards. You divide your cards into a five-card hand and two-card hand, which are then compared to the dealer's two hands. In this Poker variant, you'll win if both of your hands beat the dealer's hands. If you beat them only with one, it's a push. Another difference is that the deck includes a Joker which can be used to complete a five-card flush, straight, or straight flush.
In Tri Card Poker, both you and the dealer play with 3 cards only, which obviously effects the winning hands. Straight Flush is the highest value hand, formed by three cards of same suit in sequence. It's followed by Three of a Kind, Straight, Flush, One Pair, and finally a High Card. 
Red Dog
The object of this game is to correctly predict whether the third card drawn will be ranked between the first two cards which are dealt face up. If you believe this will be the case, you can Raise. If you doubt it, you can Continue. You'll win when the third card does indeed fall in between the first two cards, or if all three cards are the same rank. If the first two cards are consecutive, you'll push, and when the third card drawn doesn't rank in between the first two, you'll lose.
Payouts are determined by the spread between the first two cards, meaning how many ranks there are between them. As you'd expect, the smaller the spread, the greater the payout.
Sic Bo
The object of this game is to predict the outcome of the roll of three dice – either individual numbers, combination of numbers, or total produced. Sic Bo offers a variety of different bets, and you can place multiple ones in each game round. You can bet that one of the six numbers on the die will be rolled on at least one die, or that a combination of two different numbers will be rolled. Bets can be placed on a particular pair, particular triplet, or any triplet. And finally, you can bet on the total of all three dice, either a specific number, "Small" between 4 and 10), or "Big" (between 11 and 17). 
Craps
Craps is a another dice game with the goal to predict which number will be rolled. It's played in rounds, the first toss of dice called the come-out roll. Depending on the kind of bet you've placed, it's possible to win or lose during this round. If you don't, the number which was rolled becomes the Point, and it can be either 4, 5, 6, 8, 9 or 10. Once the Point is established, the round continues until the Point or a 7 is rolled.
Game of Craps offers numerous kind of bets, such as Pass Line (betting that a 7 or 11 will be rolled in the 1st round or that the Point will be rolled before a 7), Don't Pass (betting that a 2 or 3 will be rolled in the 1st round or that a 7 will be rolled before the Point), and Come and Don't Come bets which are similar to the previous two, only they're placed after the Point has been established. 
Hopefully we've managed to convey there are many more exciting games to be played in an online casino, on top of the super-popular Blackjack and Roulette. Why don't you pick one and give it go? You might find your new favourite while new card combinations are being formed, or dice rolled.