Blackjack Games That Pay More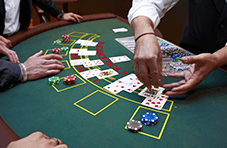 Blackjack is one of the most popular table games around, whether it's played in a brick-and-mortar casino or online. Trying to score a higher value hand than the dealer while not going over 21, is exciting enough on its own.
But there are Blackjack varieties which offer additional betting (and winning) opportunities, or come with special payouts which are significantly higher than those you can achieve by simply beating the dealer's BJ hand. So if even money or 3:2 payouts leave you cold, or you're just looking to upgrade your Blackjack experience, why not try some of the games  below. 
Blackjack Games With Side Bets
Blackjack + Perfect Pairs is a variant which plays by the same basic rules as a standard Blackjack game. You'll be dealt two cards face up, and the dealer one card face down and the other face up. Blackjack automatically wins, unless both of you receive it, in which case it's a push. The difference to the classic variant is that you are additionally given the opportunity to place Perfect Pairs side bet, once you have placed your main bet and before you hit the Deal button.
Here you're basically wagering on your first two cards being the same. There are three possible winning outcomes: a Mixed Pair, comprised of one red suited card and one black suited card (for example 10 of Hearts and 10 of Spades), a Coloured Pair which consists of 2 either red or black suited cards (such as 3 of Spades and 3 of Clubs), and a Perfect Pair, which is a combination of 2 cards identical in rank and suit. The first will pay 6:1, the second 12:1, and the last a hefty 21:1. Do note that Perfect Pairs bet has nothing to do with the dealer's hand, and it can be won even if you lose in the main game.
Suit'Em Up Blackjack plays by the same basic rule as the one above, and has a similar, yet simpler side bet which you can choose to place. In this case, you're betting that your first two cards will be of the same suit. Should you get dealt a suited pair, you'll be paid 5:1. Suited Blackjack will deliver 10:1, and suited Aces an impressive 60:1 win. Once all Suit 'Em Up wagers are settled, the standard Blackjack gameplay resumes. 
Blackjack Games With Special Payouts
Super 21 has special payouts for  several different hands, namely a Diamond Blackjack (two diamond cards totalling 21 points), a five-card 21, a 6-card 21, and a 6-card hand of 20 points or less.
In Match Play 21, you'll be playing with slightly modified decks. More specifically, there will be no 10's in them. While 10's have been taken out, special payouts have been added for certain hands. There are 10 special card combinations which pay in this game, such as 6-card 21, 6-7-8 suited, 7-7-7 Spades, and so on. The highest paying one, awarding a 40:1 win, is called Match Play 21. You'll win it if you're holding three 7's of the same suit, while the dealer's up card is also a 7. 
All of the games mentioned above can be played at Springbok, along with the standard Blackjack variants. Feel free to give them a try and potentially walk away with your biggest ever Blackjack win to date. Feel free to also try playing off of your mobile, be it an Android, IOS, Blackberry or Windows device, we've got you covered.