Basic Tips for Playing Online Roulette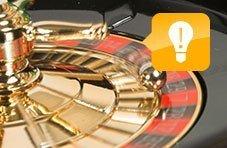 Roulette is a beautiful and exciting game, enjoyed by many of your fellow gamers since the 18th century, which is when it was played for the first time in Paris. If you've tried it before, we probably don't have to talk about the adrenalin rush as you watch the ball hopping on the wheel, waiting to see if it stops at a number corresponding to your bet. If you're only contemplating to give it a go, what better place to do it than online? 
When playing Roulette, you can choose to bet blindly or follow a certain strategy. You might be doubtful as to how much a strategy can help, as this is basically a game of luck, right? True! However, there are a few tips you can follow to help you maximise your profits and minimise your losses. And they are right here, so just keep on reading! 
There is no Bullet-Proof Betting System 
Some say you should double your bet each time you lose and decrease it when you win. Others claim exactly the opposite. Let's make it clear from the start: there is no real proof that either of these systems works in short/medium term, and you might easily see all of your money change hands before you benefit. The same applies to "watching the wheel to identify trends". When you're playing online Roulette, same as with any other online casino game, the outcome of one round has nothing to do with happened immediately before or what will happen immediately after. Random Number Generator makes sure of that. 

Know the Game Before Saying "I do" 
This is not to say that some Roulette games are better than others, it's just that they are not the same. You might have heard advices to choose European Roulette over American Roulette, as the latter has one additional space on the wheel (double zero) and therefore your odds of winning are lower. Before you decide to choose one of these over the other, check out the payouts as they're not necessarily the same. Other Roulette variants have their own special rules and extras, so make sure you understand what they are before placing your first real money bet. 
Play the Outside or the Inside? 
Playing the Inside means you're betting on a certain number, and while hitting the right one delivers higher payouts, the odds of doing it are lower. However, don't forget that betting on numbers does not mean you can only choose one. By placing your chips on the right place, you can play several numbers which are grouped on the board, all on a single bet. Playing the Outside – red/black, high/low, odd/even - gives you a better longevity, though it also delivers smaller wins. In the end it's up to your reason for playing – win big quickly, or enjoy the game for longer? Naturally, you don't have to stick with one forever; occasionally changing the way you bet could provide extra excitement. 
Manage Your Bankroll 
Whichever of the online games you contemplate playing for cash, we'll always advise to set an amount you're willing to lose. If you're having a bad day and indeed lose it all, walk away and come back on another occasion. If you're fortunate enough to be winning, set aside (virtually) a part of the amount won and treat it as if it was not there. This is a good way to ensure you still have funds to play with on your next visit. 
Practice First 
As with all other casino games, in fact with everything in life, practice always makes us better. Use free play opportunities to learn about the basic game and different variants, and test what you've picked up so far. Only when you feel sure you understand the rules and payouts, start placing real money bets. 
Learn from Others 
Playing Multiplayer Roulette allows you to observe what the other players are doing. You don't know who they are, so there is a chance they're a newbie with no clue as to what they're doing. On the other hand, you might get to share a table with a seasoned player who's built up a useful insight along the way. In any case, this is a great chance to learn what works and what doesn't. As every player at the table is given chips of a different colour, it will be fairly easy to track who's placing which bets and what the outcome is. 
Use Casino Money Smartly 
Online casinos will always offer welcome bonuses, as well as other promotional freebies, so why not take advantage? Providing the wagering requirements are not exceedingly high, placing outside bets might be a good way to meet them. 
House Always Wins? 
No. Casino always has an edge, but we've seen thousands of players walk away from our Roulette tables with some truly impressive wins. It might take some luck and a bit of discipline, but you've got as good chance as any of them to end up a bit (or lots) wealthier than when you started.
Choose a Reliable Online Casino 
Of course we want you to join us and play at Springbok; we believe we are the bee's knees and offer the best Roulette games around, whether you choose to access them via your desktop or a mobile device, we accommodate Android, Blackberry, Windows and IOS devices. Even if, for some strange reason, you choose to do your gaming elsewhere, make sure to select a trustworthy partner. What good is winning if you never get to see your cash, right? Check your potential gambling partner's credentials and read a few reviews before you commit. 
We've already agreed that Roulette is primarily a game of luck. If on a particular day, lady luck has packed up her suitcases and went off to visit someone else, there's not much you can do about it. But when she comfortably curled up by your side, following the tips shared above could increase your chances of winning. And we'll be genuinely happy to see it happen at Springbok!