7 Basic Tips for Playing Online Slots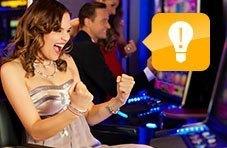 Unless you've never ever played at an online casino before, you'll be familiar with the term Random Number Generator, or RNG, which basically determines which symbols the reels will deliver as a result of any of your spins. The key word is "random", meaning there is absolutely no way to tell which combinations you'll be seeing the next time the reels stop. It also means that whatever has happened during your previous spin will have zero impact on the following one. Which is why the so-called hot and cold machines will bring you no actual advantage, whichever you happen to choose.
You may also choose to try our preferred mobile version, for those who like to be entertained whilst on the go. We accommodate Android, Blackberry, Windows and IOS users.
Having said that, by making a few conscious decisions, you do have a small window of opportunity to increase your chances of winning and also the amounts you win. Check out the few tips given below and try to implement them the next time you're ready to spin the reels of an online slot machine.
Set Your Limits
Whichever online casino game you decide to play, the first rule is always the same: set your budget and stick to it. As the saying goes, only bet what you can afford to lose. Once you have decided what your limit is, stay disciplined and don't let adrenaline and the blind fate of your lucky next spin push you overboard.
Explore Before You Buy
Read online slot reviews to find the ones that appeal to you most. You'll likely be influenced by the way they look and sound (after all, you do want to have fun while playing, right?), number of paylines, minimum and maximum bet sizes, potential wins and available bonus features. Make sure the betting limits fit your budget, otherwise you might face a very short gaming session.
Know Thy Slot
If you're about to play a new slot machine, get familiar with the mechanics first. You can do this by reading through the Payout table and other available information, and practice for free before you place a real money bet. Once you feel confident enough you understand the game, start betting small amounts first.
Casino Bonus: To Use or Not to Use?
Risking someone else's money instead of your own is always a good idea, right? Well, yes and no. Getting tempted by "generous" bonuses, only to realize that you'll need to wager the bonus and deposit amount a gazillion times before you can withdraw any cash... well, it can be hugely frustrating. So make sure to read the fine print before you commit.
Take Advantage of Freerolls
Slots tournaments are a great way to experience the casino and the game, they provide an additional adrenaline rush, and when no registration fee is required, you've got a chance to boost your account with a welcomed little, or not so little, amount of cash.
(Don't) Bet Big
This one really depends on your motive for playing. If you're after a big win, (once you've fully grasped how the particular slot works and pays), go for the kill. Betting max will likely deliver your best wins ever, especially on machines which make their jackpots accessible only when you're playing with maximum stakes. If, on the other hand ,your goal is to kill a few hours and be entertained, bet smaller amounts and make your money last longer. But this does not mean you cannot win big. We've had several players win huge amounts of money just by betting R20.
When You Win, Move On
One piece of advice on when to stop is provided above and has to do with a loss. The other "perfect" moment to walk away is after you've hit a jackpot or enjoyed a long streak of high-win spins. Regardless of the randomness we talked about, eventually each machine needs to level up. It is not only up to you though, as many other players will be spinning the reels of the same game and receiving different results. If you've been lucky enough to collect generous amounts it is always good to give yourself a short break and decide on whether to continue, or whether to withdraw parts of your winnings.