Best Strategy for Playing Progressive Slots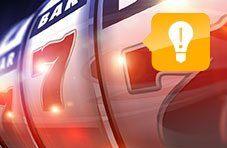 Who among us hasn't yet dreamed of hitting a progressive jackpot and seeing our lives turn upside down? In a good way, of course! While playing regular slots can also provide substantial wins, 6+ figure jackpot values often cause an immediate adrenaline rush and "what if" thoughts that prompt us to give them a spin. It's no secret that the chances of actually winning it are incredibly small. Still, other players have managed to collect, so there's no real reason it couldn't happen to you, right? 
There's also no real reason why you should be limited to playing only off of your desktop. Go and give our mobile version a try and experience the thrill of playing on the go. We accommodate Android, IOS, Blackberry and Windows mobile devices and are known to be South Africa's #1 mobile casino.
As you know, slots are a game of chance, ruled by a Random Number Generator which decides what will happen on the next spin of the reels. Equally, progressives never become due and no one can really predict when the jackpot will be paid out. Is there, regardless, anything you can do to improve your chances of hitting the headlines? There are actually a few advices we can give on the subject, and while  far from guaranteeing the result, they might be of help if you decide to go for that life-changing win. 
Fix Your Budget
Since the likelihood of walking away with the progressive jackpot is extremely small, it makes it even more important to fix your budget in advance. If the jackpot is randomly triggered and could be awarded after any of your spins, it's easy to get into "it might be next one" state of mind, and before you know it, you've gambled away your house and your wife (or the husband) is serving you divorce papers. Setting your limits and sticking to them will prevent you to start "chasing" the jackpot just because you feel you've already pumped in a lot of many into that particular game.

Check the Casino's Cash Out Limits
Let's say you've won millions and start phoning your nearest and dearest to share the good news, while splashing out on the finest champagne and leafing through a Ferrari catalogue. And then – a cold shower! The casino you've won at has tiny monthly cash out limits in place, and it will be a while before the aforementioned millions accumulate in your bank account. Before you start playing for the big win, check out the gaming venue policy on cash-outs. What are the limits, especially when it comes to jackpot winners? If you do win millions, will it take a decade to receive your money?
Go for Mega Jackpots or More Modest Ones?
Multi-million amounts can be hugely tempting, and you might be thinking that, since you're investing money anyway, why not go for the big bucks instead of a measly 5-figure jackpot. While 5 million Rand is surely more appealing than R10,000, the latter will probably allow you more play-time for the same bankroll. Very often smaller progressives are also lower variance games, meaning you'll need a smaller budget to ensure you don't go broke while playing for the big win.
Check When the Jackpot Was Won
If a player has recently scooped the jackpot on a particular game, it's not very likely (though not impossible) that the same machine will pay immediately to another gamer. While nobody knows when exactly it will, you might be better off giving this jackpot some time to grow before trying to hit it yourself. In meantime, there are many other progressive games to choose from.
Check the RTP
Ok, you get it, chances of claiming the jackpot are small. It might happen or it may not. In case it doesn't, you'll want to get the most out of the cash you have invested. In order to do so, we'd advise you to check the payout percentage and take that figure into consideration when choosing your progressive game.
Read the Rules!
Whichever game you choose to play, it's important to know how it functions. But when it comes to progressives, knowing the rules could save you tons of time and money spent for nothing. Why? Because in order to qualify for a progressive jackpot, games will often require that you play maximum number of paylines and/or stake maximum bets per spin. You don't want to miss out on the opportunity to win just because you've mistakenly bet R0.5 instead of R1, right? So make sure to inspect the rules before you start spinning.
Play Max
Some games will outright disqualify you as a potential jackpot winner unless you bet max. Others might not be so exclusive, but will increase chances of winning the higher your bets are. This little detail is always specified within the rules, and if it is the case, place the highest stakes you can afford on each of the spins.
Springbok is home to a number of RTG progressive games, not only slots but also a couple of Poker variants. We're genuinely happy when one of our players wins a jackpot and will celebrate if it should happen to be you. So keep in mind the tips we've shared above, give it a try and, most importantly, have tons of fun while doing it.