Tips for Playing High Variance Slots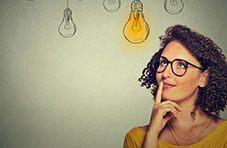 First of all, are you familiar with the term variance? When it comes to slots, the word "variance" basically means "risk". It has nothing to do with the expected payout, as slots with 93% RTP can be both low and high risk games, it's the same as those reporting 97% return to players. While RTP gives information on the percentage of wagered cash the machine will pay back (over a longer period of time), variance actually describes HOW the game pays you. To put it simply: a low variance slot will pay decent wins more often but will not offer large jackpots, while a high variance game will deliver small or no wins most of the time and huge amounts occasionally. 
The opportunity to win big from a single spin is what makes the latter attractive for many of the high rollers. Of course, there is a downside, as the chance to win big comes with a larger risk of losing big.
So how can you tell if a game is high or low variance? This is not normally something the developers will communicate, so the only way to find out is to read game reviews and test them out for yourself. Paytable could give you an indicator, based on, for example, the difference in payout between 3 and 4 of a kind vs a combination of 5 identical symbols. It's likely that the bigger the gap, the higher the slot's variance.  Once you do find a high variance slot, there are a few ways to make sure you get the most out of them.
Should You Play High Variance Slots?
If you're playing with a small budget, you might be better of sticking with low variance games. They will make your bankroll last longer and give you more play time. High variance slots are better suited to gamers who can afford to invest a larger amount and buy themselves enough time to hit high-paying combinations. 
Balance Your Bet Size
Unless max bet is required to qualify for a jackpot, place modest stakes. You should particularly do this when trying out a new game. Start betting low until you get a feel for it, but continue betting cautiously even once you do. A failure to do this might make you run out of cash before you manage to hit a decent win. 
To Gamble or Not to Gamble?
You'll often get the advice NOT to use Gamble feature when winning in a high variance slot. While we agree 100% when the win in question is the large one you've been waiting for, gambling smaller wins could give little boosts to your bankroll and extend your play time. Don't overdo it, though. Once you've gambled and won, you might want to get back to spinning, rather than try to double or quadruple the win once again.
Be Prepared For Dry Spins
While playing a high variance game, it's likely you'll experience a lot of dry spins. Don't get discouraged or think it's not your lucky day. This is how such games work, and if you've got a good sized budget to start with, and you're managing it smartly, eventually you'll win. 
Leave After a Big Win
You have won the jackpot? Congratulations! Now slowly walk away and find another game to play. Since in high variance slots large payouts come rarely, chance to strike it again soon is relatively low. So when you do land a decent payout, move on. 
Some of RTG High Variance Slots
Aztec's Millions – This 5 reel and 30 payline video slot comes with a high minimum wager, so it's more likely to appeal to high rollers. Three or more Idol Scatters can multiply your total bet as much as 100 times and award up to 25 free games with all prizes tripled. If you manage to land five game logo icons on an active payline, you'll collect the game's progressive jackpot, one the highest paying ones in the industry.
Dream Run – This very high variance slot lets you experience some high octane spinning action over 25 paylines. It features two wild symbols, one of which will triple all wins it participates in. Scatters can award as much as 100x total bet prize if you manage to land five, and will also trigger a racing side game which offers up to 25 free spins, a 100x bet payout and a x7 free games multiplier. Making it to the 4th and 5th race in the Nitro Racing feature gives you a chance to win mini or major progressive jackpot.
Hillbillies – This 20 payline slot can be very tight but also award huge payouts. The good news is it will allow you to place very small bets per spin, so it's quite accessible even if your budget is not that big. On top of the highest base game win of 5,000 coins, up to x20 multipliers and free games with all prizes doubled, there is also a progressive jackpot which can be awarded randomly after any of your spins.
Naughty or Nice – Playing over 50 paylines, the game provides a number of special features. Naughty or Nice symbols have the power to multiply your bet by as much as 200x, as well as trigger free games with all wins doubled. Naughty or Nice also offers a random progressive jackpot which could be yours after any spin of the reels.
Glitz & Glamour – This is a very high variance slot which offers an amazing 12,000 coin base game jackpot. Two wild icons will double or triple your wins, and scattered cars award up to 30 free spins with wins multiplied by up to x18. Two random jackpots could end any spin with an instant progressive win.
At Springbok, we offer our players a variety of ways in which to enjoy their gaming experience. You may choose from either our downloaded, instant or mobile versions to see which one you like best. We offer mobile platforms for Android, IOS, Windows and Blackberry mobile devices. The choice is yours. Give it a try.