Classic vs Video Slots: Which Should You Play on a Limited Budget?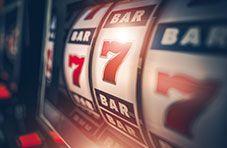 Many players, (especially less experienced ones), would suggest that you play classic slots if you can only afford to invest small amounts. The logic behind it is that 3-reel games cost less per spin than those featuring 5 reels (or more) and multiple paylines, therefore offering more play time on the same budget. Let's take a look at the most common differences between the two, and try to help you decide which slot type to choose when playing with a fairly modest bankroll.
More Paylines Cost More – True or False?
When you play a 20-payline slot, will you have to invest 20 times as much as you would when betting on a single-payline game? No, of course not! It's not at all uncommon to find the latter requiring you to invest a higher amount for a single spin. Instead of considering the number of paylines in isolation, you should be looking at the minimum betting value offered, normally calculated by multiplying coin value by number of lines. While spinning 3 reels a R10 fruity will require that you invest R10 for each round, a 20-payline video slot might offer that you bet only R0.20 per line, or R4 per spin.
Flexibility in Choosing Stake Size
Ok, but what if the video slot slot comes with higher minimum coin value? The benefit which only multi-payline games can offer is that (depending on the slot) you get to choose how many lines you want to play. This way you can adjust the total bet to fit your bankroll, while still taking advantage of multiple winning opportunities. Do check though, if a game's paylines are variable or fixed. The only flexibility 1-liner will offer is through coin value/number of coins choice. 
Free Play Opportunities
Many of the classic slots only dish out cash once you manage to line up identical symbols on a horizontal bar. As long as that doesn't happen, your balance keeps decreasing. Sometimes you'll find simple games which feature Wild icons as a universal substitute, and occasionally those which offer progressive jackpots. But playing video slots invariably provides multiple win mechanisms. Scatters, which are nowadays included in almost every single one, offer to multiply your total stake instead of only your line bet. Bonus rounds come with opportunities to spin for free 5, 10, 50 (and possibly more) times, meaning you'll get to play more than one round on a single bet. They can alternatively award cash prizes, and frequently deliver them through interactive and entertaining mechanisms which you're not likely to experience when playing 3-reelers.
What About the Rewards?
We can't generally claim that more paylines equals higher win potential, though due to an incomparably bigger number of video slots available, you'll probably find many which can reward significantly higher amounts than any of the classics. There is only one way to learn about how much you can win, and that's by looking at the paytable. Remember to check the Wild icon to see if it multiples the prizes that are delivered by winning combinations it helps form, and what the size of the prize is when special features get triggered.
How Much Fun are you Having?
Finally, while we all like to leave a game with more money in our pockets than what we started with, the element of fun is not to be downplayed. If you were not enjoying the game, you'd probably be investing your money someplace other than a casino. Though some of us can sometimes feel overwhelmed by intricate video and audio effects, complicated mechanisms and an abundance of features. A complexity of video slots will theoretically provide more diverse and engaging gameplay. This depends completely upon your individual taste, but don't forget to take the entertainment value into equation when making a decision about which game to play.
Furthermore, we would like to invite you to experience the difference between our mobile and instant casinos too. Whether you're an Android, IOS, Blackberry or Windows person, we've got the perfect mobile platform for you to enjoy playing on. Anytime, anywhere.
In the end, there isn't only one right answer to our initial question. Instead we've tried to explain which elements you should consider in order to make the most out of a limited budget. At the very least, we hope the above will help you benefit from longer and more enjoyable play time. And if you get lucky, you might be reading our tips for high rollers next. Good luck!