Tips for Playing Video Poker Online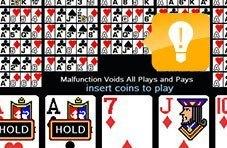 Having entered casinos in the 70's, video poker has become a hugely popular skill-based game which offers the possibility of large wins. Using the right strategy to make correct decisions will provide better odds of winning than almost any other game you'll find at an online gaming venue. It's easy to play and numerous varieties available make sure you'll find one that will match your skill level, bankroll and preferences to a t. Springbok members get to pick among more basic and simple games such as Jacks or Better, but also a number of exciting game forms which include Bonus Deuces Wild, Double Double Bonus, Mystery Bonus and Pick 'em Poker. To help you enjoy them as much as possible, we've compiled a list of tips; implementing them will significantly increase your chances of walking away a winner.
Choose the Right Video Poker Game 
If you're new to this game, we suggest you start with something simple, such as the above mentioned Jacks or Better. This was the earliest version of the game and it still remains the most popular form of Video Poker. It will give you a chance to learn the rules fast and enjoy decent wins on fairly regular basis.

Familiarise Yourself with the Paytable 
Payouts vary wildly from one game to another, so it's important to check out the paytable before you start playing. Pair of Jacks might be the minimum paying hand in some games, but if you're playing Deuces Wild, you'll only collect as of three-of-a-kind. Royal flush will always be the best hand you can land, but in variants like Joker Poker, it's followed by five-of-a-kind rather than straight flush.
Know Your Strategy 
As already mentioned, if you play your cards right, the house advantage becomes very low.  That's why knowing and implementing the correct strategy is crucial. Each of the game's variety has its own special rules and you need to adapt your gameplay accordingly. Fortunately, there is a large selection of help tools to be found on the internet, so you don't have to learn all of the strategies by heart. Just keep the cheat sheet handy while you're playing and consult it whenever you're unsure what your next move should be.
Set a Time Limit 
As this is a game of skill, rather than luck alone, it's crucial to keep focused and alert while playing. It's not very likely your mind will be fresh after having stared at the screen for hours and hours, so set yourself a time limit and stop when you meet it. If you feel your concentration weakening even before this happens, take a break; there's no need to start making costly mistakes, right?
Play Maximum Coins 
You'll find that highest hand played for 5 coins offers singularly high payouts. If betting max coins on a particular game is out of your price range, switch to a lower denomination machines. Playing Jacks or Better at Springbok will allow you to bet as little as R0.05 coin value and award 4,000 coins jackpot should you hit a Royal Flush at a 5-coin betting limit. Same as other online casino games, Video Pokers use an RNG which randomly delivers results and a Royal Flush can come along at any time. So why not get the most that you can out of it?
Hold or Swap?
The key strategy is knowing which cards to hold and which ones to swap. Do you hold on to a pair of Jacks, or get rid of one to go for a flush? Are Deuces playing a special role or should they be discarded as worthless? Knowing the rules and the paytables is essential. For example, it's not advised to break a flush in order to chase a straight flush, as the respective payout doesn't match the difficulty of achieving it. It is however a good idea to do so if you've got a good chance of hitting royal flush, the best hand which comes with truly high rewards.
Double Up, or Not? 
Some games will offer a double-up feature and this is one of the rare bets you can make with no house edge. Whether you'll take the offer depends on why you're playing in the first place. If you're looking to get entertained for a longer period of time and enjoy a low volatility game, say no. If, on the other hand, you'd like to maximise the return on your investment, take the chance to double your win.
Quality, not Quantity 
When playing slots, you'll likely want to spin the reels as many times as possible within a short period of time. Don't try to do that when you're engaging in a game of Video Poker. Making the right decisions is far more important than the number of hands you play, so take time to think your moves through.
Practice Makes Perfect
Strategy being of huge importance, you'll want to learn it well enough before you start betting real cash. Video Poker games at Springbok offer free play option, both when you launch them on your desktop and via your mobile device. Use the opportunity to practice risk-free and start investing money only when you feel fully comfortable with the game.
Thanks to a relatively recent mobile revolution, you can now enjoy a great selection of Video Poker games from whichever location you like. Springbok mobile casino gives you an opportunity to play many of the exciting variants, easily accessible with the help of your iPhone, Blackberry, Windows or Android device.